Rafael Nadal's shocking French Open withdrawal puts future in jeopardy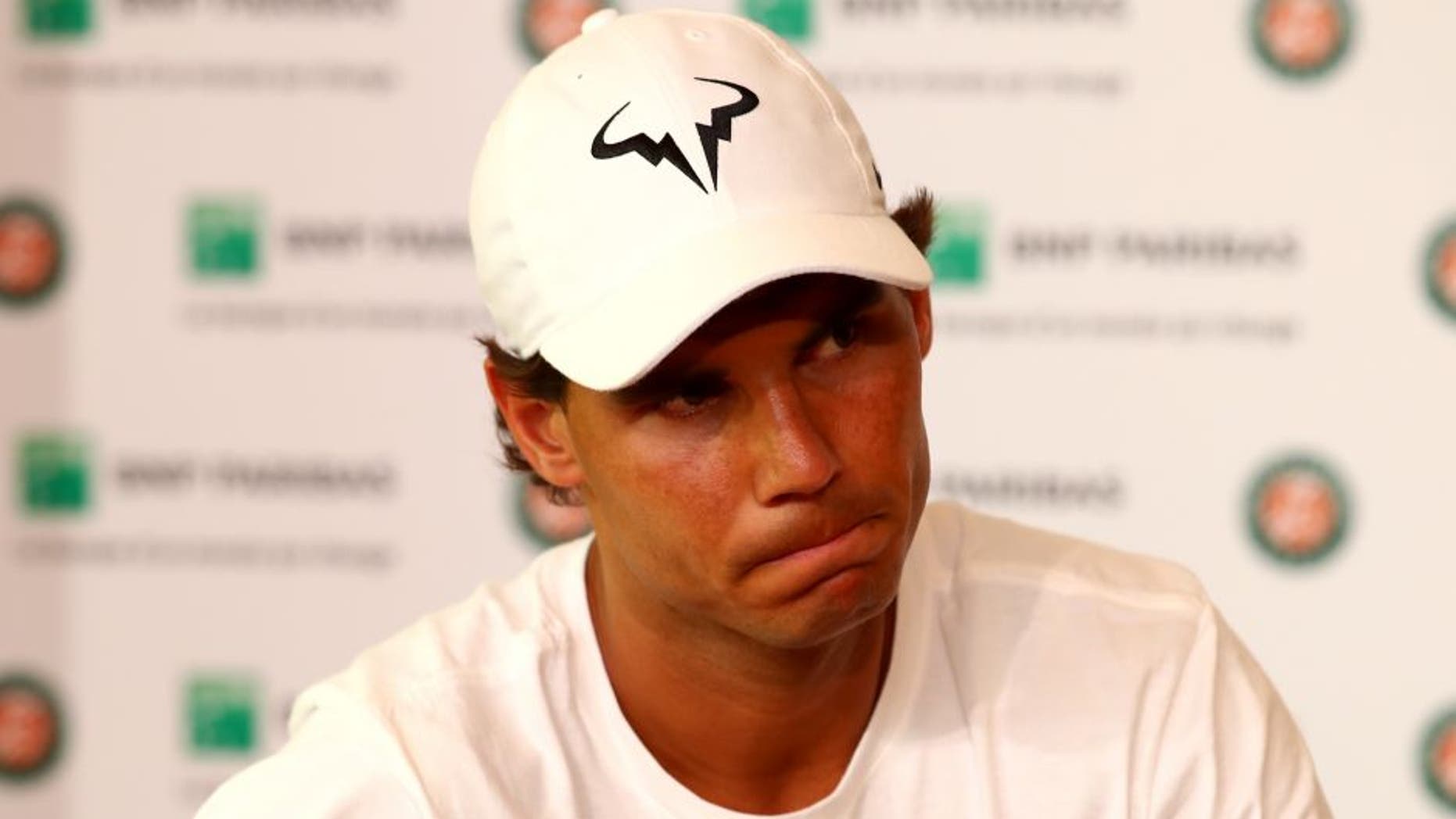 What would supposed to be Rafael Nadal's comeback Grand Slam ended with a shock Friday afternoon in Paris when, in a hastily organized, stunning press conference, the nine-time tournament champion announced he had a serious wrist injury that would force him to withdraw from the 2016 French Open.
A resigned Nadal, wearing a blue brace on his left wrist - the one he uses to hit his wicked, topspin forehand - told the assembled press he's been suffering a wrist injury since the clay-court tournament in Madrid earlier this month. He said the pain got worse every day he was in Paris and on Thursday, in his easy straight-set win, he only got on the court after receiving an anesthetic shot. By Friday, the pain had gotten so bad Nadal couldn't even practice.
"The real thing is that it's not 100%, but it's not broken," Nadal said. "But if I keep on playing, it's gonna be broken."
Had it not been Roland Garros, Nadal said he probably wouldn't have even tried playing.
There had been little to no indication that Nadal had been hurting this spring. He lost just nine games in his first two matches, both of which he won in straight sets. Nadal took home the title in Monte Carlo for his first big clay-court win since the 2014 French, then looked fatigued in Madrid, where he said the pain bega. Still, even then he advanced to the quarters and was defeated by world No. 2 Andy Murray, a respectable finish. His run in Rome, as the injury was progressively getting worse, ended with a tight finals loss to Novak Djokovic.
Nadal was set to play Djokovic in what would have been a highly anticipated semifinal, one that would have either gotten Nadal one step closer to becoming the first player to have double-digit wins at the same Slam or Djokovic to the career Grand Slam that's eluded him.
The absence of Nadal leaves the men's draw in a state of upheaval. At worst, Djokovic would now have to play sixth-seeded Jo-Wilfried Tsonga in the semifinals. Or he could see one of the younger tennis brigade in either David Goffin (No. 12) or Dominic Thiem (No. 13). Whatever happens, his path to a third-straight French Open final just got easier.
No Nadal also leads to a strange sight at a major. With Roger Federer missing the event and Nadal having to bail before round three, this is only the second time in 12 years that the second week of a Grand Slam won't feature the two men who dominated the sports in the late-aughts. (The other time was at Wimbledon three years ago, when both lost in the first two rounds.)
The injury, just another to add to the laundry list that Nadal has played with or receovered from in his career, brings up the question that's been dogging the Spaniard for years: Is this it?
Oh, he'll continue to play. He vowed that on Friday. But are his days as a true contender at Grand Slams - even the French - behind him? Nadal will turn 30 next week, an age that seems to nudge tennis players over the sporting cliff. Roger Federer might still be contending for Grand Slam at 34, but he's not winning them and he's also had a mostly injury-free career. Nadal plays like the bull that he wears as a personal logo. Federer glides on top of the court like Baryshnikov. Will Nadal's hard-charging style lead to an early (for this era) undoing?
"[Injuries] are part of the life, part of my career," Nadal said. "I'm going to keep going hard to recover as quick as possible."
Recovery is one thing. There's little doubt Nadal's wrist will allow him to play again. But even before the injury, there was some feeling that this French Open might be Rafael Nadal's last best chance to win a Slam. He'd channel the Nadal of old, score a win over Djokovic and hold that trophy one more time - his tennis victory lap. Instead, he sputtered out before the first turn.