Rafael Nadal Advances in US Open After Several Delays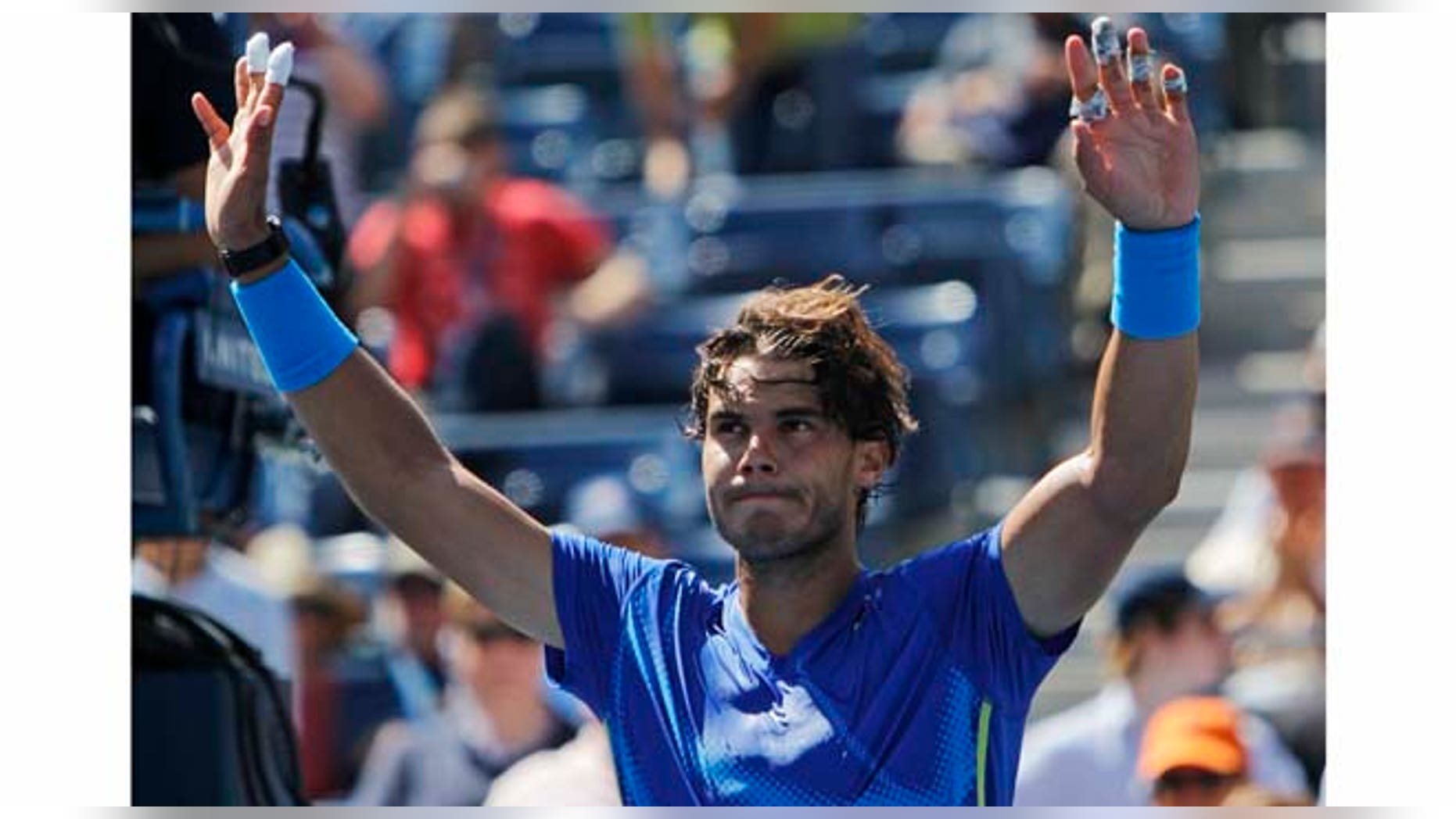 Rafael Nadal took another step toward winning his second straight U.S. Open Thursday.
The No. 2-seeded Nadal routed Gilles Muller of Luxembourg, who was ranked 68th in the tournament, 7-6 (1), 6-1, 6-2 in Arthur Ashe Stadium.
He moves on to face Andy Roddick, who outlasted David Ferrer in four sets after several rain delays.
The start-and-stop, fourth-round match between 2003 U.S. Open champion Roddick and Ferrer originally was supposed to begin Tuesday, when showers washed away all play. They got on court Wednesday, but only for all of about 15 minutes, enough to play four games. And Thursday, with the sun shining, they played for less than 10 minutes — two more games — before Roddick pointed out a damp spot in Louis Armstrong Stadium that made it dangerous to play.
So eventually, they were ushered from that 10,103-seat arena over to 584-capacity Court 13, while fans ran and pushed their way up the stairs to the bleachers in the new locale. The U.S. Tennis Association later issued a statement saying: "Until this situation is rectified, no further play will occur on Louis Armstrong Stadium."
Meanwhile, No. 4 Andy Murray eliminated 84th-ranked Donald Young of the United States 6-2, 6-3, 6-3 in the Grandstand and No. 28 John Isner got past No. 12 Gilles Simon of France 7-6 (2), 3-6, 7-6 (2), 7-6 (4).
Roddick next faces Nadal with a semifinal berth at stake. Murray plays Isner, who reached the first Grand Slam quarterfinal of his career. Because of all of the delays, whoever emerges from that half of the draw to reach the final might end up playing four best-of-five-set matches in four days, back-to-back-to-back-to-back.
"That's not fair," Nadal said, "but that's what it is."
In the women's quarterfinals, 13-time major champion Serena Williams overcame some shaky serving early to beat No. 17 Anastasia Pavlyuchenkova of Russia 7-5, 6-1 and improve to 17-0 on hard courts this season. Seeded only 28th after missing nearly a full year because of a series of health problems, Williams hasn't dropped a set so far heading into a semifinal against No. 1 Caroline Wozniacki or No. 10 Andrea Petkovic.
On the other half of the women's draw, No. 9 Sam Stosur easily defeated No. 2 Vera Zvonareva 6-3, 6-3. Zvonareva was the runner-up at the U.S. Open and Wimbledon last year.
Nadal was down a break and trailing 3-0 when play was stopped Wednesday because of rain. He, Roddick and Murray then marched to the office of tournament referee Brian Earley to voice their complaints about the safety of the courts and say they never should have been sent out to play in the first place.
Nadal also raised a bigger concern, which he discussed at his postmatch news conference Thursday: Players should have more say about how Grand Slam events are run.
"The problem is we don't have enough power in these kind of tournaments," Nadal said. "That's what have to change very soon."
One specific criticism he leveled at the U.S. Open is that it's the only major tournament where the men are slated to play the semifinals Saturday, and the final Sunday, without a day of rest in between. He called that schedule "something crazy for the players."
Despite all the bad weather, the USTA still was holding out hope of wrapping up the tournament on time with a men's final Sunday, something that, because of rain in the past, last happened in 2007. On Wednesday, tournament director Jim Curley acknowledged that getting done Sunday would be possible only if the four incomplete men's fourth-round matches were wrapped up Thursday; no court used for the tournament has a roof.
That's why Roddick was so eager to get going against Ferrer somewhere — anywhere, really.
While workers tried to dry the problematic patch at Armstrong — caused by a buildup of water just under the court surface being pulled up by evaporation — Roddick and Ferrer headed to the locker room. About an hour later, at 12:30 p.m., they returned to Armstrong with Earley, and the trio went over to inspect the area together.
Roddick pointed out that the spot still was wet and said to Earley, "Can you tell us why you brought us out here? ... How hard is it to not see water? ... What are we doing here?"
As he walked over to the sideline, Roddick shook his head, saying, "I'm baffled right now. Absolutely baffled." Then he shoved his racket in his bag and walked off the court as some fans booed.
Roddick, Ferrer and Earley then spoke in a hallway of Armstrong stadium.
"Put us on 13. 13's open. Let's go play. I don't care where we play," Roddick said.
Within minutes, the decision was made to switch courts, the match eventually resumed a little before 1 p.m.
Not much more than two hours later, Roddick was a winner.
He hadn't played anywhere at Flushing Meadows other than 23,771-capacity Arthur Ashe Stadium since Sept. 3, 2002, when he beat Juan Ignacio Chela at Armstrong in the fourth round. That was a run of 39 consecutive U.S. Open matches at Ashe for Roddick.
On Thursday, he started a new streak at Court 13.
Based on reporting by The Associated Press.
Follow us on twitter.com/foxnewslatino
Like us at facebook.com/foxnewslatino