Exclusive Interview with Rafael Nadal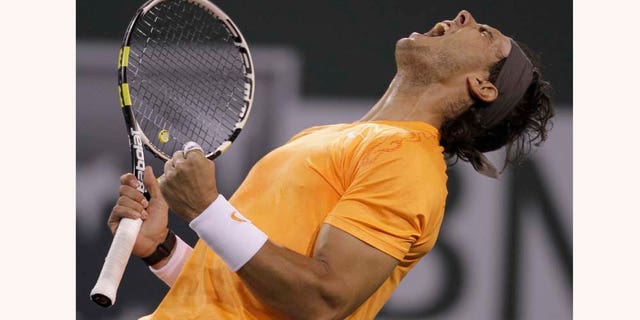 MIAMI- Spanish champion Rafael Nadal is one of the best tennis players to ever play the game. Only 24, the No. 1 ranked player in the world has broken many professional records including an accomplishment that typified his already storied career.
In 2010, Nadal became only the second player in history to reach a Career Golden Slam, by achieving wins in four career Grand Slams and the Olympic Gold Medal in 2008. Nadal's appeal has transcended from being the new face of tennis to an elite realm of global athlete, like the NBA's Lebron James, whose fan base stretches throughout the world, including the United States, and Latin America.
On Tuesday, at a high-profile event in Miami, international spirits-maker Bacardi Limited announced that the 9-time Grand Slam Singles champion is their newest ambassador for their initiative to promote responsible drinking, especially among younger consumers, who make up the majority of Nadal's millions of followers on social media sites like Facebook.
"It is a very important social campaign for young people. It is an honor for me to promote this message around the world. Young people must know how to get back home safely after they go out if alcohol is part of the plan. You have to drink more quality over quantity," Nadal said about Bacardi's "Champions Drink Responsibly" campaign, in an exclusive interview with Fox News Latino. "I love to go out with friends and family and enjoy the evening and the night. Alcohol is part of this, no? But the important thing, I think, is drink responsibly. "
"And you can have both things in life. Your work, be very professional and you can go out and enjoy the party, and drink alcohol, but responsibly – always," Nadal added.
Bacardi initially launched their program with Formula Race Car champion Michael Schumacher, who while huge internationally is not as recognized within the United States, and in Latin America. With Nadal, Bacardi is looking to not only implement a wide global imprint but to make an impression with American and Latin American consumers.
"Rafa is universally liked. He is highly respected, and he is a role model for people of all ages in a sport that has reached across many countries," said Seamus McBride, chief executive officer of Bacardi Limited. "We are creating a campaign that has universal appeal with Rafa leading it for us."
"He has a huge profile here in the U.S., a profile that we think will continue to grow. So we will overlay Rafa's campaign in the U.S. as well as 35 to 40 other countries around the world, " McBride said.
As the Sony Ericsson ATP Tournament gets underway in Key Biscayne, Fla., we also asked Nadal what he thought about his prospects for the 2011 season. Could his season be as good as last year?
"That's almost impossible to repeat. The 2010 season was almost unforgettable for me, probably the most emotional of my career," Nadal said, smiling." But it is a different season. It started well for me playing in Indian Wells, but to repeat that season will be almost impossible. I am going to play my best to have a good season. If I work hard and keep playing well I am going to have my chances to have a good season, but you never know. "
Even though he is European, Nadal also told Fox New Latino he genuinely appreciated the support of his Latino tennis fans.
"In every place around the world, I feel the support of the people. Thanks very much to all the fans around the world that make me feel fantastic every time we go out on court. But for sure the Latin people are closer to me, not just for the language," Nadal said." For me, the Latin crowd was always a really important crowd for me, and you know, in the United States there is a lot of Latin people. When I am playing here (in Miami) I feel the support of the Latin community. For me, it is fantastic, and I thank them very much for their support."
The final question: does the world's No. 1 imbibe in a celebratory drink after a big win?
"At this point for tennis, we don't have a lot of time for celebration because we have the calendar very, very tight and it is difficult to stop and celebrate when you win a tournament," Nadal said. "When I have time, and you win a tournament, I like the cocktails. And I like the Tequila."
Serafin Gómez is the Miami Bureau Producer for FOX News Channel.
Follow us on twitter.com/foxnewslatino
Like us at facebook.com/foxnewslatino