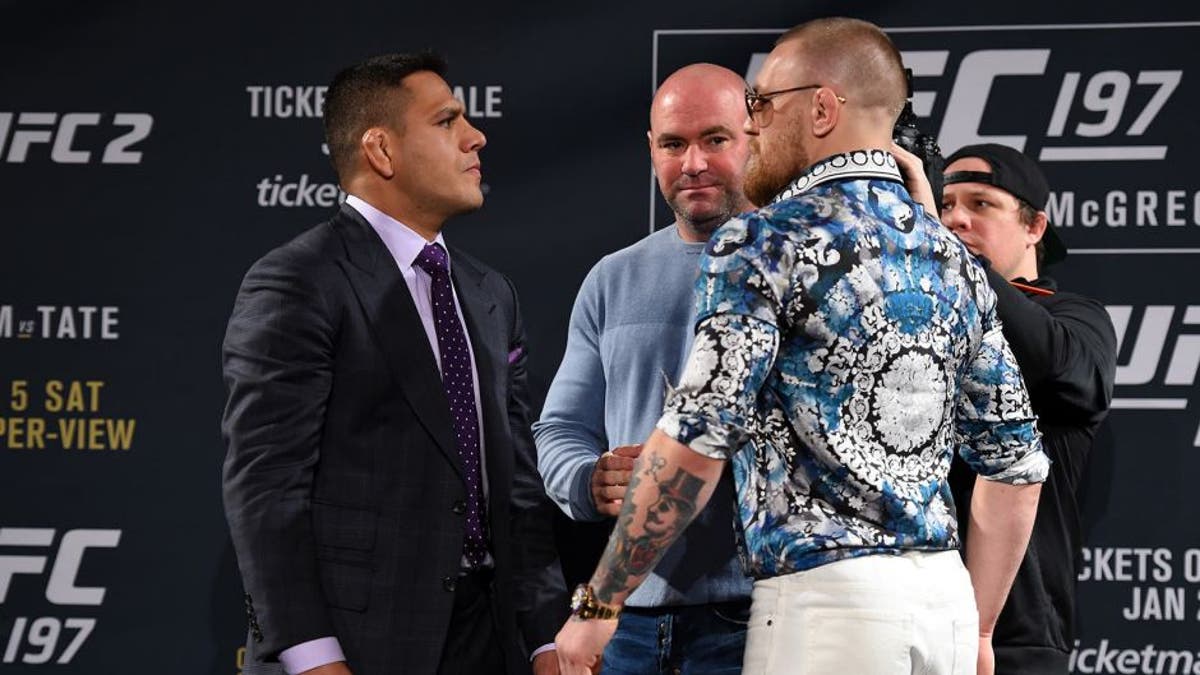 Conor McGregor is well known for his trash talk and mental warfare leading up to all of his fights, but he's going to have to do more than push a few buttons to get to lightweight champion Rafael dos Anjos.
Actually, if McGregor wants dos Anjos to even know what he's saying he might want to get a translator ahead of their fight on March 5 at UFC 196.
The first near altercation between dos Anjos and McGregor took place last year when the two fighters were on the dais promoting upcoming title fights at the "Go Big" news conference. While dos Anjos was preparing for Donald "Cowboy" Cerrone, he ended up listening to McGregor spout off about his eventual pursuit of the lightweight title and how he was the biggest money fight in the sport.
"I can make you rich," McGregor shouted at dos Anjos. "I'll change your bum life. When you sign to fight me, it's a celebration. You ring back home, you ring your wife -- baby, we've done it. We're rich, baby! Conor McGregor made us rich. Break out the red panties!"
The remark was so popular that at McGregor's bout with Jose Aldo at UFC 194, many of the Irishman's fans brought red panties that were tossed in the air as a celebration at the weigh-ins and the fight. As funny as the comment was to fans, dos Anjos never got the joke but not because he was insulted or angry at what McGregor said.
He never understood it.
"I'm going to tell you the truth -- I didn't understand a word he said that day," dos Anjos told FOX Sports. "I didn't understand at all. He has a strong accent and I don't understand most of the things that he says."
Dos Anjos had a second run in with McGregor at the UFC 196 pre-fight news conference a few weeks back and while he seemed slightly irritated that the featherweight champion kept interrupting him without allowing more than a few words before he piped up with his own commentary, the Brazilian really didn't care what he was saying.
"This guy is going to try to get under my skin, but I have a lot of experience inside of the cage," dos Anjos said. "I've been fighting since I was 19 years old. I'm just ready to go there and shut this guy's mouth."
The message from dos Anjos to McGregor can also be passed along to his coach John Kavanagh, who also had something to say to the lightweight champion just after the fight was booked.
Kavanagh predicted that McGregor would finish dos Anjos inside of one round.
Once again, dos Anjos isn't bothered by what McGregor's coach had to say because he really didn't even know who the guy was before his name started coming up in conversations about the fight.
All dos Anjos cares about is that he has the best coaches in the world on his side and Kavanagh should worry more about getting McGregor ready for the fight rather than make statements and predictions about his opponent.
"I don't even care. I don't know his coach," dos Anjos said. "I've never heard about this guy. I know my coaches. Roberto Gordo is a legend. He created the half-guard. Master Rafael Cordeiro, he's been in the game for almost 30 years. These guys have been so helpful. I know my coaches.
"I don't know who this guy is. This guy has no idea what he's talking about."
From the sound of things, dos Anjos is handling McGregor's head games just fine for now and he probably won't have to hear much again until the week before the fight as the two champions prepare to face off at UFC 196 on March 5.