Pronger skates, status still uncertain for Game 1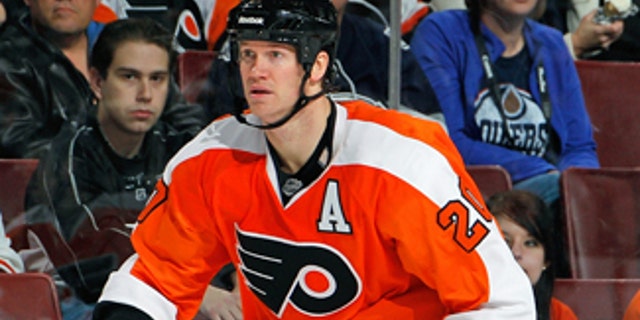 VOORHEES, N.J. -- Philadelphia Flyers All-Star defenseman Chris Pronger skated and handled the puck for about 40 minutes Wednesday in a session with an assistant coach and other injured players, leaving lingering questions about his status for Game 1 of the Flyers' first-round series against the Buffalo Sabres on Thursday (7:30 p.m. ET, VERSUS, TSN).
Pronger worked on puckhandling and skating drills with assistant coach Joe Mullen and fellow injured defenseman Oskars Bartulis on a separate ice sheet here at Virtua Health Flyers Skate Zone, before the full team practiced. Pronger made soft passes and his only shots had little to no force on them.
It was the first time in about two weeks that Pronger had worked on the ice handling the puck.
Skating and working with the puck was a change from past recent workouts for Pronger, including Tuesday, when he took part in a 50-minute skate without pucks.
Pronger said Tuesday that working away from the team 24 hours before the opening of the Stanley Cup Playoffs was a frustrating situation.
"It's tough," he said. "You'd like to be able to be out there prepping, going through all the drills and preparing properly. But I have my own path, I guess, and we'll use it for what it is."
Pronger originally hurt the hand Feb. 24 against the New York Islanders when he was hit by a shot. He missed one game, returned to play four games, but re-injured his hand during a win against the Edmonton Oilers on March 8. He hasn't played since.
Coach Peter Laviolette said Tuesday he only was concerned with the healthy players he has to work with.
"Certainly you'd like to have your pieces in there, but we don't," he said. "At this point, today in practice, he wasn't there, so we prepare and plan to play Buffalo today with the guys we have on the ice. That changes daily and I think we have a lot of confidence. We dealt with injuries last year and all this year. Most teams do. They (Buffalo) are missing some players, too. Injuries are a part of the game. It's a cliché, but it's an opportunity for other guys to step up, and I think other guys have stepped up."
Options for Laviolette for Thursday include Danny Syvret, who played the last four regular-season games, and veteran Nick Boynton. Matt Walker, who cleared waivers Tuesday, also will be available. Two hip surgeries and a knee operation limited him to just 15 games this season between the NHL and AHL, but GM Paul Holmgren said Tuesday that Walker has been medically cleared to play.
The Flyers certainly have experience playing without Pronger, who missed 32 games this season due to knee, foot and hand injuries. They went 16-9-7 in his absence, but that doesn't mean they like playing without the 17-year veteran.
"We'll welcome him back with open arms for sure," Scott Hartnell told NHL.com. "It's definitely a different game back there with him not in the lineup. I think he instills some fear in the opponents. We've had to adapt without him. Hopefully this round, second round, third round, when he comes back, we'll welcome him back."
Contact Adam Kimelman at akimelman@nhl.com. Follow him on Twitter: @NHLAdamK