Preview: Tom Koehler, Dallas Keuchel square off for Marlins-Astros Game 2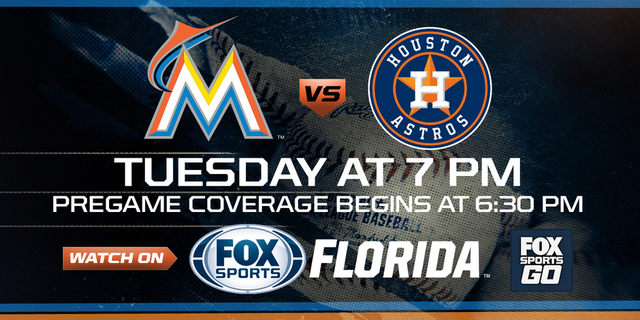 TV: FOX Sports Florida
TIME: Pregame coverage begins at 6:30 p.m.
MIAMI -- An ugly Miami Marlins homestand, which so far includes six losses in seven games, could get even less attractive on Tuesday night.
That's when the Houston Astros will start left-hander Dallas Keuchel, who was recently named the American League's Pitcher of the Month for April. Keuchel (6-0, 1.69 ERA) has won eight straight decisions dating to last August, tying a career high.
"There have been plenty of plays made behind me," Keuchel told the media when he won his Pitcher of the Month award. "I don't take much credit for this at all."
When Keuchel won the AL Cy Young Award in 2015, he also took home Pitcher of the Month three times -- April, May and August. His four Pitcher of the Month awards are a franchise record.
On Tuesday, the bearded wonder will take on Marlins starter Tom Koehler in an apparent mismatch. Koehler, a right-hander, is 1-1 with a 5.60 ERA. His only career appearance against Houston was in 2014, when he picked up the win by allowing nine hits and three runs over five innings.
If the Astros do get to Koehler, the Marlins' bullpen has been offering little resistance of late. On Monday night, reliever Junichi Tazawa allowed a sixth-inning grand slam that tilted the game in Houston's favor.
"He's been throwing the ball good the past three or four times out," Marlins manager Don Mattingly said in his defense of Tazawa.
In reality, though, Tazawa has been brutal most of the season, pitching to a 6.60 ERA. Brad Ziegler has been even worse (7.04 ERA).
And here's the thing: Tazawa and Ziegler were the two big free agent signings engineered by the Marlins front office last winter. Tazawa signed for $12 million over two years. Ziegler got $16 million for two years.
In addition, reliever David Phelps, who was brilliant for Miami last year with a heavy fastball and a 2.28 ERA, has been disappointing this season. He is 2-2 with a 4.26 ERA.
On offense, Miami's hottest hitter of late is first baseman Justin Bour, who is batting .375 with four homers and seven RBIs during the homestand. He has homered in four of the past five games, although the last three of those were solo shots.
Here's the bad news for the Marlins: Bour is a lefty hitter who doesn't hit lefties well and likely won't be in the lineup against Keuchel on Tuesday. The Marlins may opt to use a right-handed hitter at first base such as Tyler Moore or Mike Aviles … or roll the proverbial dice with Bour.
Either way, hitting Keuchel will be a challenge. The Astros ace has 50 strikeouts in 58 2/3 innings, allowing just 37 hits and 14 walks.
After being slowed last year (9-12, 4.55 ERA) by shoulder inflammation and perhaps some overuse from his Cy Young Award 2015 season, Keuchel is back in top form.
He is getting batters to swing at his pitch as the advanced metrics show. Among swinging third strikes, he leads the majors by throwing 81.6 percent of those pitches out of the zone.
His only career start against Miami came in 2014, when he allowed nine hits and two unearned runs over seven innings during a loss.
As for the Houston offense, which has hit grand slams in consecutive games for the first time in franchise history, there are several players to look for, including Evan Gattis, who is batting .455 in his career against Koehler (5-for-11).
In addition, Marwin Gonzalez carries a 10-game hitting streak into the game, Josh Reddick has a seven-game hit streak, and Yuli Gurriel, a native of Cuba who owns a home in Miami, had the grand slam on Monday.
"I had 50 friends and family members in the stands tonight," Gurriel said in Spanish. "It made me feel like I was back in Cuba."