Preview: Red-hot Marlins aim to take another from Pirates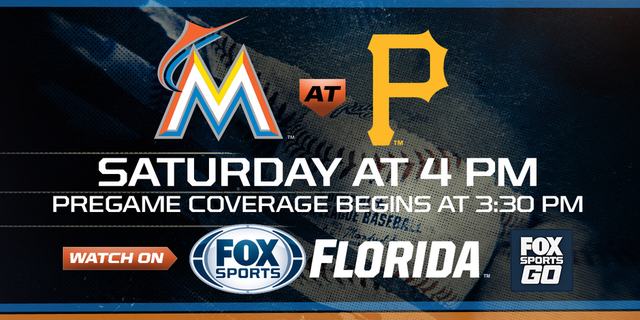 NEWYou can now listen to Fox News articles!
TV: FOX Sports Florida
TIME: Pregame coverage begins at 3:30 p.m.
PITTSBURGH -- Trevor Williams could have a chance to help his Pittsburgh Pirates manager, Clint Hurdle, make a key decision.
The right-hander is scheduled to start Saturday afternoon against the Miami Marlins, and his performance could help the Pirates decide which starter will leave the rotation when Jameson Taillon returns.
Taillon could return as early as Monday against Colorado -- Pittsburgh has not listed a starter for that game -- after working his way back from surgery for testicular cancer. Nothing official has been announced about Taillon.
Williams (3-3, 4.57 ERA) began this season in the bullpen but will be making his seventh start Saturday. The other candidates to come out of the rotation when Taillon returns are Chad Kuhl, who earned a spot out of spring training but has been inconsistent -- he's 1-5 with a 5.63 ERA in 12 starts -- and Tyler Glasnow.
Glasnow seems to be the front-runner to take a back seat, unless Williams makes the decision more difficult with a poor outing Saturday.
Glasnow gave up seven runs, six earned, on 10 hits over four innings Friday night as Pittsburgh lost to Miami 12-7. Two of the hits were homers. Glasnow fell to 2-6 with a 7.45 ERA. He has not pitched past the sixth this season.
"We've had internal conversations going on for 10 days," Hurdle said before Friday's game. "It's not like nobody's had a thought about it and we've had our head in the sand. That's not the way we do things. I'm not going to have the conversation here because we've got three guys that have been in the mix.
"You can look at Glasnow, you can look at Kuhl and you can look at Williams, the volumes of work and do your own speculation. What we've tried to do is look at their volume of work, what they've done well, where the areas of improvement need to be, who is best served at staying here and who is best served at going back (to Triple-A Indianapolis), still continuing to start and giving us a depth option there."
In six starts since he replaced Taillon in the rotation, Williams is 2-2 with a 4.26 ERA and a 1.19 WHIP. That includes 18 strikeouts and six walks over 31 2/3 innings.
On Sunday, in an 11-1 win over the New York Mets, Williams pitched a career-high seven innings and 95 pitches. He allowed one run on seven hits, walked two and struck out three.
"It was another push forward," Hurdle said. "The pitch count (95) got to a point where it hadn't been. Seven full innings is a place he'd never been. A really solid effort by him."
Williams is scheduled to square off against Miami right-hander Dan Straily.
Straily is 3-3 with a 3.83 ERA in his career against Pittsburgh.
He's coming off a game where he lost despite a quality start. He gave up three runs on six hits over seven innings Monday but lacked run support in a 3-1 loss to the Chicago Cubs. He had five strikeouts, no walks, his first game without a walk in a month and a half.
The loss came after he gave up a double and a homer to the first two batters.
"Obviously not the way I wanted to get going there with the first two guys," Straily told the Sun-Sentinel. "But you can't sit there and feel sorry for yourself."
At one point, he retired 10 batters in a row in that game, something he credited to a mound visit from Marlins pitching coach Juan Nieves, a tip that perhaps will carry over.
"There was something small I was doing. 'Hey, I'm noticing this,'" Straily said. "It's not really a common thing for a pitching coach to come up to you mid-game and tell you something, and he did. It was very small and I was able to make that adjustment and was able to make better-quality pitches after that."
That kicked off a seven-day, seven-game road trip for Miami, which so far is 3-2.