Preview: Brewers vs. Giants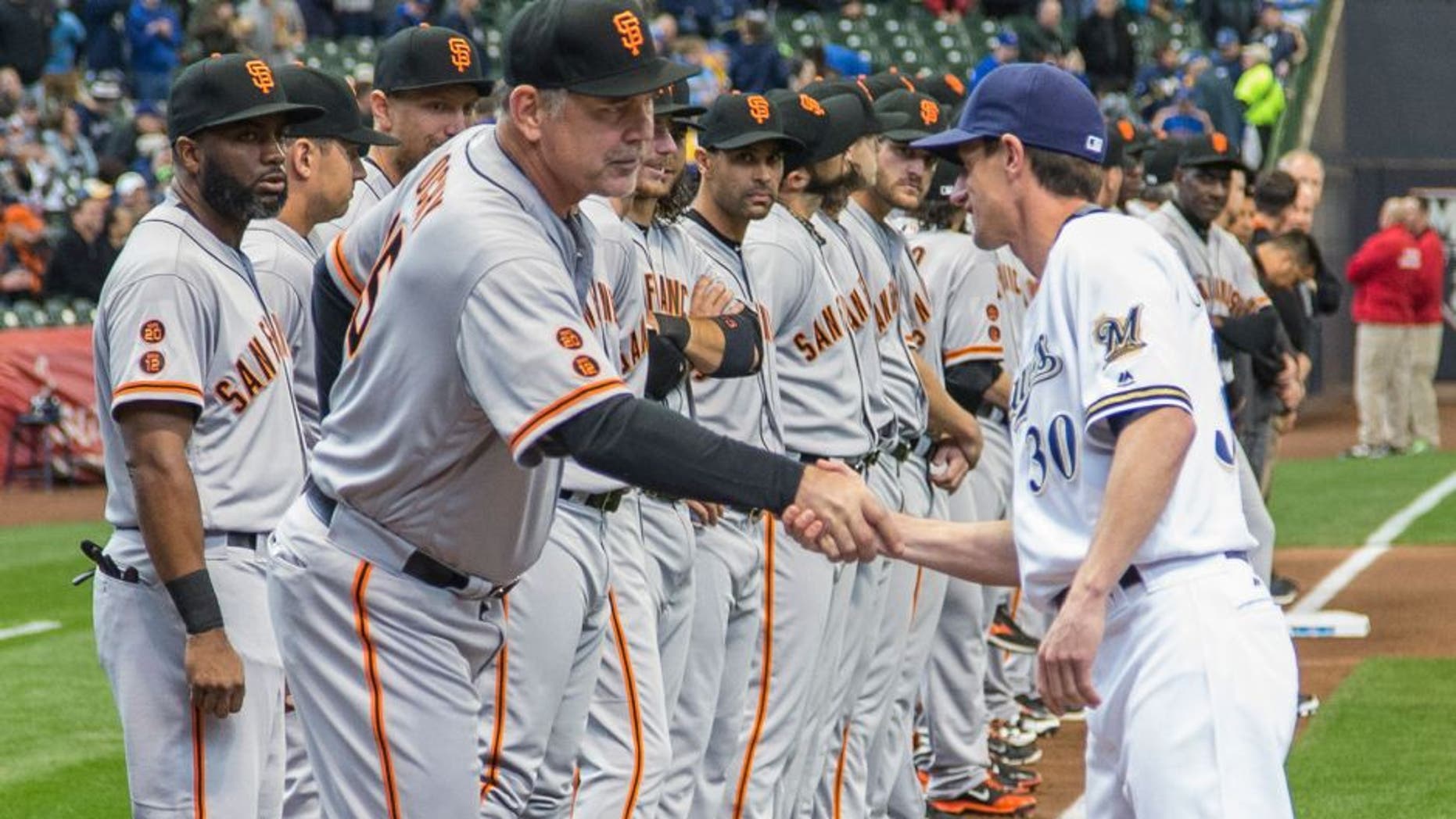 The San Francisco Giants made a point of bolstering their rotation this winter.
The priciest of those acquisitions gets the call Tuesday night, as right-hander Johnny Cueto makes his Giants debut in the middle test of a three-game series with the Milwaukee Brewers at Miller Park.
In an effort to ease the burden of ace Madison Bumgarner, the Giants went out and signed Cueto to a six-year, $130 million deal and Jeff Samardzija to a five-year, $90 million pact.
Cueto, the NL Cy Young runner-up in 2014, finished last season with Kansas City after being acquired from Cincinnati at the trade deadline. Though he struggled after switching leagues, Cueto posted a 3.44 ERA, 1.13 WHIP, 176 strikeouts and an 11-13 record in 212 innings over 32 starts split between the Reds and Royals.
He threw a two-hitter in Game 2 of the World Series, helping Kansas City win its first championship since 1985.
Still, it was a far cry from that '14 campaign when he had a 2.25 ERA and led the league with 242 strikeouts.
Cueto was scratched from his first scheduled spring training start because he hadn't built up enough strength after throwing an additional 25 innings in the 2015 postseason. But he finished strong, striking out six while walking none over six innings in his final spring start.
Having spent the majority of his career pitching in the NL Central, the Brewers are certainly no stranger to Cueto, who has gone 9-3 with a 2.87 ERA in 18 lifetime starts against Milwaukee. He has a 1.80 ERA in winning his last six starts against the Brewers, but has struggled at Miller Park, where he's 1-3 with a 4.19 ERA in seven outings.
Ryan Braun is batting .205 with a homer and 13 strikeouts in 44 at-bats against Cueto while Jonathan Lucroy is hitting .217 in 23 at-bats.
Samardzija is slated to go in Wednesday's finale.
The Giants can only hope Cueto and Samardzija endear themselves to their new team as well as Denard Span. Another offseason pickup, Span, homered and had five RBI in Monday's opener, as the Giants overcame a shaky start from Bumgarner in a 12-3 rout.
Span, who signed a three-year, $31 million deal with the Giants this winter, hit the first of back-to-back-to-back home runs in the eighth, as Joe Panik and Buster Posey followed suit, making them the first trio in Giants history to connect on three straight on opening day.
It was the first time any team had done it in an opener since San Diego in 1997. The only other time a team hit three straight homers on opening day was the 1948 Boston Red Sox.
"That inning we hit the three homers that says it right there," said third baseman Matt Duffy, who helped out with a homer and four RBIs. "I'd say contagious is a good word right there."
Hoping to slow down that lineup will be Milwaukee's best pitcher from a year ago, righty Jimmy Nelson. He led the Brewers in starts (30), wins (11), innings (177 1-3) and strikeouts (148) and continued to thrive this spring, going 2-1 with a 1.17 ERA in four starts.
That was evident in his final spring tune up against Houston, as he scattered two hits over 5 1-3 scoreless innings.
"I felt good, for sure," Nelson said after that outing. "I used all my pitches, defense played great behind me. They squared up some balls but it was right at guys. Overall, it was nice."
San Francisco has won nine of its last 10 against Milwaukee.