Portuguese soccer great Luís Figo to challenge battered Sepp Blatter for FIFA presidency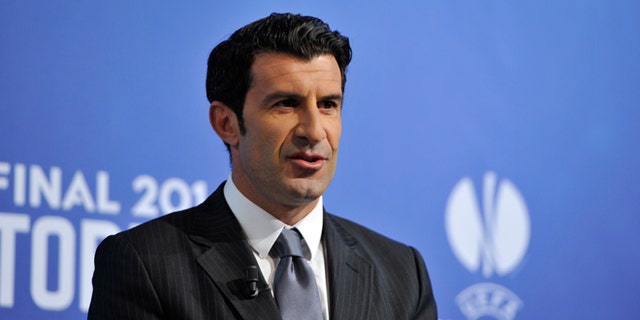 NEWYou can now listen to Fox News articles!
GENEVA (AP) – Luís Figo wants to become FIFA president and claims he has the nominations needed to be an official candidate against Sepp Blatter.
The former Portugal, Barcelona and Real Madrid playmaker announced his campaign in a statement on Wednesday timed for release with an interview with CNN.
"I look at the reputation of FIFA right now and I don't like it. Football deserves better," Figo said in the statement. "Football has given me so much during my life, and I want to give something back to the game."
FIFA president Blatter is the strong favorite to get a fifth presidential term in the May 29 ballot despite bribery and financial scandals which have implicated several of his executive committee colleagues.
The deadline for would-be candidates to file nominations from five of FIFA's 209 member federations is 2300 GMT Thursday.
"I have seen the image of FIFA deteriorate and as I speak to many people in football — to players, managers and association presidents — so many of those people have told me that something has to be done," Figo said.
Figo, the 2001 world player of the year, launched his campaign one hour before Netherlands federation president Michael van Praag held a news conference in Amsterdam to launch his bid.
Van Praag also says he has five nominees but, like Figo, has not identified them.
Their rival campaigns suggest splits within UEFA, which is the only one of the six FIFA confederations officially opposing Blatter.
Figo was UEFA's ambassador for the Champions League final in Lisbon last year, and Van Praag is an elected member of UEFA's ruling board.
UEFA president Michel Platini opted last August not to oppose his former mentor Blatter.
Platini has also supported the candidacy of his fellow FIFA vice president, Prince Ali bin al-Hussein of Jordan.
Other potential contenders seeking nominations include former FIFA official Jerome Champagne, a longtime Blatter ally, and former France player David Ginola, who is being paid by a betting operator to run.
Figo is also paid to do promotional work for a betting firm, Asian operator Dafabet, and was an ambassador for its 2014 World Cup promotions.
It is unclear if Figo and Ginola will pass mandatory integrity checks on potential candidates by FIFA's ethics committee.
The FIFA code of ethics covers officials who are "forbidden from taking part in, either directly or indirectly, or otherwise being associated with, betting, gambling, lotteries and similar events or transactions connected with football matches."
FIFA has set up an election oversight panel, chaired by its audit and compliance panel chairman Domenico Scala, to assess the integrity checks and nomination papers before declaring which are the official candidates.
Scala is expected to publish the candidate list before mid-February.
Like us on Facebook
Follow us on Twitter & Instagram