Pit road penalty eliminates any comfort Martin Truex Jr. has headed to Talladega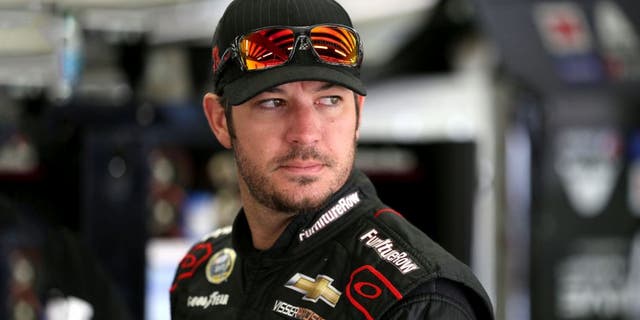 NEWYou can now listen to Fox News articles!
Sailing toward a probable top-10 finish on Sunday at Kansas Speedway, Martin Truex Jr. suffered a severe setback in the latter stages of the Hollywood Casino 400 when his left-rear tire bounced off his gasman's foot and rolled outside the No. 78 pit box during a routine green-flag stop.
The violation for the uncontrolled tire on Lap 213 of 269 resulted in a pass-through penalty for Truex, who lost a lap and tumbled to 25th in the running order. Although Truex was ultimately able to get back on the lead lap via a free pass near the end, he was unable to climb higher than 15th and came home as the last car on the lead lap.
The race result --€" though hardly terrible -- significantly jeopardized Truex's chances of advancing to the next round of the Chase for the NASCAR Sprint Cup with only next Sunday's elimination race at Talladega Superspeedway still to come in the Contender Round.
After arriving at Kansas third in the Chase standings, Truex left in eighth --€" the cutoff spot for those in position to move on to the Eliminator 8.
His advantage over ninth-place Kyle Busch is a slender six points, while Ryan Newman, in 10th, is just another two points back.
"It's just super-tight," Cole Pearn, Truex's crew chief, told FOXSports.com. "If you look at the standings, I think going into next week there's no safe place anywhere now. It's just a matter of hopefully the luck goes our way the right way."
In other words, any thoughts Truex and his underdog single-car team from Denver, Colorado had of easily moving on to the next round are now gone with their disappointing finish in Sunday's Hollywood Casino 400.
"It was a tough day," said Truex. "We were in good shape before the penalty. We fought hard on the car all day and got much better right when we got the penalty. We were fast at the end, but not enough time to get back up there."
Truex's precarious points position won't allow him to go extra conservative in an effort to avoid the almost inevitable big wreck at Talladega. At the same time, the New Jersey native doesn't necessarily have to go for broke --€" as fellow Chase drivers Matt Kenseth and Dale Earnhardt Jr. do --€" if he wants to advance.
"This Chase format is tough, really tough," said Truex. "It will be a battle next week in Talladega."
Next Sunday's elimination race at the always unpredictable 2.66-mile track presents a tricky scenario for the No. 78 bunch, one Pearn admits will force the team to weigh different strategies heading into the season's final restrictor-plate race.
"It's such a random deal," Pearn said of Talladega. "We've typically been better on the superspeedways when we've raced aggressively, but it's hard to tie yourself into doing that, either, so we've got all week to think about how we want to play it. Hopefully, we've got a good car and that will make it at least easier."
If there was any consolation to be had for Truex and his group on Sunday, it's that they weren't the only Chase team to find trouble.
"We struggled a little bit with the car, but we were making gains on it, and I finally felt like the last couple runs I thought we were at least going to be a top-five car, but obviously it's just a bad bounce on pit road," Pearn said. "Now we're in a tight spot but a tight spot with a lot of people going into next week."