Phillies Offseason Preview: How do the 99-loss Phils get back on track?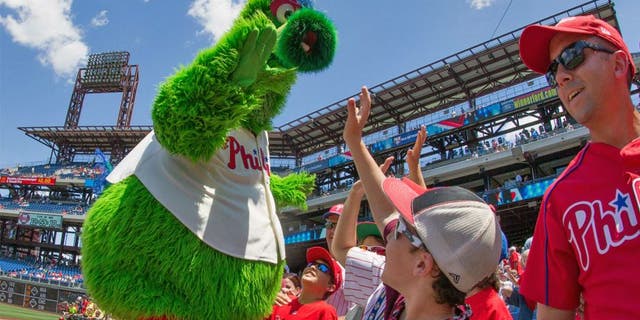 NEWYou can now listen to Fox News articles!
Take a deep breath, Phillies fans. You just made it through a season that saw your beloved Philadelphia Phillies go 63-99 in a grueling 2015 season, trade away several longtime players and more or less clean house with the coaching staff and front office.
Heck, a dead hawk even fell onto the playing field during the penultimate game of the season against the Miami Marlins. That's the kind of year it's been in Philly, but things should presumably get better from here.
So, where do the Phillies go now? They could try a number of things, but here are three specific questions/issues they might want to address sooner rather than later.
1. Use that No. 1 draft pick wisely: By almost hitting the 100-loss mark, the Phillies did end up winning something after all: The top pick in the next MLB Draft. The club hasn't had that honor since 1998, when they used it to select a University of Miami slugger named Pat Burrell (fourth on Phils' all-time HR list). Obviously, a draft pick wouldn't be something that would (likely) pay off as soon as next season, but a wise selection could inspire some serious hope about the future.
2. Get front office sorted: The departure of Ruben Amaro, Jr. was something a lot of cranky fans wanted to see happen a long time ago. It finally did happen in September, though it came AFTER some pretty shrewd moves by the much-maligned Amaro. Yes, in the last calendar year the club did trade away Phillie heroes Chase Utley, Jimmy Rollins and Cole Hamels (as well as Ben Revere, Marlon Byrd and others), but the Phillies recouped some strong, young talent in those deals. What's more, shipping Jonathan Papelbon to the Washington Nationals AND shedding the team of the necessity of paying him was a brilliant move . . . and that was before Papelbon scuffled with Bryce Harper in front of millions of people.
Heading into the offseason, the Phillies can now address their vacant full-time GM position and find someone to work alongside newly-appointed team President Andy MacPhail. As for the day-to-day coaching staff, manager Pete Mackanin -- who sheds the "interim" prefix heading into 2016 -- invited four of his coaches back in 2016, but at least one of them (Larry Bowa) will entertain outside options before making a decision. Clearly, there will be a lot of meetings and conversations in store over the next couple of weeks/months.
3. Figure out what to do with Frenchy and the kids: The fact that oft-traveled outfielder Jeff Francoeur appeared in 119 games for the 2015 Phillies tells you all you need to know about how this season went. He didn't exactly experience a career renaissance (.258/.286/.433 with 13 home runs), but he pitched in a game, too! That's versatility, and every MLB team needs it.
On a more realistic level, the Phillies have some young players that found themselves thrust into bigger roles thanks to the big trades of aging stars. Among them: 2014 first-round pick RHP Aaron Nola (6-2 with a 3.59 ERA in 13 starts), 3B Maikel Franco (.280/.343/.497 with 14 homers in just 80 games), RHP Jerad Eickhoff (part of the Hamels deal with Texas; sported a 2.65 ERA in eight starts in majors) and OF Aaron Altherr (who dazzled with an inside-the-park grand slam among his numerous extra-base hits).
The future is relatively bright for the Phillies, though perhaps not in the near term. How they proceed this offseason will be crucial to how they fare in accelerating this rebuilding plan for 2016 and beyond.