Perdomo, Samardzija look for first win as Giants host Padres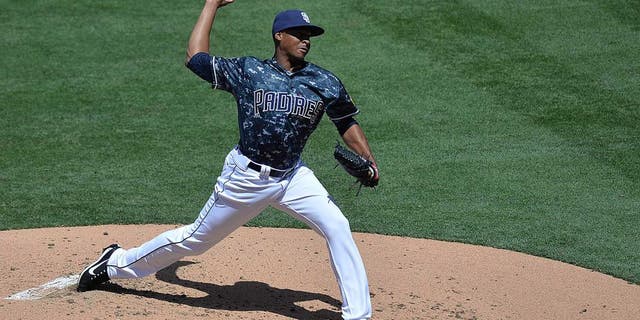 SAN FRANCISCO -- Two of April's worst starting pitchers will attempt to get into the win column before the calendar flips to May when the San Diego Padres visit the San Francisco Giants on Friday night to begin a three-game series.
The clubs met in San Diego during the first week of the season, with the Padres winning two of three.
Right-handers Luis Perdomo (0-1) of the Padres and Jeff Samardzija (0-4) of the Giants will duel in Friday's series opener.
Perdomo also started the first game of the series in San Diego, and left well before the Padres had wrapped up a 7-6 win.
He gave up two home runs to Giants first baseman Brandon Belt in his 5 1/3 innings, including a grand slam in the sixth that allowed San Francisco to erase a three-run deficit and take a 5-4 lead.
Perdomo was charged with five runs on seven hits, and afterward complained of a sore shoulder. He was shelved for two starts with what was diagnosed as tendinitis.
Perdomo's comeback start last Sunday was similar to his first -- strong for five innings, but a disaster in the sixth.
He was pulled one out into a six-run sixth, having allowed the first three runs in what turned into a 7-3 home loss to Miami.
"It was good to see he felt good," Padres manager Andy Green said after the game. "About the fourth or fifth (inning), he really hit his stride."
Perdomo will be making the sixth appearance, and fourth start, of his career against the Giants. He has gone 1-0 with a 5.40 ERA.
The second-year major-leaguer will take a 6.97 ERA, the seventh-worst in the National League among pitchers with two or more starts, to the hill Friday.
One of the few pitchers lower on the ERA list is Samardzija, who has gone 0-4 with a 7.40 ERA, worst in the NL, in his first four starts.
He did not face the Padres, who fell 6-2 to the Diamondbacks on Thursday night, in the earlier series. But he has fared well against them in the past, going 7-2 with a 3.19 ERA in 12 meetings, including 10 starts.
Samardzija will be looking to continue a run of strong pitching by Giants starters at home. They are coming off a 5-1, 10-inning loss to the Los Angeles Dodgers in which starter Matt Moore allowed one run on just two hits in seven innings.
That gave Giants starters a 2.57 ERA in 11 home starts this season.
Giants hitters, meanwhile, haven't held up their end of the bargain. San Francisco totaled eight runs in a four-game series against the Dodgers to start the homestand, a set they were able to split thanks to their pitching.
"We have to get this offense going," Giants manager Bruce Bochy said after Thursday's loss. "It's a better offense than what we're showing."
One encouraging aspect of the offense in the Los Angeles series was newcomer Christian Arroyo, who went 0-for-6 to start his major league career before recording his first hit off Dodgers ace Clayton Kershaw on Tuesday, his first home run against Sergio Romo on Wednesday and his first two-hit game in Thursday's series finale.