Pau Gasol, like Sisyphus, tried but failed to deliver Spain's dream of Olympic gold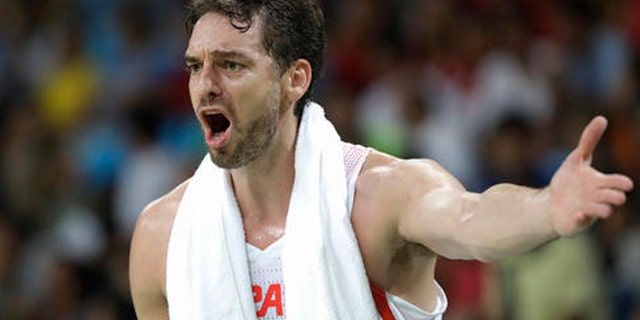 RIO DE JANEIRO (AP) – The proud man looked over the heads of the gathered reporters and then wistfully at the exit. He spoke slowly.
Pau Gasol sounded tired. You would, too, after pushing a rock up the hill four times and then helplessly watching it roll back down to the bottom. This time, which marked the end of Spain's dream of Olympic gold at the hands of Team USA yet again, the semifinal ended by a not-as-close-as-it-sounds 82-76.
"Our hearts are bleeding," said Sergio Scariolo, who coaches Spain but whose penchant for drama marks him as indelibly Italian.
Beating Team USA in Friday's Olympic semifinal was always going to be a heavy lift for Spain, let alone for the 36-year-old Gasol. He was already forced to take on more responsibility to cover for the absence of his injured younger brother and fellow NBA All-Star star, Marc. Then Nikola Mirotic, Spain's only other legitimate inside threat, picked up his fourth foul before halftime.
What made it more frustrating still is that he was convinced the Americans looked more beatable than in any of the four Olympic tournaments in which they've knocked him and Spain out.
"That's just the way I felt," Gasol said. "They are not playing as well as other times they've played, but they are still a very talented team individually.
"If we had been a little sharper with our shots, if we would have moved the ball a little better, if we would have boxed out more, and make it a two- or three-possession game, then you're talking about a whole different story."
That's three very big "ifs" if you're keeping score at home. And even if somehow all three of those wishes were granted, it might not have made much difference.
Team USA had hold of this game from the start and the last time Spain had a real chance to make it competitive came with two minutes left, down 61-55. But Sergio Rodriguez missed a 3-point shot and Kevin Durant made his on the other end, imposing order once more on what had been a herky-jerky game because of all the chippy fouls and technicals.
"It's the most different game I've coached internationally. It was just a real different game today," said U.S. coach Mike Krzyzewski.
He was loathe to say more about the referees, though he credited the crew with bringing the coaches and captains together at the start of the second half and telling them, "'Let's just play basketball.'"
Like Gasol, his coach cited a few could-have-beens that might have changed the outcome. Scariolo ticked off rebounding, blocked shots and "intimidation."
The first two were easy enough to quantify: the Americans had a 53-41 edge in rebounds and 7-1 in blocks; the intimidation factor is hard to measure, but easy to see. Like Gasol, a handful of his Spanish teammates have played in the NBA for several years. Unlike him, however, they took most of their chances from distance, rarely challenging the longer, quicker U.S. defenders one on one in the paint.
"He's got back-to-the basket game and a face-up game and he can shoot the long ball," said DeAndre Jordan, the toughest U.S. defender in the post. "Anything I could do to make his catches tough, play with length and physicality, I was just trying to make it as tough on him as possible.
"I tried to push him off the block and just play him with length," he added. "I just wanted to make everything tough on him."
Gasol scored a game-high 23, leading Spain as he has in nearly every climactic battle with the Americans. In 2004, he left Athens empty-handed and settled for silver both in 2008 and 2012. The best the Spanish can manage this time around will be bronze.
It's been a tough tournament for aging international stars. Already, Argentina's Manu Ginobili and France's Tony Parker announced the end of their Olympic careers and Gasol will be 40 when the next Tokyo Games convene in 2020.
Asked about the possibility of his retirement from international play, Gasol only promised to assess his situation "year by year."
But at the end of this game, after exchanging handshakes and hugs with the friends and rivals he made over 16 seasons, he sauntered over to the USA bench and did the same with Coach K and assistants Jim Boeheim and Tom Thibodeau.
Then Gasol stopped and looked into the crowd for a few long seconds, like a man drinking in a scene one final time.
"Pau's a great player," Krzyzewski said. "No one is going to stop him."
But as Gasol answered his final question and began the long, slow walk down the hallway toward Spain's gloomy locker room, there was a better-than-even chance he was wondering where he'd find the strength after Sunday to climb back onto the international stage again.