Carolina Panthers' Chris Hogan issues plea for thieves to return stolen car
Carolina Panthers wide receiver Chris Hogan issued a desperate plea to whoever stole his car Friday night and called on the thieves to return it to him and his family.
Hogan put out a lengthy statement on his car theft on Twitter.
BAKER MAYFIELD'S WIFE, EMILY, GOES AFTER BROWNS WRITER OVER QUESTION ABOUT FREDDIE KITCHENS' T-SHIRT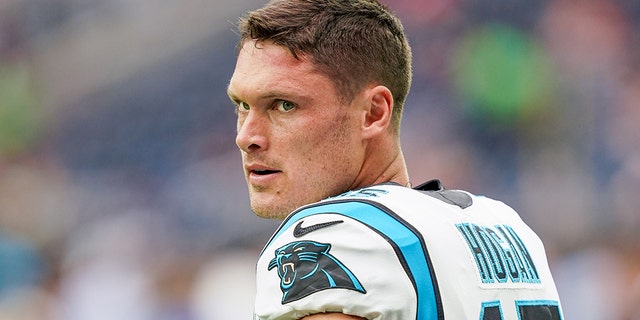 "To the kids who stole my car last night: in a world where we have a choice to be whoever and whatever we want to be, it breaks my heart to see us continuously choosing to do wrong. Whether you choose to believe in it or not, we are all apart (sic) of a much larger community.
"Disrupting relationships and neighborly love, only drives us further from the unity and equality we all strive to achieve. I am asking in the spirit of the holidays, and from the bottom of my heart, to find the courage and kindness to return what you've taken from my family and neighborhood."
TOM BRADY EXPLAINS SIDELINE OUTBURST, URGES CALM AFTER LOSS TO HOUSTON TEXANS
Hogan, a New Jersey native, signed with the Panthers in the offseason. He's played in four games and has three catches for 24 yards. He had played for the New England Patriots and Buffalo Bills previously.
CLICK HERE FOR MORE SPORTS COVERAGE ON FOXNEWS.COM
He was placed on the injured reserve in October after suffering a left knee injury. He is set to be a free agent after this season.