Paige VanZant 'thankful' for comparisons to Ronda Rousey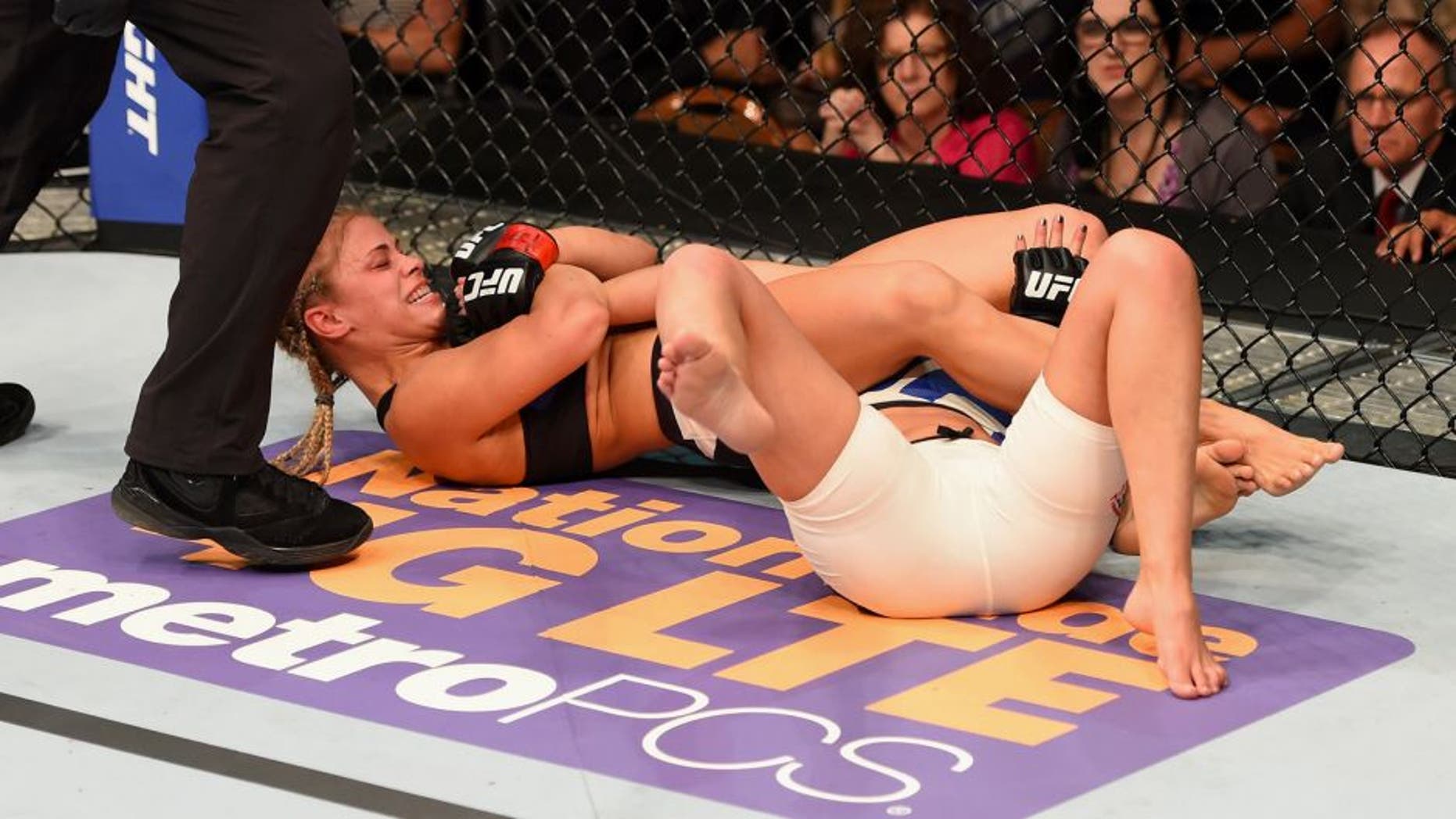 Paige VanZant picked up another win on Saturday night at UFC 191, moving her record to 3-0 inside the Octagon as she continues to earn comparisons to women's bantamweight champion Ronda Rousey.
VanZant has admitted on several occasions that she looks up to Rousey and aspires to follow in her footsteps while also forging her own path in the sport.
The comparisons only gained strength during her last fight where VanZant constantly pressured opponent Alex Chambers until finally finishing her off in the third round by armbar, which is Rousey's signature submission.
"I don't think a lot of girls in my division are used to having the pace pushed that way and that's definitely something I get from my teammates. They always push me every second so that's kind of the way I fight. I push the pace right from the get go," VanZant said about her performance at the UFC 191 post fight press conference.
Considering Rousey is a pop culture phenomenon and the biggest name in the entire UFC, being compared to her could be overwhelming but VanZant promises she doesn't look at it as anything more than the ultimate compliment.
VanZant aspires to be like Rousey so hearing people already mentioning them in the same sentence is the best thing she could hope for only three fights into her UFC career.
"It's much of a compliment for people to even say that, but those are definitely huge shoes to fill and I have a long way until I can make that comparison. But I'm thankful that people see that and I definitely want to follow in her footsteps," VanZant said.
"She's opened some great doors for women in all athletics and especially women in the UFC and MMA. I just think of it as a compliment. It's not pressure added or anything like that, it's just a compliment."
UFC president Dana White is also a big fan of what VanZant brings to the table and says she has all the attributes to become one of the best fighters in the UFC and one of the brightest stars in the entire sport.
He also notes that despite being only 21 years of age with three UFC fights, it's going to be tough to hold her back from the top fighters in her division considering VanZant is already running through the competition.
"She has all the attributes of a little rock star," White said. "She's got a great personality, she's absolutely relentless when she fights. She moves forward, she puts 'Mighty Mouse' (Demetrious Johnson) type pressure on fighters and yesterday she was the most searched fighter on UFC.com. People love her. She's got it."
"She's ranked No. 7 and she's dominating. It's hard to hold somebody back like that."
VanZant dreams of one day holding a UFC title just like Rousey does, but she's not going to run before she's truly ready to walk.
While the entire world wants to make comparisons to Rousey and put her in title contention, VanZant is mature enough to know when she's actually ready to compete for a UFC championship. It's not today and it might not be tomorrow, but VanZant promises it will happen -- just not right now.
"When the title shot's there, I definitely will be ready for it, but of course I'm not going to rush anything," VanZant said. "This is my time in the UFC, this is my career and I want to enjoy every second of it."