Paige VanZant: 'I got outclassed in every way'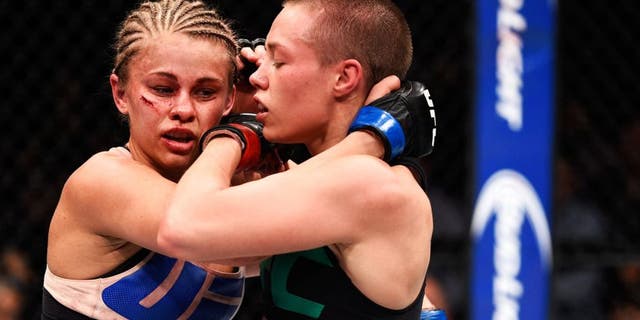 As Paige VanZant walked out of the Octagon on Thursday night following her loss to Rose Namajunas, she was noticeably shaken and understandably emotional after falling in the biggest showcase yet in her young career.
VanZant just wasn't able to apply the signature pressure she's used to dominate her last three UFC opponents and when nothing from her arsenal seemed to be working, she just didn't have an answer for Namajunas' considerable offense.
A cut was opened on VanZant's cheek early in the fight and she spent the largest of the next 20 minutes with blood splattered across her face. One thing VanZant did display in the fight was a tremendous amount of heart and determination as she got out of several bad spots including an armbar that looked like it could have snapped her limb in half but she refused to give up and eventually wiggled free.
As much as VanZant would love to talk about her grit in the fight, the end result was still a loss and that's the last thing she wanted when she walked into the Octagon.
"I wanted to win. I got outclassed in every way," VanZant said. "Just get back with my team and game plan and work on my technique. I'm sad, but I'm fine."
VanZant had been nearly spotless in her execution in prior fights, but she ran into a brick wall when facing Namajunas on Thursday.
Throughout the press conference, VanZant fought back the tears from a painful loss while lamenting that she just needed to get better and her technique needed an overhaul. Despite the pressure she had on her shoulders to help carry the fight card as well as the growing expectation that VanZant was poised to become 'the next big thing' she promises none of that got to her.
What happened was she ran into a better fighter and really there's no shame in that.
"There was no pressure. I'm just new," VanZant said. "I've got a lot to learn. Just working with my team. I'm trying not to cry guys. You can't just be aggressive to win fights.
"I feel good. I got a little cut. I feel great, athletically, I just wasn't prepared for that fight."
As tough as the pill from her loss will be to swallow, VanZant was already motivated to return to the gym just minutes after leaving the Octagon.
She still has plenty of road to travel and this was just a minor setback on what VanZant believes will be a thriving career for many years to come.
"I'm ready to get back in the gym as soon as possible. I feel great still. I took a little bit of damage to my face but I want to get back in there as soon as possible," VanZant said. "I have the heart, I have the aggression -- I don't have the technique yet. I think everyone knows that."
Even VanZant's opponent on Thursday felt that this was just a hurdle she'll need to overcome before climbing back up the rankings at 115-pounds. Namajunas suffered through a similar experience after she ran through her season of "The Ultimate Fighter" with an unblemished record but then came up short in her title fight against Carla Esparza last December.
Namajunas knows what VanZant is feeling right now, but even she's rooting for her to come back better and stronger than before.
"I feel the position she's in right now is where I was in a year ago," Namajunas said. "Similar, I should say nobody's the same but I can feel for her. She showed a lot of heart in this fight and I know she's going to come back real strong."