Padres return home to host Brewers for 4-game series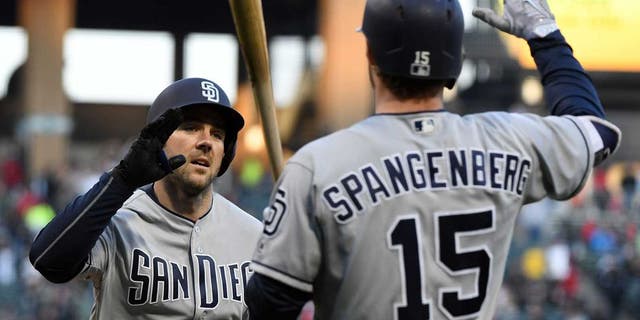 SAN DIEGO -- Two teams that couldn't have had more different Mother's Days open a four-game series on Monday night at Petco Park.
The Milwaukee Brewers rallied from deficits of 7-1, 8-3 and 9-6, ultimately scoring five runs in bottom of the eighth inning to defeat the New York Mets 11-9 on a three-run homer by catcher Manny Pina.
Meanwhile, the Padres entered the bottom of the eighth against the White Sox ahead 3-1, only to see Chicago score eight runs in the inning (six unearned) to claim a 9-3 win.
The Padres will be open a seven-game homestand Monday at likely the lowest ebb of a 14-25 season.
"Disgusting baseball" is how San Diego manager Andy Green described the eighth-inning Sunday. "One of worst innings I've seen in baseball, especially at the major league level."
Now he is counting on 2016 Rule 5 discovery Luis Perdomo to get the Padres back on track as they open a run of 19 home dates in a span of 28 games.
Perdomo, 24, will be paired against the Brewers' Chase Anderson in a matchup of right-handers apparently heading in opposite directions.
Perdomo (0-0, 4.13 ERA) doesn't have a decision yet, but his ERA is 3.13 in four starts since he returned from the disabled list on April 23. He missed 16 days with posterior shoulder inflammation that developed during his first start of the season.
Anderson (2-0, 2.97 ERA) has 34 strikeouts in 39 1/3 innings over seven starts. However, he has allowed six runs, 16 hits and four walks in 9 1/3 innings over his last two starts.
Both Anderson and Perdomo thrive by pitching low in the strike zone, but they get there with different pitches.
Perdomo is a sinkerball specialist who is working to add a changeup to his repertoire. He has some unusual splits this season. Right-handed hitters are batting only .170 against Perdomo, but left-handers are hitting .409.
Green believes the development of a quality changeup will take Perdomo to the next level.
"Perdomo is still young and relatively inexperienced," Green said. "Remember, last year at this time he was just making his first major league start. Before that, he made some appearances as the long man out of our bullpen after never having pitched above low Single-A."
Anderson relies on a curveball that is probably better than he believed it was earlier in his career. Anderson has given up only two homers in seven starts this season after serving up 25 last season.
"I think it goes back to the mentality of being the hunter not the hunted," Anderson recently told the Milwaukee Journal Sentinel. "Attack the strike zone."
The biggest difference between Anderson and Perdomo could be the mental states of the teams behind them.
The Brewers are coming off one of their top comeback wins, having scored two runs in the sixth, three in the seventh and five in the eighth on Sunday.
Meanwhile, the Padres collapsed Sunday. The bullpen gave up five walks in an eighth inning against the White Sox that included an error on a potential double-play grounder and two mental gaffes by All-Star first baseman Wil Myers.