Oregon pulled off the best April Fools' prank in college football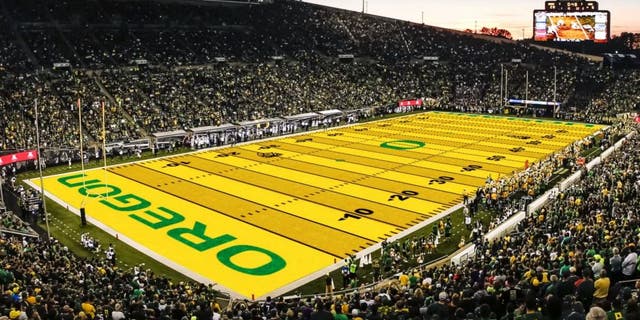 NEWYou can now listen to Fox News articles!
Oregon's motto is "Win The Day," and they might have won April Fools' Day in 2016. The Ducks went to great lengths to make it look like they bulldozed the field at Autzen Stadium in order to replace the surface with an LED field that will change colors and shoot fireworks when the Ducks score, putting together an entire gallery of the construction work on the program website.
Via GoDucks.com:
"Construction of the time-sensitive project has begun with the removal of the existing turf and removal of sixteen inches of concrete necessary to install the LED lighting hardware and clear acrylic turf.
"We are always looking for improvement in all phases of our football program." Head Coach Mark Helfrich said, "We continue to embrace innovation and are excited to provide another unique homefield advantage to Autzen Stadium."
A teaser video released more than a month ago - prank videos published on April 1st are a little too obvious - shows what the field would look like, and it seems like something the Ducks might actually use.
The company handling the work? Gelos LED Systems, a subsidiary of the Globex Corporation.
Fans of the Simpsons will remember that Homer Simpson was briefly employed by Globex Corporation and moved the family to Cyprus Creek.
"Finally our product will come to light." Hank Scorpio, CEO of Globex Corporation said, "Oregon football is an incredible shining star. We have been working on prototypes since we partnered with LiteBrite to produce a more reliable, energy efficient product. We expanded into field turf and believe this will be the catalyst to seeing it become a residential product neighbors can enjoy year-round."
Very well played, Oregon.