Olympic legend John Carlos says he planted seed for 'Black Lives Matter'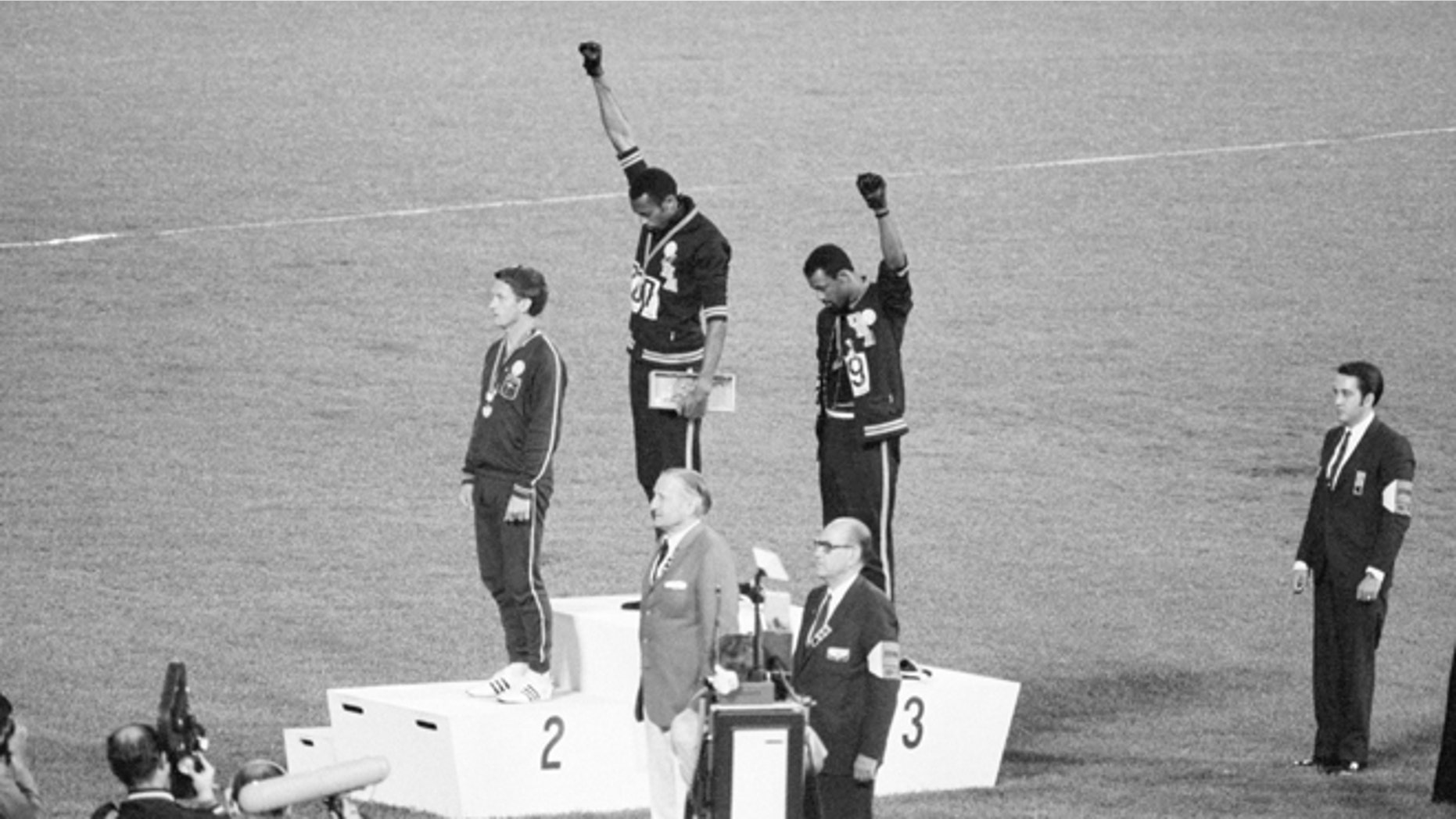 There are a number of things that Dr. John Carlos finds disheartening — among them, the lack of opportunity for poor minority kids to get hooked on Olympic sports, the way the Black Lives Matter movement is perceived in the media and how the NFL brushed aside concussion problems.
But the sports icon from the 1968 Mexico City Games can see real improvement in our society as embodied by Michael Phelps, who on Tuesday night won the 20th and 21st Olympic gold medals of his swimming career.
"I am very happy the U.S. chose Michael Phelps, a weed smoker, to carry our flag at the opening ceremony," Carlos told Fox News Latino, referring to the six-month suspension the swimmer received in 2009 after a photo of him smoking pot was published in the press. "That's a great thing."
Even if you don't recognize Carlos by name, you have seen his image countless times thanks to having been involved in possibly the most famous political act at an Olympic Games. On the evening of October 16, 1968, he and Tommie Smith, winners of the bronze and gold, respectively, in the 200-meter sprint, wore black socks on the podium instead of shoes and lifted a black-gloved fist into the air — a silent but attention-getting way of protesting the discrimination and poor living condition of blacks in the U.S.
The two men shared one pair of gloves for their gesture — a suggestion made by the third person on that podium, the Australian runner, Peter Norman.
The fallout for all three men was swift—Smith and Carlos were immediately taken off the U.S. team, their Mexican visas were revoked and they were sent home to the U.S. Even Norman was reprimanded and held off future Olympic teams by the Australian committee.
Noting the apparent similarities in the political situations at the 1968 Olympics and today – Latin American host nations undergoing political turmoil and the rocky relations between the races in the U.S., chief among them – FNL tracked down Carlos, who lives in the Atlanta area, to speak to him about the Rio games.
Speaking about the Black Lives Matter movement, the 71-year-old said, "It's disheartening when you see the loss of life in the black community, when you see the gang violence claiming so many lives, when those who have pledged to protect and serve are killed."
"But here's the thing about Black Lives Matter," Carlos added. "If you notice, they are all black women, and they are fed up with their children being killed."
As for a connection between the 1968 riots, the Civil-Rights Era struggle and the racial divisiveness that's emerged in the last few years, Carlos said, "When you think about it, Smith, Norman and me, we were like horticulturalists. We planted the seeds back then, and what you see today is the fruit of our labors. In entertainment, in sports, you see people demanding more access and better treatment."
Carlos, who is of Cuban descent, was born and raised in New York City's Harlem neighborhood.
He told FNL that he had never heard about the Olympics until he heard on the radio about one athlete's attempt to swim the English Channel.
"I wondered why anyone would want to do that, so I looked into what other ambitions you would have as a swimmer, and the Olympics came up," he explained. "I wanted to excel in aquatics."
But when Carlos asked his father, "Have there ever been any black swimmers representing America at the Olympics?, he told me no. I asked why, and then he had to explain to me about race in the United States."
After the 1968 Games, Carlos received a number of death threats, but he was drafted by the NFL Philadelphia Eagles. He played for most of his career in the Canadian Football League, and went on to write extensively about his Olympic experience, but he never lost his interest in activism and social justice.
"We had no clue," Carlos said about concussions among football players in his time. "That's a very serious issue that the NFL should have a put together a round table with athletes and doctors and coaches to talk and try to figure out how to deal with it."
He is frustrated at the limited access most kids get to exposure to the Olympics.
"It's a spectacle that all young people should have access to, and if you don't enough money to have cable TV, you don't get it," Carlos said.
He went on, "We have had a loss of participation in some ethnic groups because people don't have access to the games or to community parks where kids can go to play."
"Look at what black and Latino athletes have been able to do recently in gymnastics," he said, speaking a couple of hours after Simone Biles, Laurie Hernandez, Gabby Douglas, Aly Raisman and Madison Kocian won the team All-Around gold medal for the second Olympics in a row.
"Once you have access for all people," Carlos said, "anything becomes possible."
He may see a lot of things wrong with the Olympic playing field, but he is optimistic nonetheless.
"Everything is solvable," the man who 48 years ago lifted his left hand and made history, told FNL. "But until people sit down together at that round table and talk over how to overcome the problems that exist, we are going to be frozen in time."