Nurmagomedov calls out top lightweights: All these bums lose, I am undefeated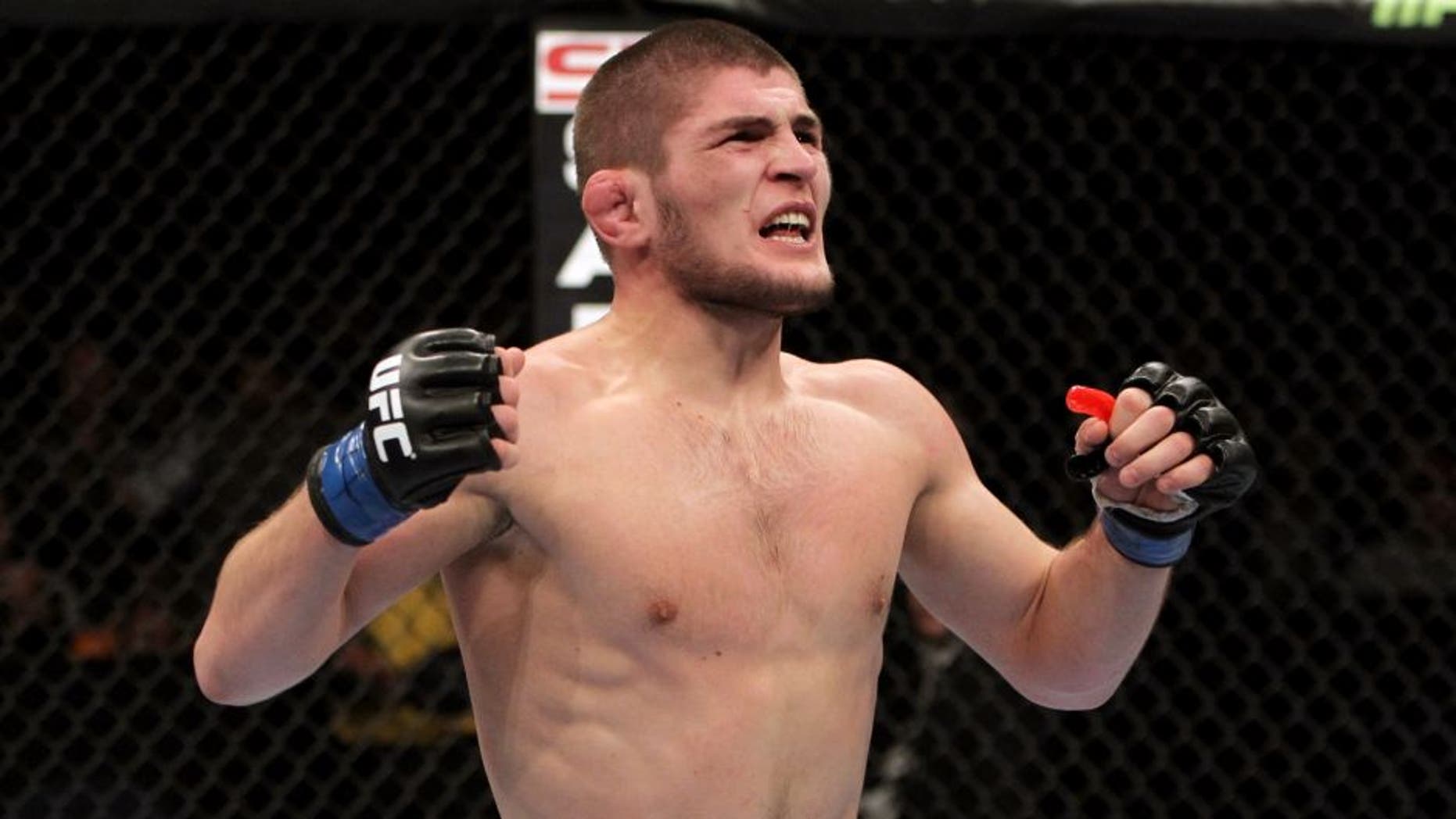 TAMPA, Fla. --
A little over a week ago, Darrell Horcher was sitting in his office at Superior Metalworks in Carlisle, Pa., when he got a call from the UFC. Khabib Nurmagomedov needed someone to fight at UFC on FOX Fight Night in Tampa after an injury forced Tony Ferguson to withdraw from the event, and they wanted Horcher to take the bout.
A part-time fighter since 2010, Horcher is perhaps best known for a brief stint with Bellator in 2012 and early 2013, but prior to the proposed fight with Nurmagomedov, he'd never fought professionally outside of his home state of Pennsylvania or nearby Atlantic City. That was no matter in this case, though, and Horcher says he couldn't sign his multi-fight contract fast enough.
"They called me and said, 'Hey, you've got a fight,' and I said, 'All right, let's do it,'" the full-time project manager Horcher said Thursday after a short open workout at Tigers World Gym outside Tampa. "I'll fight anybody, anywhere, anytime. I said that and I've got to stick to that, and I'm a man of my word."
And while Horcher will be a massive underdog against Nurmagomedov, the No. 2 contender in the UFC's lightweight division, he doesn't seem all that nervous about the biggest fight of his life.
"The easiest part about getting ready for a short-notice fight is you don't have a build-up, mentally," Horcher said. "There's no nerves, no anxiety ... I've got to get myself ready, get going, and we're going to fight. That's it."
In fact, if you didn't know better, you'd think this guy actually believes he has a chance to win.
"He's just a man," Horcher said. "He can be beat like anyone else. He bleeds like I bleed. I can be beat like anybody else. It's a sport, anything can happen, and all I've got to do is touch him once and it's my night.
"I think he's more grappling-heavy, more than well-rounded," Horcher added when asked about the differences between himself and Nurmagomedov. "I consider myself to be well-rounded. I can do it all. Plus, I have power. I've got power like nobody at 155. You guys will see it. I've got power. They don't want me to touch him."
Certainly, an upset of Nurmagomedov would be a huge boost for Horcher's standing in the MMA world, but the favorite has plenty at stake, too. Undefeated at 22-0, Nurmagomedov is believed by some to be the best fighter in the lightweight division, but injuries have kept him out of the octagon for nearly two years.
In his last fight, in April 2014, Nurmagomedov defeated current lightweight champion Rafael dos Anjos by unanimous decision, and there's a thought a win over Horcher will put him in position for a rematch later this year with the title at stake. Still, Nurmagomedov said he's not overlooking Horcher going into Saturday.
"I didn't want to underestimate this guy because (that would be) a big mistake," Nurmagomedov said Thursday. "He has a hard left punch and I want to say thank you for this guy. He took this fight like two weeks before (the) fight, and I want to respect this guy, but when the cage closes, I have only one plan. I want to dominate him. This is my business. This is what I do all my life."
However, Nurmagomedov also understands how the expected result will be perceived and argued that he should not penalized because he was forced to fight an inferior opponent -- calling out several other lightweights in the process.
"This is not my problem I have Darrell Horcher," Nurmagomedov said of having to fight an unknown last-minute replacement. "I asked Cowboy (Cerrone), I asked Eddie Alvarez, I asked Tony Ferguson, nobody can go. This is not my problem.
"I am undefeated all my life," the Russian-born Nurmagomedov continued. "Eddie Alvarez loses all the time, Cowboy loses, Tony Ferguson loses. UFC needs somebody different, somebody who's new -- new level, new generation. And I hope UFC gives me a title shot after this fight, because a lot of people agree with me, a lot of fans agree with me.
"I am undefeated," Nurmagomedov reiterated. "All these bums lose a lot of times. Nate Diaz (has lost) 10 times, McGregor (lost), Tony Ferguson loses, Eddie Alvarez, Cowboy, RDA, everybody. I am undefeated, and UFC has to give me a title shot."
But in any case, Nurmagomedov said it will be good just to be back in the Octagon at all after such a long layoff.
"It will be very interesting how I come back," Nurmagomedov said. "(It will be) very interesting (to see) when I get to the cage what I feel, and (how I feel when) the cage closes, when the referee says, 'Let's go fight,' after first round, after second round, after third round.
"Every day, every month, every year, I become like a new level," Nurmagomedov added of his two-year effort to get fight-ready -- one that, at one point, had him considering retirement. "I changed a lot of things in my game, and I want to show how I improved myself, improved my ground game, my striking game, this Saturday. I feel like for two years I sat down in jail and now I've become free."
And while Nurmagomedov and Horcher couldn't make for more of a mismatch in the octagon, that eagerness just to be there with an eye on the future is something both fighters have in common.
"Nobody else has made their debut fight (against) arguably the No. 1 guy in their weight class, so yeah, I'm sure with a win it's going to jumpstart my career," Horcher said. "As long as I look good it's going to jumpstart my career. Whatever happens it's going to jumpstart my career. So I'm sure it'll boost me ahead and get me ranked where I need to be.
"We've joked about it and said when I beat him I know there's a title shot on the fight for him, so I should get that," Horcher added with a laugh when asked if a win would make him the new No. 1 contender. "But I'm realistic and I understand that's not going to happen. With a win, I'd like to see at least top 15. I'm not going to push it. Whatever happens, happens. I've got to fight first."
You can follow Sam Gardner on Twitter or email him at samgardnerfox@gmail.com.