No more sunshine pumping after Texas gets throttled by No. 4 TCU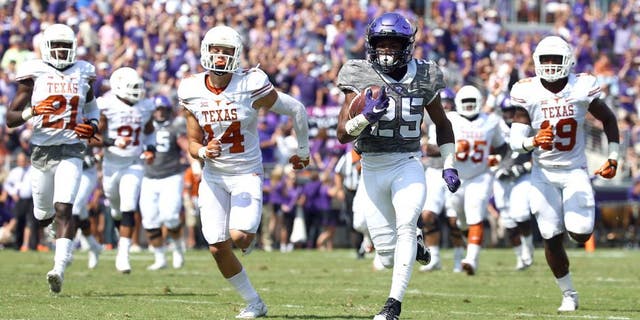 NEWYou can now listen to Fox News articles!
The standard for Texas Longhorns football has deteriorated so significantly that coaches, players and fans were happily pumping sunshine over a pair of close losses, or what other programs that once measured themselves against the Longhorns might call moral victories.
Moral victories at once-mighty Texas, the wealthiest athletic program in the country? The domineering leader of the Big 12 Conference? The program with its own television network?
In a 45-44 home loss to unranked Cal two weeks ago, Texas' valiant comeback effort, thwarted by a flubbed extra-point attempt in the final minute, was viewed as progress. After all, Texas, at long last, had found its playmaking quarterback in redshirt freshman Jerrod Heard, whose school record-breaking performance even elicited a congratulatory text from Vince Young.
Last week, a second gut-punch loss for Charlie Strong's team to then-No. 24 Oklahoma State, was pinned not so much on a late-game muffed snap or an offensive line that seemed made of tissue paper, but rather a band of flag-happy renegade referees, without which the Horns probably win and instead of being 1-3 could oh-so-easily be 3-1.
Sunshine pumping was becoming a cottage industry at Texas.
Not anymore. Not after the beat down No. 4 TCU -- with half its defense in the injury ward and still missing one of its star receivers -- put on these lowly Longhorns, who are slumping harder than the Texas oil industry.
Not after another insane series of special-teams misery minutes into the game -- a sailing punt snap for a safety, a knuckle-ball kickoff out of bounds and a 22-yard punt -- that led to 16 TCU points and a 30-0 Horned Frogs lead after one quarter.
Not after the Texas defense, Strong's specialty -- looked clueless. Not after the recently praised offense stuck its head in the sand against Gary Patterson's resilient, flying Frogs' defense.
And not even the great hope of watching Texas' freshmen grow on the job could honestly be viewed wit much long-term optimism, not after watching TCU's youngsters thrown in the fire excel, like receiver KaVontae Turpin shredding the Texas defense for three touchdowns, including two beauties in the first-half stomping.
This one is on the coaching. Strong and his staff had their team sleepwalking into the 11 a.m. start at a packed Amon G. Carter Stadium on a beautiful early fall day for football.
A few weeks ago, a debate raged about who is really at fault for Texas' now 7-11 under Strong -- 1-4 this season -- and now 5-6 in the Big 12.
Was it Mack Brown, who left the cupboard bare for Strong? Or is it Strong, who has failed to, forget flip the switch, but show any consistent improvement.
Brown emphatically denied any culpability for Texas' current plight. He said if he is to blame, then former Texas coach John Mackovic would have to get the credit for Brown's 1998 debut season1998, when he inherited a 4-7 team and turned it into a 9-3 Cotton Bowl-winning club with the help of a running back named Ricky Williams.
Strong became the first Texas coach since Dana Bible in 1937 to finish his first season below .500 at 6-7 after getting blown out twice by TCU at home on Thanksgiving and then to a mediocre Arkansas team in the Texas Bowl.
After Saturday's second embarrassment in five games (you haven't forgotten Notre Dame, have you?), the Longhorns are staring at 1-5 if they can't beat No. 15 Oklahoma in Dallas next Saturday. Since 1990, Texas has finished below .500 just four times. Strong is headed for his second in a row.
Interestingly, he has recently received words of support from interim athletic director Mike Perrin, and just this week, according to Orangebloods,com, billionaire donor Red McCombs, who initially was ridiculed for suggesting Strong would make a better coordinator than a head coach, reached out to Strong via email to show his support after that moral victory to Oklahoma State.
Had Texas not scored a touchdown with 5:14 left to go, TCU would have handed Texas its worst shutout since Oklahoma beat it 50-0 -- in 1908. The Horned Frogs were gunning for their biggest defeat of Texas since a 46-0 blanking in the 1950s.
But they'll be quite satisfied with 50-7 and 48-10 in their last two meetings against the Longhorns.
For Strong and Texas, there's no pumping sunshine after that.
MORE NEWS: Want stories delivered to you? Sign up for our College Football newsletters.