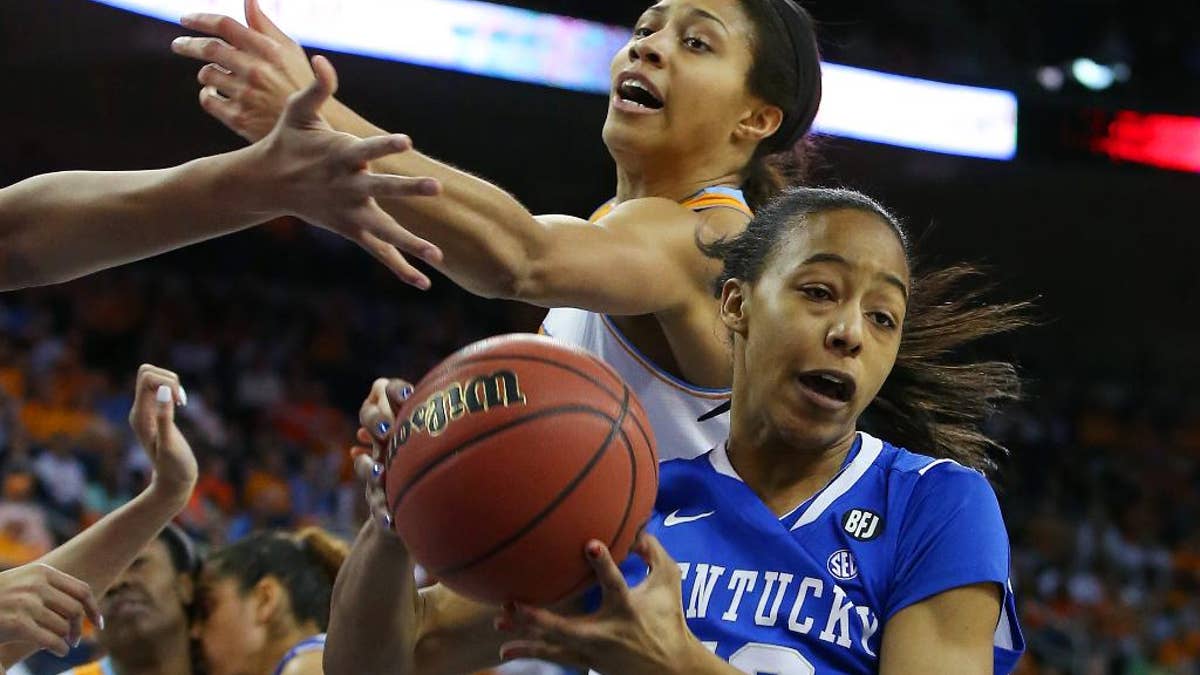 DULUTH, Ga. – Kentucky's fourth SEC tournament championship appearance in the last five years produced its fourth loss.
What was missing? Just one point, according to Kentucky coach Matthew Mitchell.
Meighan Simmons scored 17 points, including two go-ahead free throws with 1:45 remaining, and No. 6 Tennessee edged 12th-ranked Kentucky 71-70 on Sunday to win its 17th SEC tournament title.
Kentucky (24-8) has become a consistent championship contender in the SEC, but it still hasn't won the tournament since 1982.
"I don't know that anything was missing today other than they came up one point better than us," Mitchell said when asked what it would take to get the Wildcats over the hump.
"I can't tell you how much respect I have for this tournament. It's real special to all of us at Kentucky. Our players wanted to win it bad. I don't know what was missing. Didn't look like a lot. We just came up one point short today."
DeNesha Stallworth, who led the Wildcats with 21 points, said the loss would motivate the team in the NCAA tournament.
"Definitely it's a motivation," Stallworth said. "Like coach said, it was a great day for us to come together. Regardless of what happened on the court, we stuck together. That's just the most important thing.
"Just going to the NCAA tournament, everybody is focused. We just have to focus on the task at hand, and that's going to the Final Four."
The Wildcats trailed by four before Jennifer O'Neill sank three free throws with 0.7 seconds remaining to cut Tennessee's lead to one point. Mitchell said the plan was for O'Neill to miss the third free throw with the hopes Kentucky would grab the offensive rebound and have a chance to tie the game.
"Like I told Jenn, we don't practice missing enough," Mitchell said.
Kentucky opened strong, taking an 18-8 lead. Linnae Harper, who had 12 points, scored nine of the Wildcats' 11 points in a 12-2 run that built the 10-point lead.
Tennessee didn't panic. The Lady Vols rallied from double-digit deficits in each of their three tournament wins.
The Lady Vols (27-5) have won seven straight, including a win over No. 5 South Carolina to close the regular season.
"I think we've come on strong at the end of the year," said second-year coach Holly Warlick after her first SEC tournament title.
Asked if she thought her team deserved consideration as a No. 1 NCAA seed, Warlick said "I would think so."
The last of six ties came at 63-63.
Tennessee's Meighan Simmons, who struggled with her shooting from the field throughout the tournament, made the two free throws to give the Lady Vols only their second lead of the second half. Tennessee didn't trail again as Simmons added a layup and two more free throws in the final 22 seconds.
Isabelle Harrison had 16 points as Tennessee claimed its record 17th Southeastern Conference tournament title, including four in the last five years.
Kentucky led 38-32 at halftime. Tennessee cut the lead to one point four times in the first 10 minutes of the second half before finally taking a 52-51 lead on two free throws by Harrison, following a hard foul by Kentucky's Samarie Walker. Tennessee fans howled in protest after Walker pushed Harrison to the floor.
Walker and Tennessee's Cierra Burdick were called for technical fouls. With tensions still high, more words were exchanged and another set of technical fouls were called on Stallworth and Tennessee Jasmine Jones before Kentucky's inbounds pass.
Mitchell said he warned the officials before the technical fouls that Burdick "was starting that kind of activity in the game." Mitchell said "it's not the first time that's happened with that player."
"It should be stopped at the beginning of the activity," Mitchell said. "Unfortunately today it was not."
Burdick didn't deny making comments to Kentucky players.
"Chippiness happens," Burdick said. "It happens. This is basketball. It happens every single day. I think the refs did a fine job of avoiding any altercations. Nothing happened.
"Words were said, but words are words. No actions took place."
The Wildcats quickly reclaimed the lead when Stallworth, left alone at the top of the circle, hit a rare 3-pointer. Stallworth, the 6-foot-3 forward, made only four 3s during the regular season.