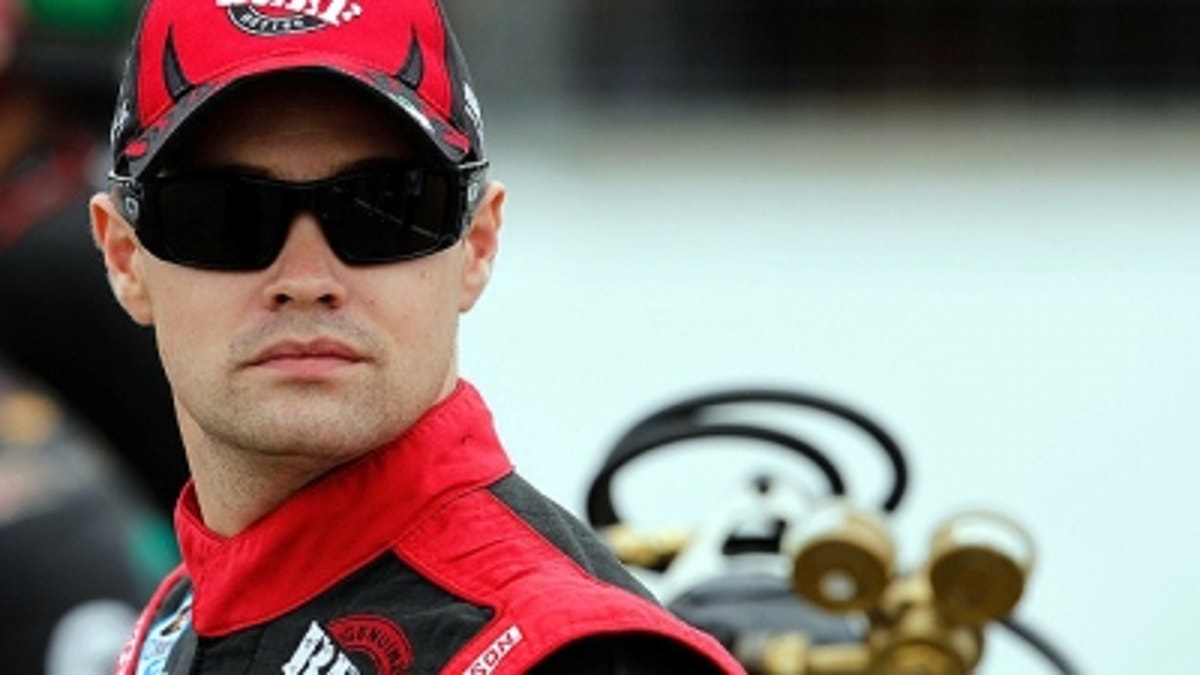 Ricky Stenhouse says he doesn't approach races at Iowa Speedway different than others.
"We come here to win just like we do every other racetrack," he said. "It's just worked out the last three times."
Worked out, indeed. Stenhouse has won three straight at the track entering Saturday night's U.S. Cellular 250.
The defending NASCAR Nationwide Series champion will try to become the first driver since Kyle Busch to win four in a row at the same track. Busch did it at Texas Motor Speedway between 2008-2010.
The seven-eighths-mile track in the middle of Iowa corn country appears to fit Stenhouse's aggressive style.
"Our car seems to drive better the harder you run it in the corner and the harder I get into the throttle," he said. "That's the way I drive every racetrack, and it pays off here."
Stenhouse probably will be making his last appearance at Iowa Speedway. He'll run a full Sprint Cup schedule next year.
He enters the race 13 points behind Nationwide leader Elliott Sadler and 12 behind second-place Austin Dillon.
Sadler has three straight top-five finishes at Iowa Speedway, including a runner-up finish to Stenhouse in May. He's coming off a controversial finish to last week's race at Indianapolis in which he was penalized for jumping the restart near the end of the race, causing him to finish 15th behind Brad Keselowski.
"Ricky has definitely been the guy to beat here the last few races, and we know he's going to be stiff competition," Sadler said. "We feel very good about what we've brought back and what we learned here in the spring race, and we feel we'll be just as good as anybody here."
Sadler said a change in tires for this race and the removal of a bump between turns one and two could help him on Saturday.
"Hopefully these few changes will give us leeway and adjustments so we can close the gap on the 6 car and give him a run for the money," Sadler said.
Sadler was gaining on Stenhouse late in the May race, but he lost momentum because of a caution flag.
"We feel like we were better than him at the end of the race," Sadler said. "We closed ground a little bit, and hopefully we can close some more in this race."
Stenhouse's run at Iowa Speedway started in May 2011 when he led 41 laps and beat Carl Edwards by 0.435 seconds. He beat Edwards again three months later after leading 25 laps. The 24-year-old from Olive Branch, Miss., dominated here three months ago, leading 209 of 250 laps to beat Sadler by 1.47 seconds.
Michael Annett, sixth in the standings, said no one doubts Stenhouse can win again Saturday.
"Ricky knows that when he unloads at Iowa Speedway that he's the one to beat right now, and confidence can mean more than anything -- more than making the right spring change or making the right sway-bar change," Annett said. "If you know everyone there is trying to beat you, and that's who they're focused on, that gives you the little extra bit and sometimes that means more than anything."
Stenhouse comes in off five straight top-10 finishes, but he hasn't won since the May race here. He was ninth in Indianapolis last week.
Saturday's race also marks the end of the Nationwide Series' "Dash4Cash" bonus program, and this time a lucky fan will get a piece of the action.
Stenhouse, Dillon, Annett and Sam Hornish Jr. are the drivers eligible for the additional $100,000.
As in years past, the four drivers each will be paired with a fan for the last leg of the "Dash4Cash." In addition to the highest-placing eligible driver receiving a $100,000 bonus, the fan paired with that driver also gets $100,000.
Drivers became eligible for the "Dash4Cash" if they were among the top four point earners last week. A drawing will determine the fans who'll be paired with the drivers.
"Putting that fan in there puts pressure on us," Stenhouse said, "because you want to do it for them as well."