NLCS: San Francisco Giants Force Winner-Take-All Game 7 Against Cardinals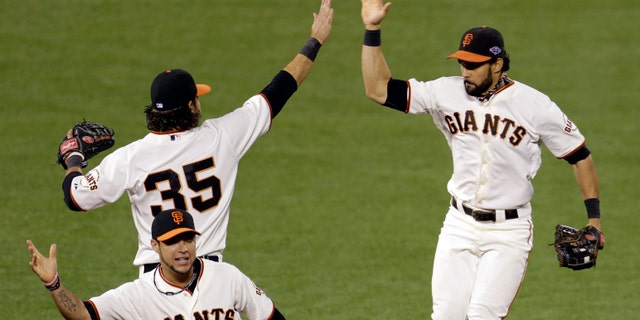 NEWYou can now listen to Fox News articles!
SAN FRANCISCO – The San Francisco Giants don't give up easily.
Winning Game 6 of the NLCS, the Giants forced the St. Louis Cardinals into playing a winner-take-all Game 7 on Monday for the chance to play on baseball's biggest stage.
Ryan Vogelsong struck out a career-best nine in another postseason gem in his biggest start yet, and San Francisco staved off elimination for the second straight game, handing St. Louis a 6-1 loss Sunday night to force the deciding game in the NL championship series.
You've seen us the last couple years, it seems, unfortunately, we don't win until we absolutely need to.
San Francisco's Matt Cain and St. Louis' Kyle Lohse are set to pitch in a rematch of Game 3, won by the Cardinals. There's a forecast of rain in the Bay Area during the day.
"You've seen us the last couple years, it seems, unfortunately, we don't win until we absolutely need to," Lohse said. "So, it's one of those things where we would love to have taken care of business the last two games. We haven't. ... It's time to get it done."
Lohse and manager Mike Matheny will need to get more from the Cardinals' offense if they're going to get a shot at defending their title against the Detroit Tigers, who have been waiting since completing a sweep of the Yankees on Thursday.
In five games with their year on the line, the gutsy Giants have pulled out five wins in the postseason. After winning the one-game wild-card playoff at Atlanta, the Cardinals were on the brink against Washington before a remarkable four-run rally in the ninth for a 9-7 Game 5 win in the division series.
"Clutch performances are just guys playing normally in big spots. You can't be petrified by the situation, and neither of these teams have been," St. Louis' Lance Berkman said. "One of the things that makes Game 7's so interesting is that I don't think either of these teams is going to choke it away."
Pitching to chants of "Vogey! Vogey!" from the sellout crowd of 43,070 at AT&T Park, the right-hander didn't allow a hit until Daniel Descalso's broken-bat single to center with two outs in the fifth. Vogelsong struck out the side in the first and had already fanned five through two innings.
"This place is going to be loud, I can tell you that," Vogelsong said of Monday night.
Scutaro had no chance for a collision with Matt Holliday this time. In their first game back at AT&T Park since Holliday took out the second baseman with a hard slide in Game 2, Holliday was scratched about an hour before first pitch because of tightness in his lower back, and Allen Craig replaced him in left field.
It hardly mattered the way Vogelsong pitched.
The Cardinals managed their only run on Craig's two-out single in the sixth. St. Louis had gone 15 innings without scoring after left-hander Zito won 5-0 on Friday in Game 5.
Vogelsong had his second impressive seven-inning performance against the Cardinals in a week, allowing four hits and one run. He walked one in a 102-pitch performance and lowered his postseason ERA — all this year — to 1.42.
"Everything is on the line, and we couldn't be happier to have Kyle Lohse on the mound knowing that we're going to have another tough day with Matt Cain," Matheny said. "We've had some games where we stack on runs and then we go absolutely hitless, almost, for a while. But any day we know our offense can pull out quite a bit of production."
The Cardinals won the NL's second wild card on the second-to-last day of the regular season, then won at Atlanta to reach the division series. The Cardinals rallied from a 6-0 deficit with a four-run ninth inning to stun the Washington Nationals 9-7 in Game 5 of the division series.
The Giants got to St. Louis ace Chris Carpenter again. The Cardinals' winningest postseason pitcher with 10 victories looked out of sync for the second straight start — and he left with a nearly identical line as in his 7-1 Game 2 loss here last Monday, down to the hits, earned runs, unearned runs and innings.
Carpenter was done in by one big inning this time, too. He allowed six hits and five runs, two earned, in four innings.
The 10 unearned runs allowed by the Cardinals are the most in an NLCS, according to STATS LLC — topping the nine given up by the Braves in 2001 and Dodgers in 1985.
San Francisco never faced an elimination game in 2010 on the way to winning the World Series, but has had to go the distance in each of its first two postseason series this year. They became the first team in major league history to come back from a 2-0 deficit to win a best-of-five series by winning three straight on the road, doing it at Cincinnati.
"We're enjoying this moment. We know how to handle this situation," San Francisco third baseman Pablo Sandoval said.
While the Giants have won five straight games facing elimination this postseason, the Cardinals have won their last six dating to last year. This is the first time the NLCS has gone seven games since 2006, when St.Louis beat the New York Mets 3-1 at Shea Stadium. Carlos Beltran, now with the Cardinals, struck out looking when Adam Wainwright froze him on a curveball.
"This night, this moment belongs to every player in here and every fan in the stands," San Francisco right fielder Hunter Pence said. "There's still another story to be told, and we'll just have to wait and see if we're going to enjoy it."
Based on reporting by the Associated Press.
Follow us on twitter.com/foxnewslatino
Like us at facebook.com/foxnewslatino