Nico Rosberg dominates inaugural F1 race on streets of Baku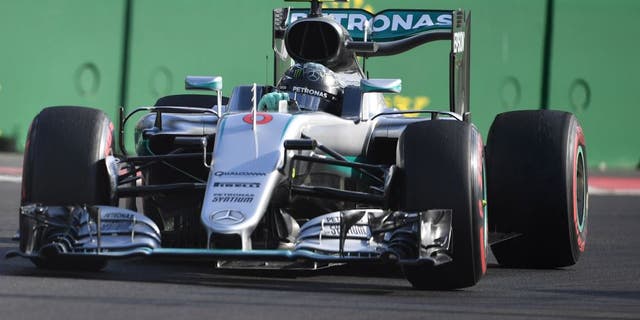 NEWYou can now listen to Fox News articles!
Nico Rosberg won the inaugural European GP to be held at the Baku City Circuit in Baku, Azerbaijan on Sunday.
This win was a boost to his championship chances, having lost a handful of points to his Mercedes teammate Lewis Hamilton in the last two races.
Rosberg led the field away for the first of 51 laps. While many expected there to be at least one Safety Car due to the narrow streets that made up the Baku City Circuit, the race was ran relatively incident free, with the only damage on Lap 1 being sustained to the Haas F1 car of Esteban Gutierrez - who lost his front wing.
In fact, the only retirements of the race were due to mechanical issues - suspension failures for the Toro Rosso teammates, a brake failure for Manor's Pascal Wehrlein, and a gearbox issue for McLaren's Fernando Alonso.
While Rosberg dominated from pole, Daniel Ricciardo was not able to make the most of his second-place starting spot as he came in for his first stop too early, and lost out on strategy to the Ferrari teammates of Sebastian Vettel and Kimi Raikkonen.
However, Raikkonen did not finish third. Knowing that five seconds would be added to his time immediately following the race after he crossed the pit line early on in the event, Raikkonen let Force India's Sergio Perez by in the closing laps of the F1 race as, with Perez finishing less than five seconds behind him, Perez would have taken third on the podium anyhow.
Perez worked his way up from seventh on the grid. He had qualified in second, but had been assessed a five-place grid penalty for a gearbox change after crashing in the final practice session.
Behind Perez and Raikkonen, Hamilton could do no better than fifth after problems with his ERS system. The system had been set to the wrong settings, but the team could not radio him the correct settings due to F1's recent radio clampdown. Hamilton got the right settings late on in the race, but by then he was unable to run the cars ahead of him down.