NFL putting anthem policy on hold during talks with players association
The National Football League and its players association announced Thursday that the league would hold off on enforcing its new national anthem policy while the two sides attempt to resolve the issue.
In a joint statement, the NFL and NFLPA said they "have been working on a resolution to the anthem issue.
"In order to allow this constructive dialogue to continue, we have come to a standstill agreement on the NFLPA's grievance and on the NFL's anthem policy," the statement continued. "No new rules relating to the anthem will be issued or enforced for the next several weeks while these confidential discussions are ongoing."
The league announced in May that teams would be fined if players did not stand during "The Star-Spangled Banner" while on the field or on the sidelines. The policy did allow players to stay in the locker room if they wished.
The NFLPA filed a grievance challenging the anthem policy earlier this month. That grievance has also been put on hold during the talks.
"The NFL and NFLPA reflect the great values of America, which are repeatedly demonstrated by the many players doing extraordinary work in communities across our country to promote equality, fairness and justice," the joint statement concluded. "Our shared focus will remain on finding a solution to the anthem issue through mutual, good faith commitments, outside of litigation."
Earlier Thursday, the Associated Press reported that the Miami Dolphins had issued a team policy classifying anthem protests under a large list of "conduct detrimental to the club," all of which could lead to a paid or unpaid suspension, a fine or both.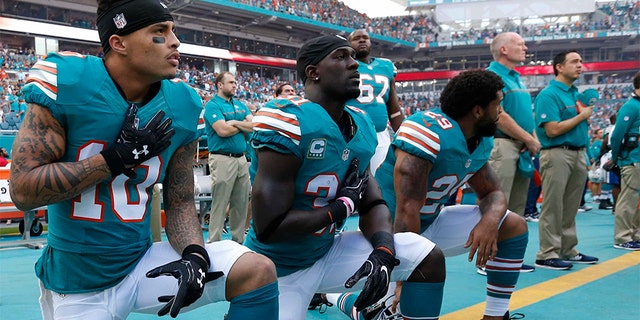 None of the team policies toward player protests have been made public. Jets acting owner Christopher Johnson said shortly after the league announced its policy that he will not punish his players for any peaceful protests — and would pay any potential fines incurred by the team as a result of his players' actions.
In 2016, then-49ers quarterback Colin Kaepernick began protesting police brutality, social injustice and racial inequality by kneeling during the national anthem and the demonstration spread to other players and teams. It became one of the most controversial and sensitive issues in sports.
Critics, led by President Donald Trump, called the players unpatriotic and even said NFL owners should fire any player who refused to stand during the anthem. Some players countered that their actions were being misconstrued and that they are seeking social change rather than protesting the anthem itself.
Trump's criticism led more than 200 players to protest during one weekend, and some kept it up throughout the season. In some cases, owners joined players in on-field demonstrations as a solidarity gesture, though not all cases involved kneeling.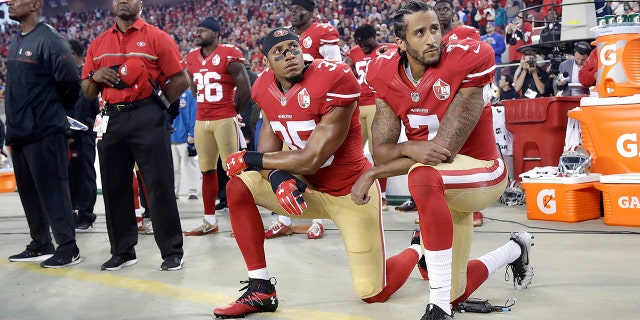 The league and a coalition of players have been working in tandem to support player initiatives for a variety of social issues. The NFL is committing $90 million over the next seven years to social justice causes in a three-segment plan that involves league players.
Kaepernick didn't play at all last season and still hasn't been picked up by another team. He threw 16 touchdown passes and four interceptions in his final season in 2016. Safety Eric Reid, one of Kaepernick's former teammates and another protest leader, is also out of work.
Both have filed collusion grievances against the NFL.
The Associated Press contributed to this report.