NFL players, owners react to President Donald Trump's comments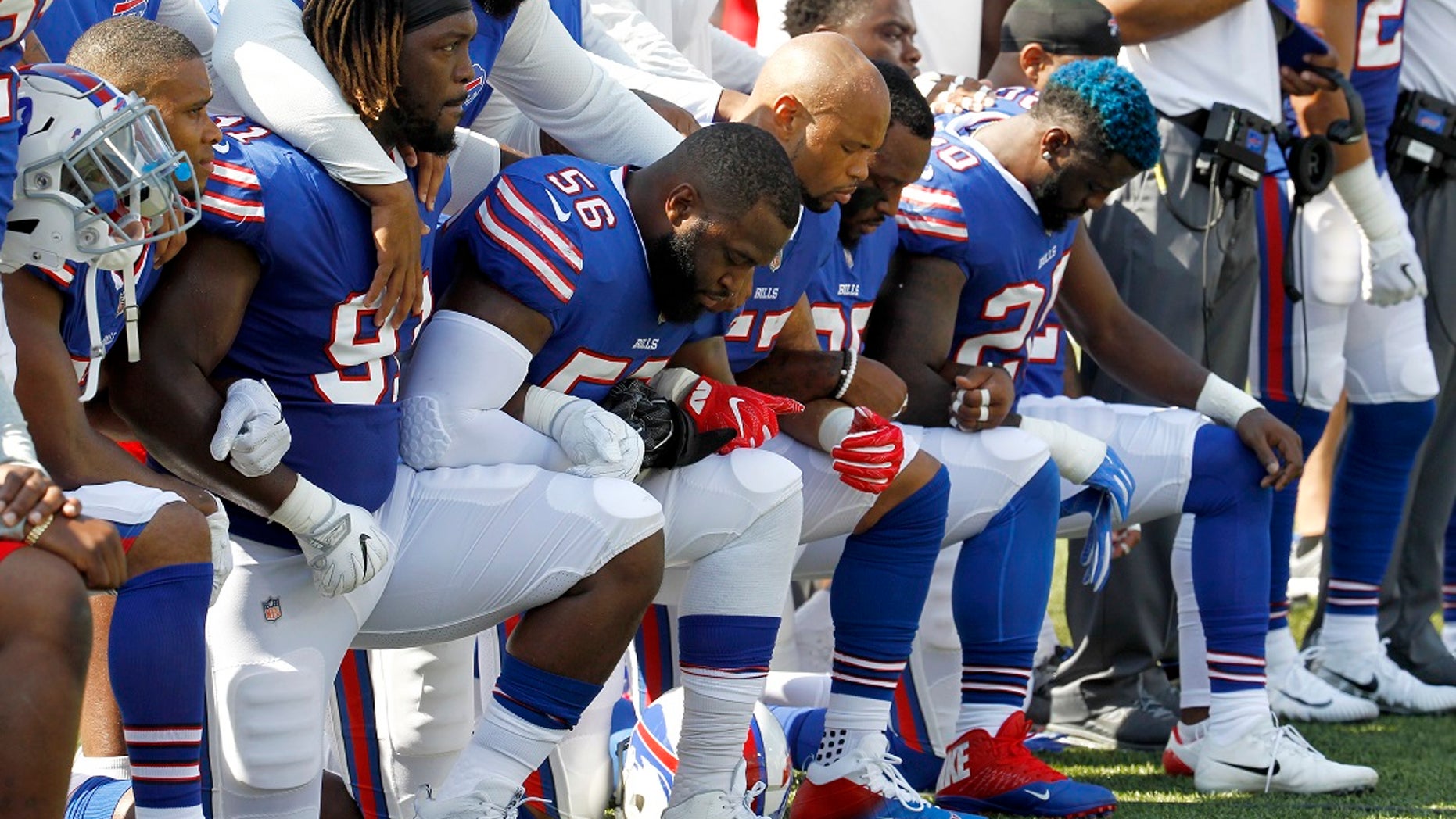 Many NFL players publicly demonstrated on Sunday, after President Donald Trump made comments about athletes kneeling during the national anthem.
"Wouldn't you love to see one of these NFL owners, when somebody disrespects our flag, you'd say, 'Get that son of a b---- off the field right now. Out! He's fired,'" Trump said Friday in Huntsville, Ala., at a rally.
The protests started more than a year ago, San Francisco 49ers quarterback Colin Kaepernick refused to stand during the anthem as a protest of police treatment of minorities. 

"If a player wants the privilege of making millions of dollars in the NFL,or other leagues, he or she should not be allowed to disrespect...." Trump tweeted Saturday.
"...our Great American Flag (or Country) and should stand for the National Anthem. If not, YOU'RE FIRED," he continued in another tweet. "Find something else to do!"
On Sunday, Trump tweeted, "If NFL fans refuse to go to games until players stop disrespecting our Flag & Country, you will see change take place fast. Fire or suspend!"
He said in another message, "...NFL attendance and ratings are WAY DOWN. Boring games yes, but many stay away because they love our country. League should back U.S."
Trump's remarks provoked team owners and the NFL to stridently defend the sport and its players.
Some locked arms on Sunday.
"Great solidarity for our National Anthem and for our Country," Trump tweeted. "Standing with locked arms is good, kneeling is not acceptable. Bad ratings!"
NFL commissioner Roger Goodell
Goodell quickly condemned Trump's comments.
"The NFL and our players are at our best when we help create a sense of unity in our country and our culture," he said in a Saturday statement. "There is no better example than the amazing response from our clubs and players to the terrible natural disasters we've experienced over the last month. Divisive comments like these demonstrate an unfortunate lack of respect for the NFL, our great game and all of our players, and a failure to understand the overwhelming force for good our clubs and players represent in our communities."
Goodell on Sunday tweeted a YouTube link to a NFL unity video ad, writing, "We will air this Unity spot in tonight's game. It reflects the unifying force of our great game, our players & clubs."
The unity spot, called "Inside These Lines," is a 60-second video that highlights the power of football to bring people together. It aired during the Super Bowl in February.
Arizona Cardinals
"I thought the commissioner had a great statement, and I agree with it," Cardinals coach Bruce Arians said Saturday, according to AZCardinals.com. "I've been in locker rooms for 25 years, and some of the most reputable men I've ever met wear that uniform. To even overcome the things in their life to get to the NFL is amazing. What they've done in the last month for hurricane relief victims speaks volumes of what we're all about in the NFL."
"It's a shame that we're still dealing with these issues, over and over and over, and he somehow gets a pass to say these things," player Frostee Rucker was quoted as saying by the website. "These guys, we've got to stay together and show him in a different way. Instead of lashing out and being pissed off about it, we've got to stick together. Show compassion, love and everything else we do."
The Arizona Cardinals will play the Dallas Cowboys on Monday night.
Atlanta Falcons
"We are at our very best when we are working together, building unity and including everyone's voice in a constructive dialogue," owner Arthur Blank said in a statement posted to the Falcons Twitter account on Saturday. "Creating division or demonizing viewpoints that are different than our own accomplishes nothing positive and undermines our collective ability to achieve the ideals of our democracy."
Players Grady Jarrett and Dontari Poe kneeled during the anthem Sunday, according to WXIA, which said that Blank locked arms with other Falcons.
Baltimore Ravens
"We recognize our players' influence," Baltimore Ravens owner Steve Bisciotti said in a statement tweeted by the team.
Bisciotti said he "100 percent" supports his players' decision to kneel during the national anthem.
About two dozen players, including Ravens linebacker Terrell Suggs and Jacksonville Jaguars running back Leonard Fournette, took a knee during the playing of the U.S. anthem at Wembley Stadium in London on Sunday.
Jaguars owner Shad Khan and players on both teams who were not kneeling remained locked arm-in-arm throughout the playing of the anthem and "God Save The Queen." No players were knelt during the British anthem.
Buffalo Bills
The Buffalo Bills were bothered enough by the situation to hold a voluntary team meeting on Saturday, with players, coaches, staff and ownership all taking part.
"Our goal was to provide open dialogue and communication. We listened to one another. We believe it's the best way to work through any issue we are facing, on and off the field," owners Terry and Kim Pegula said in a statement distributed by the Bills. "President Trump's remarks were divisive and disrespectful to the entire NFL community, but we tried to use them as an opportunity to further unify our team and our organization. Our players have the freedom to express themselves in a respectful and thoughtful manner and we all agreed that our sole message is to provide and to promote an environment that is focused on love and equality."
LeSean McCoy was stretching as the anthem occurred. Several of his teammates kneeled.
Carolina Panthers
Owner Jerry Richardson is not releasing a statement, a team spokesperson told the Charlotte Observer.
"Trump!!" Panthers linebacker Thomas Davis tweeted, adding several emojis.
Julius Peppers, a defensive end, remained in the locker room for the anthem, and his teammates stood outside without locked arms, according to the Charlotte Observer.
Chicago Bears
"The Chicago Bears are proud to support our players, coaches and all members of our organization to bring peace and unity together through football," Chicago Bears Chairman George H. McCaskey said in a statement posted by the team's Twitter account. "What makes this the greatest country in the world are the liberties it was founded upon and the freedom to express oneself in a respectful and peaceful manner. Through important dialogue with our players and team, this divisive political situation has unified our franchise for the present and the future."
A large number of players -- along with coaches -- locked arms Sunday for the anthem, CBS Chicago reported.
Cincinnati Bengals
"I can't take anything our Celebrity in Chief says seriously," Bengals player George Iloka tweeted.  "He's a real life clown/troll," he added, including a clown emoji.
The majority of the team locked arms for the anthem, cincinatti.com reported.
"Football and politics don't mix easily," the team said in a statement, according to the website. "Fans come to NFL games to watch great competition on the playing field and that's where our focus should be."
Cleveland Browns
"We must not let misguided, uninformed and divisive comments from the President or anyone else deter us from our efforts to unify. Our stance in support of the liberties of peaceful, personal expression afforded to our players and all Americans will remain strong, and we will continue to encourage our players to respectfully use their earned platform to inspire positive change in our nation and throughout society," Browns owners Dee and Jimmy Haslam said in a statement posted on the team's Twitter account.
At least 20 people of the team kneeled for the anthem Sunday, cleveland.com reported. Other players on the team stood up with locked arms, it said.
Dallas Cowboys
Jason Garrett, the Cowboys coach, isn't planning to respond to Trump's remarks, the Fort Worth Star-Telegram reported.
"I don't agree with his comments, but I love my team," linebacker Jaylon Smith was quoted as saying by the newspaper regarding the president. "Really no other comment than that. I mean, I don't agree with it, but …"
Denver Broncos
"Our players have shown a tremendous commitment to raising awareness for important societal issues by using their platform in a positive way," Broncos CEO Joe Ellis said in a statement tweeted by the team Saturday.
"As an organization, we could not be more proud, appreciative and grateful for our players," Ellis said. "We'll continue to support them and work together to advocate for values of respect, diversity and inclusion."
Defensive star Von Miller was among the majority of Denver Broncos who took a knee in Buffalo.
Detroit Lions
Lions owner Martha Firestone Ford said in a statement released Sunday, "Our game has long provided a powerful platform for dialogue and positive change in many communities throughout our nation.
"Thanks primarily to our players, the NFL also has been a unifying force in our country and impactful change has and hopefully will continue to be the result of peaceful expression, done so in order to highlight social injustices of all kind.
"Negative and disrespectful comments suggesting otherwise are contrary to the founding principles of our country, and we do not support those comments or opinions."
Lions players, coaches, and Ford locked arms, the Detroit News reported. Eight Lions kneeled.
Green Bay Packers
"It's unfortunate that the President decided to use his immense platform to make divisive and offensive statements about our players and the NFL," Packers President and CEO Mark Murphy said in a statement released Saturday. "We strongly believe that players are leaders in our communities and positive influences. They have achieved their positions through tremendous work and dedication and should be celebrated for their success and positive impact. We believe it is important to support any of our players who choose to peacefully express themselves with the hope of change for good. As Americans, we are fortunate to be able to speak openly and freely."
On Sunday ahead of the game, quarterback Aaron Rodgers posted a photo to Instagram which showed him kneeling on the field with teammates.
Three Packers sat during the anthem, and the majority of the team stood with locked arms, Packers News reported.
Houston Texans
"The comments made by the president were divisive and counterproductive to what our country needs right now," Houston Texans Chairman and CEO Robert McNair said in a statement tweeted Sunday. "I hope the reaction from our players results in positive action for our league, our communities and our country as a whole to make a positive difference in our society."
The whole team was standing with locked arms for the anthem Sunday, according to CBS Houston.
Indianapolis Colts
"I am troubled by the President's recent comments about our league and our players," Colts owner Jim Irsay said in a Saturday statement. "Sports in America have the unique ability to bring people from all walks of life and from different points of view together to work toward or root for a common goal, and the Indianapolis Colts are proud to be a part of that tradition in our home city and state."
Some Colts kneeled for the anthem with locked arms on Sunday. Others Colts stood with locked arms.
Jacksonville Jaguars
"It was a privilege to stand on the sidelines with the Jacksonville Jaguars today for the playing of the U.S. national anthem at Wembley Stadium," owner Shad Khan said in a statement.
"Our team and the National Football League reflects our nation, with diversity coming in many forms – race, faith, our views and our goals," Khan said. "We have a lot of work to do, and we can do it, but the comments by the President make it harder. That's why it was important for us, and personally for me, to show the world that even if we may differ at times, we can and should be united in the effort to become better as people and a nation."
Kansas City Chiefs
"We are blessed in the National Football League to work with an outstanding group of players who, through their thoughtfulness and generosity, are deeply engaged in their communities," Chiefs CEO Clark Hunt said in a Sunday statement. "I believe in honoring the American flag and supporting all of those whose sacrifices protect the many freedoms we have in this country, including the right to have differences of opinion."
"Stick to sports boy... Sit down and do what your told," player Chris Conley earlier tweeted Saturday. "Say or do something we don't like and your fired" Well I hate to break it to ya…"
"When will people learn that fear won't make someone sit down," Conley said in another message. "It quite possibly will make more stand up for what they believe in."
Conley was among several players who kneeled for the anthem Sunday, while several others sat, the Kansas City Star reported.
Los Angeles Chargers
"I wholeheartedly agree with the commissioner's statement," Chargers owner Dean Spanos said in a Saturday statement. "The NFL and its players, more than anything, have been a force for good.  What our country needs right now is a message of unity, civility and mutual respect."
There were at least five Chargers sitting or kneeling for the anthem, and some players stood with their arms locked, KABC reported.
Los Angeles Rams
"We believe in the tenets of the national anthem, which is a pillar of this country; just as freedom of speech is another pillar and a constitutional right," Los Angeles Rams owner Stan Kroenke said in a statement. "We will continue to support our players' freedom to peacefully express themselves and the  meaningful efforts they make to bring about positive change in our country."
Linebacker Connor Barwin said in a message posted on Twitter, "We do not live in a country run by a totalitarian government where peacefully sharing opinions WILL get one fired or thrown in jail. We need to celebrate and protect that freedom."
Another linebacker, Robert Quinn, raised his fist for the anthem for a Thursday game versus the San Francisco 49ers.
Miami Dolphins
"Sports is a common denominator in our world," the Miami Dolphins tweeted Sunday. "We have the responsibility to use this platform to promote understanding, respect & equality."
"Our country needs unifying leadership right now, not more divisiveness," Dolphins owner Stephen Ross said in a Saturday statement.
"I know our players who kneeled for the anthem and these are smart young men of character who want to make our world a better place for everyone," he said.
A handful of Dolphins players wore black T-shirts supporting Kaepernick during pregame warm-ups.
Ross and many Dolphins linked arms for the anthem. Some players locked hands and kneeled.
Minnesota Vikings
"Rather than make divisive statements, we believe in promoting thoughtful, inspiring conversation that unifies our communities," a statement attributed to Vikings owners Zygi and Mark Wilf "and the entire Wilf family" said. "We are proud of our players, coaches and staff for the important role they play in our community, and we fully support their constitutional right to respectfully and peacefully express their beliefs."
The team, along with Zygi and Mark Wilf, stood and locked arms for the anthem, the AP reported.
New England Patriots
New England Patriots owner Robert Kraft, who's been a strong supporter of the president, expressed "deep disappointment" with Trump on Sunday and said politicians could learn much from the unifying spirit of a competitive enterprise like professional football that succeeds from teamwork.
"I am deeply disappointed by the tone of the comments made by the President ...," Kraft said in a statement. "Our players are intelligent, thoughtful, and care deeply about our community and I support their right to peacefully affect social change and raise awareness in a manner that they feel is most impactful."
Quarterback Tom Brady was among the New England Patriots who locked arms in solidarity in Foxborough, Massachusetts.
New Orleans Saints
"We believe strongly in honoring our flag and the national anthem and what it represents and we support our players," a Sunday statement from the New Orleans Saints and Pelicans said. "We must all strive to show that we are all Americans and continue to work toward equality for all. The NFL and NBA, perhaps more than any sports, have the power to bring communities together."
Adrian Peterson was among a group of ten players who were sitting for the anthem, Sports Illustrated reported.
New York Giants
"Comments like we heard last night from the president are inappropriate, offensive and divisive," Giants owners John Mara and Steve Tisch said in a Saturday statement. "We are proud of our players, the vast majority of whom use their NFL platform to make a positive difference in our society."
Three players kneeled for the anthem, with the remainder of the team standing with linked arms, NJ.com reported.
New York Jets 
Jets CEO Christopher Johnson, whose brother, Woody, is the ambassador to England and one of Trump's most ardent supporters, called it "an honor and a privilege to stand arm-in-arm unified with our players during today's national anthem" in East Rutherford, New Jersey.
"We are very proud of our players and their strong commitment to work in our community to make a positive, constructive, and unifying impact," he said in a Sunday statement. The whole team reportedly locked arms.
Oakland Raiders
"About a year ago, before our Tennessee game, I met with Derek Carr and Khalil Mack to ask their permission to have Tommie Smith light the torch for my father before the game in Mexico City," Oakland Raiders owner Mark Davis said in a statement to ESPN's Paul Gutierrez. "I explained to them that I was asking their permission because I had previously told them that I would prefer that they not protest while in the Raiders uniform. And should they have something to say, once their uniform was off, I might go up there with them."
"Over the last year, though, the streets have gotten hot and there has been a lot of static in the air and recently, fuel has been added to the fire," he continued. "I can no longer ask our team to not say something while they are in a Raider uniform. The only thing I can ask them to do is do it with class. Do it with pride. Not only do we have to tell people there is something wrong, we have to come up with answers. That's the challenge in front of us as Americans and human beings."
At FedEx Stadium in Maryland Sunday night, nearly every Raiders player sat and linked arms with one another during the national anthem. Seven Redskins took a knee while their teammates stood arm-in-arm along with owner Dan Snyder and president Bruce Allen.
Philadelphia Eagles
"Every day I see the genuine dedication and hard work of our players," Eagles chairman and CEO Jeffrey Lurie said in a statement tweeted by the team Saturday. "And I support them as they take their courage, character and commitment into our communities to make them better or to call attention to injustice."
He, players and coaches linked arms Sunday, NBC Philadelphia reported, which said three Eagles raised their fists.
Pittsburgh Steelers
"I believe the Commissioner made an appropriate statement, and I have nothing to add at this time," Steelers president Art Rooney II said in a statement, ESPN reported Saturday.
In Chicago for a game against the Bears, the Pittsburgh Steelers stayed in the tunnel except for one player, Army veteran Alejandro Villanueva, who stood outside with a hand over his heart. 

"Our players have stayed unified and have respected the fact that, like our country, there are diverse opinions in our locker room," Rooney said in a statement posted on Twitter Sunday. "It is a difficult time in our country. I hope that eventually we will come together as a nation to respect the diverse opinions that exist and work together to make our communities better for all our citizens."
San Francisco 49ers
"The callous and offensive comments made by the President are contradictory to what this great country stands for," 49ers owner Jed York said in a statement. "Our players have exercised their rights as United States citizens in order to spark conversation and action to address social injustice. We will continue to support them in their peaceful pursuit of positive change in our country and around the world. The San Francisco 49ers will continue to work toward bringing communities, and those who serve them, closer together."
Player Eric Reid kneeled for the national anthem on Thursday.
Seattle Seahawks
"We fully support our players' use of their freedom of speech and peaceful action to highlight the existing racial and other divides in this country," Seahawks president Peter McLoughlin said in a statement.
"As a team, we are united in a mission to bring people together to help create positive change," coach Pete Caroll said in a statement. "We can no longer remain silent."
Caroll said he would be standing with his players.
"The behavior of the President is unacceptable and needs to be addressed," cornerback Richard Sherman tweeted. "If you do not Condemn this divisive Rhetoric you are Condoning it!!"
"As a team, we have decided will not participate in the national anthem," Seahawks players said in a statement.
Tampa Bay Buccaneers
"Can't wait to hear the response from @nflcommish @NFLPA @NFL #BLACKLIVESMATTER," player Chris Baker tweeted Friday.
"So the BLACK NFL PLAYERS are SON OF A B---- now WOW," he said in another tweet.
"I definitely will be making a statement no disrespect to our military of service But we have to stick together as people !!" wide receiver DeSean Jackson tweeted Saturday. He and Mike Evans kneeled for the national anthem Sunday, NBC Sports reported.
"As we have stated previously, the Buccaneers recognize every individual's constitutional right to freedom of speech, which is crucial to the American way of life that we cherish," Buccaneers co-chairman Joel Glazer said Sunday in a statement. "We are equally committed to the principles of inclusivity and respect for differing points of view that should be afforded to all Americans."
Tennessee Titans
"I am proud to stand with our players and support them in their work on and off the football field," Titans owner Amy Adams Strunk said in a Saturday statement. "I completely agree with Commissioner Goodell that we are better off as a nation when we are unified and pulling together."
The Titans organization announced Sunday that the team would stay indoors during the national anthem.
"As a team, we wanted to be unified in our actions today," the statement said. "The players jointly decided this was the best course of action. Our commitment to the military and our community is resolute and the absence of our team for the national anthem shouldn't be misconstrued as unpatriotic."
Both the Seahawks and Titans stayed inside until after the national anthem was over in Nashville, a throwback to the pre-2009 NFL when teams, not the league, set pre-game policy regarding players standing on the sideline for the anthem.
Washington Redskins
"Football has always served as the great unifier, bringing people together to celebrate the values of courage, commitment and achievement," the team said in a statement. "We are proud of the players, coaches and fans of the Washington Redskins for all that they have done to improve the lives of others in neighborhoods all across our region."
"We are also grateful for the sacrifices made by the brave men and women of our armed forces that have provided us the freedom to play football," the statement continued. "In that great tradition, the Washington Redskins will work to address divisions and bring unity, civility and respect to our greater community.
Redskins player Zach Brown tweeted Friday, "Trump stay in ur place... football have nothing to do wit u smh."
The Associated Press contributed to this report.