NFL player gifts Super Bowl LII tickets to 108-year-old WWII veteran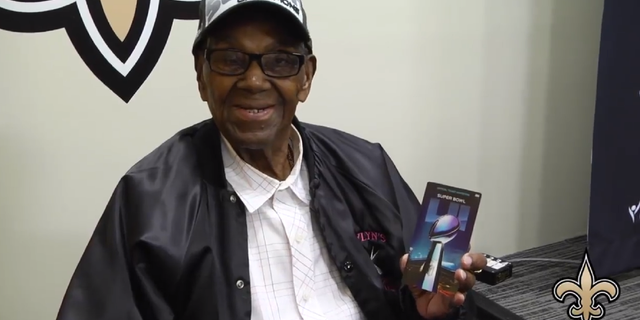 NEWYou can now listen to Fox News articles!
A 108-year-old World War II veteran, and "huge" New Orleans Saints fan, just scored a pair of Super Bowl tickets from one of the team's leading players, WGNO reported.
Lawrence Brooks was gifted the tickets by Saints defensive end Cameron Jordan, who chatted with the veteran through a Facetime call. The moment was recorded and posted on the team's Facebook page on Wednesday.
SUPER BOWL LII: HOW TO WATCH AND WHAT TO KNOW
Jordan, who's up for the Walter Payton Man of the Year award, thanked Brooks for his past military service and said the team and the league wanted to "try to bless somebody who needs tickets."
The Saints did not make it this season to Super Bowl LII, during which the Philadelphia Eagles will square off against the New England Patriots in Minneapolis, Minn., on Feb. 4. But Jordan and Brooks chatted in the video about the team's future and how they're hopeful for another chance at the championship next year.
BOB COSTAS SAYS NBC'S DECISION TO REMOVE HIM FROM SUPER BOWL LII COVERAGE WAS MUTUAL
During his time in World War II, Brooks was in the 91st Engineer Battalion, WGNO said. His division was stationed in New Guinea and the Philippines, according to the outlet, and he achieved a Private 1st Class ranking.
After leaving the service, the veteran got married and now has five children and five step-children, the outlet said. He reportedly became a forklift operator and eventually retired in 1974.
Born on Sept. 12, 1909, Brooks rang in his 108th birthday at the World War II Museum, WGNO said.