NFL Great Tony Gonzalez Reflects On His Career As He Takes The Field For The Last Time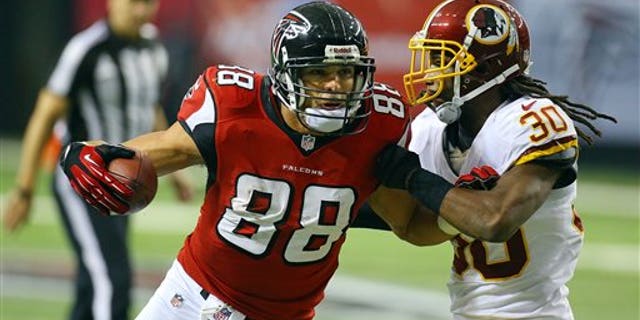 SAN FRANCISCO (AP) – Tony Gonzalez will have more on his mind than just his final game at Candlestick Park, or all of the family and friends making the trip from Southern California.
On Monday night, the Atlanta Falcons' veteran tight end will most certainly remember a chance meeting with a man named Mickey Pfleger.
Among the retiring star's fondest memories of Candlestick Park is something that, at the time 13 years ago, was downright terrifying.
On Nov. 12, 2000, while playing for the Kansas City Chiefs, Gonzalez took a late hit out of bounds and ran into a photographer and knocked him unconscious.
"I remember a play coming toward me rather quickly along the southwest sideline," wrote Pfleger, who died three years ago. "I remember standing up and starting to move backward to get out of the way, like I always do when a play comes toward me. That's the last thing I remember until I came to and realize that I am laying on my back looking at paramedics and doctors."
Gonzalez was concerned, but had to keep playing.
"His eyes were in the back of his head," Gonzalez recalled. "He was knocked out, unconscious. I tried to help him up, but people were like, 'Hey, get back in the huddle.'"
Gonzalez later saw the ambulance take the man away for further tests at a local hospital. But it wasn't until three days later that he learned Pfleger's brain scan had revealed a significant tumor that was cancerous.
Pfleger referred to himself as the "luckiest person in the world" after that, given he would not have known as soon about the cancer had Gonzalez not clobbered him that afternoon. Pfleger wound up living 10 more years before his death on Dec. 17, 2010, at age 61.
"The strangest thing that ever happened to me in football happened at Candlestick," Gonzalez said. "I hear after the game he'll be OK. I was happy about that. But three or four days later, they said: 'Hey, you know what happened to that guy? They did a brain scan and found a tumor in his brain and they would have never found this tumor if you didn't hit him. It was a miracle it turned out this way."
After that, Gonzalez met Pfleger a couple of times and they would give hugs each time they saw each other. The 37-year-old Gonzalez has only played at Candlestick a handful of times during a decorated 17-year career that began collegiately at Cal in nearby Berkeley.
"I was supposed to be knocked out by Tony Gonzalez at the football game," Pfleger wrote in 2001 for a sports photography resource website. "I was supposed to go into a seizure while I was unconscious, so that Dr. Klint of the 49ers would tell the paramedics to tell the emergency room doctors to do a CT brain scan on me. I was supposed to be taken to San Francisco General Hospital and land in the hands of Dr. Martin Holland, an incredibly talented neurosurgeon.
"I was never supposed to get hurt from the 'hit' by Tony Gonzalez."
Gonzalez won't argue that.
"It's just strange how the universe works and makes things happen like that," Gonzalez said. "I believe in a higher power. Some people out there don't. But I definitely think something was at work there — a late hit and then running into this guy and being able to find that tumor in him? That's something that stands out as the strangest thing that ever happened to me in football.
"It's a great story."