New York Yankees & CC Sabathia Trounce on the Baltimore Orioles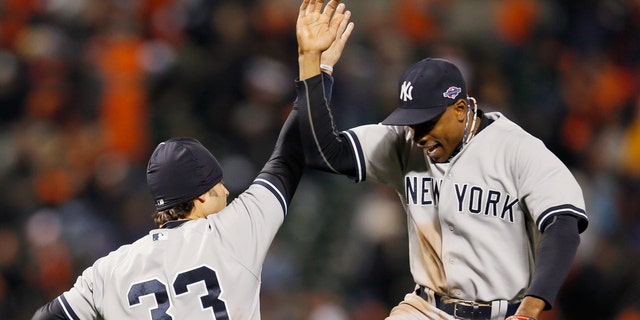 BALTIMORE – In Game 1 of the ALDS Series, the Yankees proved that their AL East title was well deserved as they trounced on their late season rival, the Baltimore Orioles, with a 7-2 victory.
Pitcher CC Sabathia delivered a standout performance as the Yankees offense returned the favor.
Russell Martin led off the ninth inning with a tiebreaking home run off Jim Johnson that led the Yankees to gain the upper hand and never look back.
For eight innings, the teams engaged in a tense duel that could have gone either way. Then came the ninth inning, when the Yankees scored five runs off Johnson, Baltimore's All-Star closer, to ruin the Orioles' first home playoff game since 1997.
"You always want to take the first one, but you go game by game," said New York's Robinson Cano, who contributed a two-run double in the ninth. "Enjoy this game and just go home get some sleep and be ready for (Game 2 on Monday)."
The Yankees have been to the playoffs in 17 of the last 18 years. This is Baltimore's first trip in 15 years, following 14 successive losing seasons.
"We stayed in as long as we could," Orioles right fielder Chris Davis said. "We're finding out what playoff baseball is all about."
Sabathia allowed two runs and eight hits, coming within an out of his first career complete game in the postseason. He was 0-2 in three starts against Baltimore during the regular season, but in this one the husky left-hander returned to form and improved his lifetime record against the Orioles to 17-4.
"Fastball command was good, worked off that," Sabathia said. "Throwing the ball pretty good, getting the corners. Tried to stay out there and make some pitches."
Sabathia is 6-1 with the Yankees in the postseason, 4-0 in the division series.
With the score 2-all, Martin drove a 2-0 pitch from Johnson into the left-field seats. It was the first of four straight hits off Johnson, who led the majors with 51 saves. Raul Ibanez and Derek Jeter followed with singles, Ichiro Suzuki drove in a run with a swinging bunt and one out later, Cano hit a two-run double.
In his seven prior appearances against New York, Johnson allowed one run in seven innings and had three saves. Nick Swisher capped the five-run ninth with a sacrifice fly off Tommy Hunter.
"I made mistakes," Johnson said. "I obviously paid for those, and that was location. It wasn't anything else. Two fastballs that really cost us. Just have to make a better pitch. That's all it comes down to."
The Orioles were left disappointed, but manager Buck Showalter was confident his team would be in bounce-back mode Monday.
"This is a very realistic club that lives in reality, but they also understand the sense of urgency," he said. "You can sit here and say you got beat by a quality pitcher, but that's why teams like that are playing this time of year. We have good, quality pitchers, too. I don't have any doubt what type of mentality our guys will have as we go forward in this series."
The start of the game was delayed by rain for 2 hours, 26 minutes, and that did nothing to lessen the enthusiasm of the 47,841 fans who waited so long for the Orioles to play a postseason game at Camden Yards.
"We're obviously disappointed we couldn't give them a win, but at least we're playing a five-game series instead of a shootout," Davis said.
Orioles starter Jason Hammel allowed two runs, four hits and four walks in 5 2-3 innings. The right-hander underwent knee surgery in July and returned to pitch two games in September before his right knee began to bother him again. After working his way back into form, Hammel donned a knee brace and gave Baltimore a solid 112-pitch outing in his first start in nearly a month.
New York missed an excellent chance to take the lead in the seventh. After Troy Patton walked Martin and Ibanez, Darren O'Day entered and Jeter dropped down a perfect two-strike sacrifice bunt. With the infield drawn in, Suzuki hit a sharp grounder to second baseman Robert Andino, who threw home. Matt Wieters grabbed the ball on the short hop and tagged out Martin. O'Day then struck out Alex Rodriguez.
Neither team got a runner in scoring position again until J.J. Hardy started the Baltimore eighth with a double. He did not advance.
"Being able to get out of that with a tie and give us a chance to get up and score some runs, which we did, was just a big spot," Sabathia said.
Immediately after Orioles fans cheered and waved their orange towels following a first-pitch strike by Hammel to open the game, the Yankees went to work. Jeter hit a leadoff single and Suzuki followed with an RBI double into the gap in left-center. But Suzuki was thrown out trying to steal third, and Hammel settled down by striking out Rodriguez and retiring Cano on a broken-bat fly to right.
Sabathia retired the first six batters he faced without allowing a ball out of the infield, then ran into trouble in the third inning. Davis led off with a single, Lew Ford singled and both runners moved up on a bunt before Nate McLouth bounced a two-run single into right field for a 2-1 lead.
New York promptly tied it in the fourth, but another potential big inning was short-circuited when a runner was thrown out on the base paths. After Hammel walked two of the first three batters, Mark Teixeira ripped a liner off the right-field scoreboard. The hit brought home a run, but Teixeira — who only recently returned from a strained left calf — was thrown out at second by Davis. That left Swisher at third base with two outs, and after an intentional walk to Curtis Granderson, Martin hit a fly to center.
Singles by Davis and Andino put runners at the corners with one out in the fifth before McLouth looked at a third strike and Hardy grounded out.
Based on reporting by the Associated Press.
Follow us on twitter.com/foxnewslatino
Like us at facebook.com/foxnewslatino