New York Yankees at Tampa Bay Rays game preview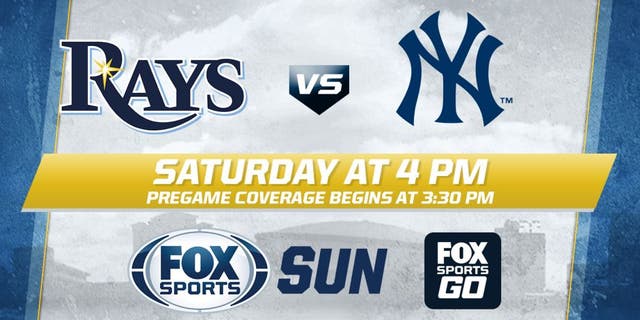 TV: FOX Sports Sun
Time: Pregame coverage begins at 3:30 p.m.
CAN'T GET TO A TV? WATCH IT LIVE ON FOX SPORTS GO
Alex Rodriguez was just starting to find his groove when he went on the disabled list three weeks ago. It didn't take him long to shake off the rust.
After getting closer to his 700th career home run, Rodriguez looks to help the New York Yankees win a seventh straight road game when they face the Tampa Bay Rays on Saturday.
Rodriguez went hitless in his return Thursday from a strained right hamstring, then hit his sixth homer of the season and 693rd of his career in the sixth inning of Friday's 4-1 victory. He's batting just .188 on the season, but he hit .368 over the final six games before going on the DL.
"It's always good to produce and drive the ball like that," Rodriguez said.
Manager Joe Girardi put Rodriguez back in the DH spot despite Carlos Beltran hitting well in his place.
"This team was built, when we started the year, for Alex to DH and Carlos to play right field," Girardi said. "Alex was swinging the bat really well before he got hurt and I think it's way too early to abandon what we were seeing."
Beltran homered in the eighth Friday to account for the final margin after Rodriguez's two-run shot during a three-run sixth.
The Yankees (23-24) have won seven of nine with six of those coming on the road. They had previously been 4-12 away from home. New York hasn't won seven straight road games since June 2012.
Michael Pineda takes the mound looking to help deal the Rays (21-25) a seventh loss in their last eight. Pineda (2-5, 6.34 ERA) had gone winless since his season debut, including 0-4 with a 7.43 ERA in his previous five starts, before allowing three runs and six hits in six innings of Sunday's 5-4 win over Oakland.
"I threw the ball better," Pineda said. "All my pitches were down. The last couple of starts, I was looking to make adjustments to be better in the game. That's what I'm looking for, to be better all the time."
It's not difficult to be better than he was against Tampa Bay on April 24. The right-hander gave up season highs of seven runs and 10 hits over five innings of an 8-1 loss. Pineda struck out nine, but Steven Souza (twice), Steve Pearce and Corey Dickerson all went deep off him.
Pineda had a 2.70 ERA in his first seven starts against the Rays, who have scored five runs during a three-game skid. Evan Longoria went hitless Friday and is 2 for 19 over his last five.
Tampa sends Matt Moore to the hill looking to break out of its slump. Moore (1-3, 5.47), though, allowed 10 hits and five runs - including three in the first - of Monday's 7-6 loss to Miami and is winless over his past six starts with a 6.89 ERA.
However, he was encouraged by his outing.
"I felt great," Moore said. "I felt I got better as the game went on. I made some good pitches when I needed to."
Moore has made a lot of pitches in a short amount of time lately, though. He hasn't recorded an out in the sixth inning in any of his last four starts after going at least into the seventh in each of his previous four.
The left-hander went 6 2/3 innings against the Yankees on April 22 but gave up four runs in a 6-3 loss.