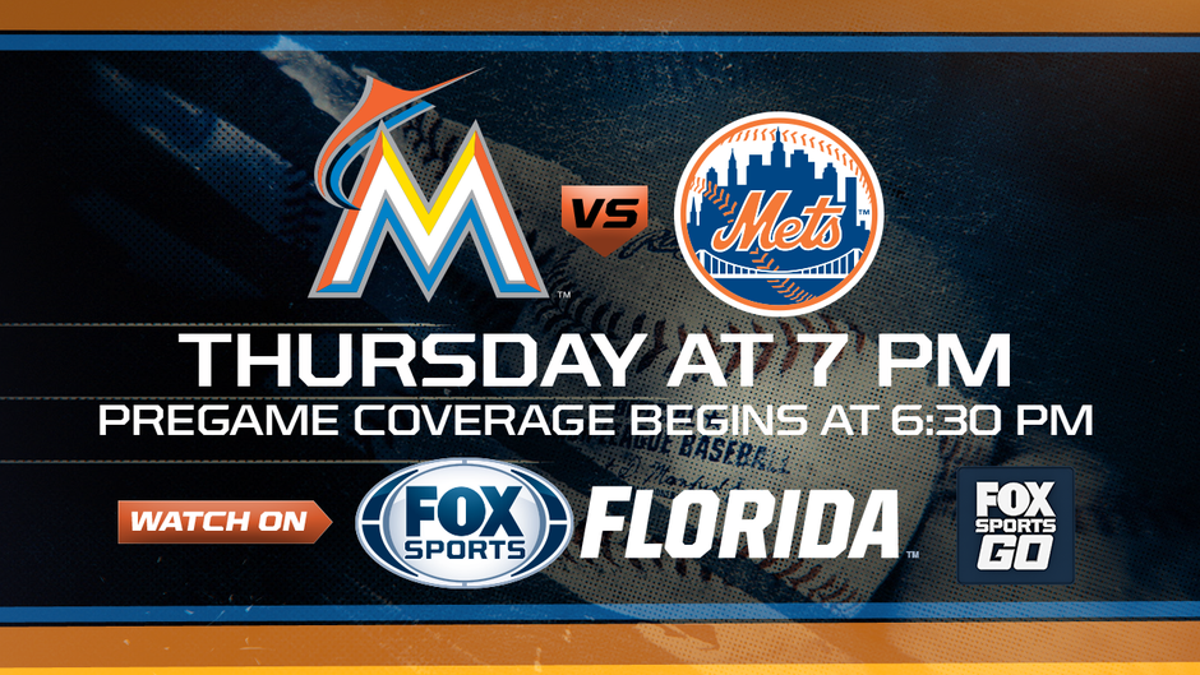 TV: FOX Sports Florida
TIME: Pregame coverage begins at 6:30 p.m.
CAN'T GET TO A TV? WATCH IT LIVE ON FOX SPORTS GO
MIAMI -- When the New York Mets visit the Miami Marlins on Thursday to start a four-game series, there is a good chance that the visitors will bring along a Gold Glove center fielder who has yet to play this season.
Juan Lagares, who started the season on the disabled list due to a strained left oblique muscle, began playing minor league rehab games on Monday, and everything went smoothly.
"He has not shown any signs of discomfort," Mets manager Terry Collins said. "I think it's very possible you will see him in Miami. It would be nice to have him in that park."
He was referring to the spacious Marlins Park outfield, hoping that Lagares, who won his Gold Glove in 2014, would be able to help the Mets' defense by chasing down fly balls.
If Lagares does play, it could impact the pitching matchup of Mets right-hander Robert Gsellman (0-1, 4.50 ERA) and Marlins left-hander Wei-Yin Chen (1-0, 1.50 ERA).
Lagares' presence in center field would help the odds of Gsellman putting up zeros on the board.
Conversely, Lagares offers little pop in comparison to the Mets' top four outfield batters, including three who each hit 30 or more homers last season: Yoenis Cespedes in left, Curtis Granderson in center and Jay Bruce in right.
In addition, Mets' fourth outfielder, Michael Conforto, possesses considerable pop, and indeed his roster spot is in jeopardy if/when New York activates Lagares.
Gsellman was brilliant as a rookie last season, saving the injury-ravaged Mets rotation by making seven starts late in the year. He went 4-2 with a 2.42 ERA.
This year, Gsellman is off to a bit of a slow start. He lost to the Marlins last week, allowing six hits and three runs in five innings.
Gsellman, 23, has the long hair to fit in perfectly with two of his rotation mates, Noah Syndergaard and Jacob deGrom, but he doesn't have their explosive stuff. Gsellman's fastball tops out at 94 mph, not 100 such as Syndergaard.
But when Gsellman is right, he gets a lot of ground-ball outs, and that is what he will try to do to the Marlins.
Meanwhile, Chen, who had a fairly miserable 2016 season after signing a five-year, $80 million contract, got off to a great start last week, beating the Mets 7-2 by allowing just seven hits and one run in six innings.
Chen also got the first hit of his career, snapping a 0-for-51 drought that dated to his rookie season with the Baltimore Orioles in 2012.
"I think I'm more happy about the hit," Chen told the media through an interpreter, "than the win."
The hit was big news considering that, since 1900, Chen owned the fourth-longest drought to start a career.
When he got the hit, teammate Dee Gordon, who was on deck, made sure to grab the ball and keep it for posterity.
Chen, who used Gordon's bat to get his infield hit, wasn't even sure if the play was going to be ruled an error on the Mets shortstop.
"I was confused," he said.
When Chen is right, he is confusing batters with a variety of pitches. But his fastball was down a couple of ticks last season, averaging a career-low 90.7 mph.
And just as Lagares could be a factor in Thursday's game defensively -- assuming he is activated -- Marlins slugger Giancarlo Stanton could make a mark with his bat.
He slugged his first two homers of the season Wednesday in Miami's 5-4 loss to the Atlanta Braves.
"I've been hitting balls hard," Stanton said. "I just have to trust what I see and plan to hit."