New faces in new places: Sabres' offseason makeover leads the way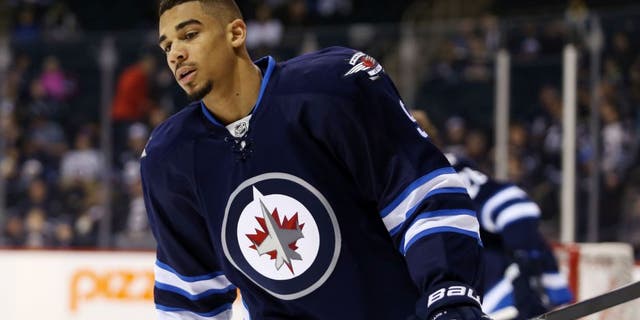 NEWYou can now listen to Fox News articles!
Buffalo Sabres general manager Tim Murray jokes he could have secured his long-term job security by selling owner Terry Pegula on a five-year plan to rebuild the team solely through the draft.
''Somebody could say that would've been great for me personally,'' Murray said in his ever-blunt and forthright manner. ''But that's not what I was interested in personally.''
Patience, however, has not been ''Trader'' Tim's style based on the frantic pace of change that's taken place in Buffalo since Murray took over in January 2014. Aside from drafting highly touted prospects, he has spurred the Sabres' reconstruction by acquiring established young players through trades.
Murray's two-pronged approach most notably came to fruition on the opening day of the NHL draft in June.
Already preparing to select center Jack Eichel with the second pick, Murray solidified the core of his new-look team with two multi-player trades to land center Ryan O'Reilly from Colorado and goalie Robin Lehner from Ottawa.
Both O'Reilly and Lehner are 24, and become part of the NHL's most radically changed lineups entering this season.
Coming off two last-place finishes, the Sabres could feature as many as 10 players who weren't on their roster a year ago. They include forward Evander Kane and defenseman Zach Bogosian, who were acquired in a trade with Winnipeg in February.
Murray isn't ready to predict how much better the Sabres might be.
''On paper we've improved,'' he said. ''But I'm not impressed about anything, because you get a lot of pats on the back and we haven't done anything yet.''
The Sabres, who will also added coach Dan Bylsma, weren't the only team making changes during an offseason in which trades overshadowed free-agent signings.
The defending Stanley Cup champion Chicago Blackhawks reshaped their high-priced lineup by dealing forwards Brandon Saad (to Columbus), Patrick Sharp (to Dallas) and Kris Versteeg (to Carolina), and losing Brad Richards, who signed with Detroit in free agency.
The Pittsburgh Penguins shuffled their roster with the most notable move acquiring forward Phil Kessel in a trade with Toronto.
Here's a look at some of the more prominent faces who changed places this offseason:
RIGHT WING PHIL KESSEL (acquired by Pittsburgh from Toronto): The brooding and high-scoring forward earned a much-needed change of scenery after six seasons in Toronto, where he became the target of criticism for the Maple Leafs missing the playoffs five times.
''It was something that our team felt it needed,'' Maple Leafs defenseman Morgan Rielly said. ''It has nothing to do with his play. He's one of the best players in the league. It was a change in culture.''
The five-time 30-goal-scorer will play what's more of a contributing role on a team headed by Sidney Crosby and Evgeni Malkin.
''We're excited to have him,'' Crosby said. ''Guys who can score like that aren't easy to come by.''
CENTER RYAN O'REILLY (acquired by Buffalo from Colorado): After playing mostly a secondary role with the Avalanche, O'Reilly had several reasons to be excited about landing in Buffalo. He has the opportunity to play a first-line role and has a new $52.5 million, seven-year contract extension to go with it.
''It's great to be seen like that and have the organization take that leap with me,'' said O'Reilly, a six-year veteran. ''Seeing them being invested like that, it showed great promise.''
LEFT WING BRANDON SAAD (acquired by Columbus from Chicago): At 22, Saad joins a Blue Jackets team that showed plenty of promise before its lineup was devastated by a series of injuries last season. He goes from winning a championship to playing on a team that features up-and-coming talent such as Ryan Johansen, Cam Atkinson and Nick Foligno, and an established goalie in Sergei Bobrovsky.
LEFT WING MILAN LUCIC (acquired by Los Angeles from Boston): The Kings were in need of help after missing the playoffs, and losing three regulars to off-ice legal problems. Lucic is an eight-year veteran and was a key member of the 2011 Cup-winning Bruins. Los Angeles was forced to retool its roster after parting ways with Mike Richards, Jarrett Stoll and Slava Voynov -- all of whom are no longer with the team because of legal issues -- and lost forward Justin Williams, who signed with Washington in free agency.
GOALIE ANTTI NIEMI (acquired by Dallas from San Jose): Already stocked with offensive threats, the Stars addressed their goaltending by acquiring Niemi. The seventh-year player will share the starting duties with Kari Lehtonen, an 11-year veteran who has appeared in 166 of the Stars' 212 games over the previous three seasons.
Niemi has playoff experience and helped the Blackhawks win the Cup in 2010.