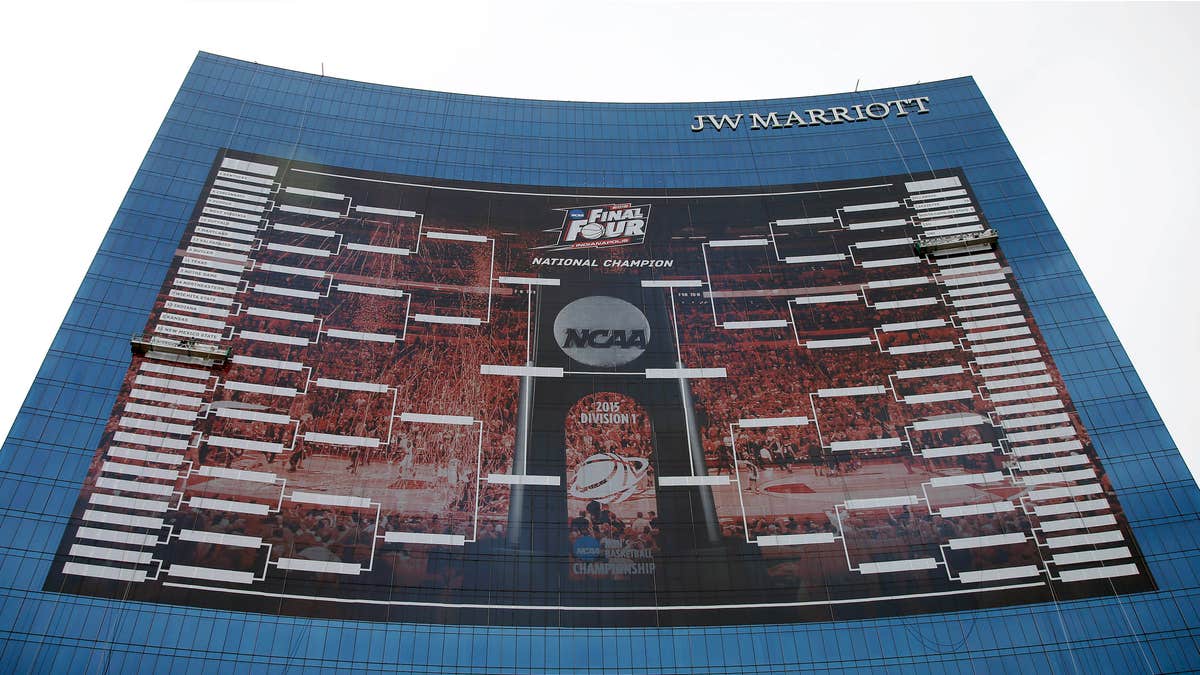 With a week remaining before Indianapolis hosts college basketball's Final Four, NCAA President Mark Emmert said Thursday the association is concerned about an Indiana law that could allow businesses to refuse service to gay people.
The proposed legislation would prohibit state and local laws that "substantially burden" the ability of people to follow their religious beliefs.
Emmert said the organization was concerned how it might impact student-athletes and employees. His statement also suggested the NCAA could look at moving future events out of Indianapolis, where its main offices are located.
"We will work diligently to assure student-athletes competing in, and visitors attending, next week's Men's Final Four in Indianapolis are not impacted negatively by this bill," Emmert said, hours after Gov. Mark Pence signed the measure into law. "Moving forward, we intend to closely examine the implications of this bill and how it might affect future events as well as our workforce."
Emmert's statement came nine days before thousands of college basketball fans converge on the city for the closing weekend of the NCAA Tournament, which is considered to be an economic giant in college sports. The NCAA's 14-year television contract with CBS and Turner Sports alone for March Madness is worth $10.8 billion.
The NCAA has been a mainstay in downtown Indianapolis since 1999, when it moved from Kansas City.
But the new law could put the association in a difficult position. While it has a close relationship with Indiana's capital city, college sports have been at the forefront of several breakthroughs for gay rights in the last two years, and the young adults and college students the NCAA purports to represent have generally been supportive of those changes.
Last year, former University of Missouri football player Michael Sam came out as gay in the run-up to the NFL draft. Sam had told his teammates and coaches months earlier and said he found nothing but support among them and on campus. When Sam and his teammates were honored at halftime of a Missouri basketball game, hundreds of students lined up outside the arena to block a handful of anti-gay demonstrators.
This past season Derrick Gordon of the University of Massachusetts came out as the first openly gay men's Division I basketball player. Gordon, who has said he plans to transfer from the school, has had nothing but good things to say about how his teammates and coaches reacted to his coming out. And Gordon has said he was not hassled once at opposing arenas for his sexuality.
An online push for the NCAA to react to the bill began earlier this week, with Twitter users proclaiming the hashtag #Final4Fairness.
Former professional basketball player Jason Collins, the first openly gay athlete to play in the NBA, tweeted: "@GovPenceIN, is it going to be legal for someone to discriminate against me & others when we come to the #FinalFour?"
The LGBT Sports Coalition has called for the NCAA, the Big Ten conference, the NFL and USA Diving and USA Gymnastics to pull events from the city over the next 16 months.
A spokesman for Pence reiterated that the governor does not believe the bill "in any way legalize discrimination in Indiana."
"For more than twenty years, the federal Religious Freedom Restoration Act has never undermined our nation's anti-discrimination laws, and this law will not do so in Indiana either," he said.
The men's Final Four is scheduled to return to Indianapolis in 2021 and the women's Final Four is set to be there next year. The city is also hoping to land the 2019 Super Bowl.
The NCAA has stepped into social debates before, and there is precedent for it taking events elsewhere.
The association in 2001 imposed a ban on holding championship events in South Carolina and Mississippi due to Confederate battle flags flying at those state capitols buildings. The ban does not prevent schools from earning the right to host a regional event, as with postseason baseball and basketball tournaments.
In 2005, the NCAA banned schools that had what it deemed to be hostile or abusive mascots from hosting championship events. That ban mostly targeted schools with Native American mascots, most notably the University of North Dakota and its powerhouse hockey program.
The Associated Press contributed to this report