NBA Summer League recap: Timberwolves 81, Raptors 79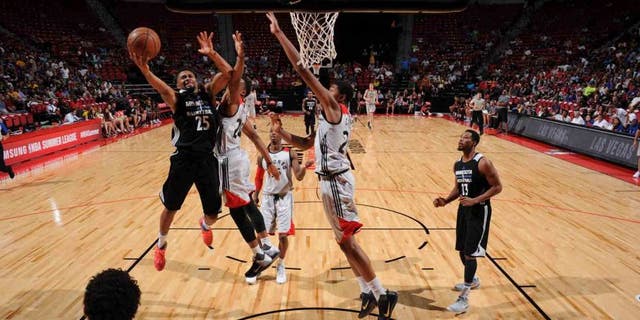 NEWYou can now listen to Fox News articles!
Tyus Jones hit two free throws with .4 seconds remaining as the Minnesota Timberwolves scored their most improbable victory in their unexpected run in the NBA Las Vegas Summer League tournament Saturday, beating Toronto 81-79.
Trailing the top-seeded and unbeaten Raptors by as many as 14 points in a quarterfinal game, Minnesota chipped away and eventually tied the game at 70 with 4:12 to play. Toronto scored the next six points and the Wolves followed with a 9-0 run before the Raptors' Norman Powell tied it with a 3 with 20 seconds left. After having the ball knocked away on a drive with 1.1 seconds remaining, Jones was then fouled on a shot, leading to the game-winning free throws.
The Wolves led 20-15 after one quarter but the Raptors used a 14-0 run to take the lead and outscored the Wolves 27-14 in the second quarter.
Xavier Silas led Minnesota with 22 points while Jones had 21 and eight assists. Adreian Payne had a double-double with 19 points and 10 rebounds.
Minnesota was a surprise inclusion in the quarters after going 0-3 in pool play, but made it all the way to the final eight teams after stunning Utah in the final minute Thursday. Now the Wolves are in the final four of the tournament.
Starting five: Silas and Devin Thomas started at forward, Payne was at center and Scott Suggs and Jones manned the backcourt.
Draft-pick report: Top pick Kris Dunn remained sidelined due to a concussion. Jones made 5 of 12 shots, including 2 of 3 3-point attempts, and had three steals, but also had seven turnovers. He also made 9 of 10 free-throw attempts, including accidentally hitting the second of his two attempts in the waning moments.
Stat corner: Minnesota attempted 28 3-pointers, making 12 (42.9 percent). Toronto was just 4 of 23 on 3-point shots (17.4 percent). . . . The Wolves had only two offensive rebounds, both by Devin Thomas. . . . Minnesota's Coty Clarke (6 points, 3 rebounds in 24:26) had a plus-minus of +17. Payne had the next-highest on the team at +11. . . . The Wolves had the distinct edge from the free-throw line, making 21 of 25 (84.0 percent) while Toronto made a putrid 9 of 20 (45.0 percent). . . . Jones and Payne combined for 13 of Minnesota's 17 turnovers. . . . Silas made 5 of 11 3-point attempts and was 5-for-5 from the line.
Next: Semifinal game Sunday at 5 p.m. vs. Phoenix.