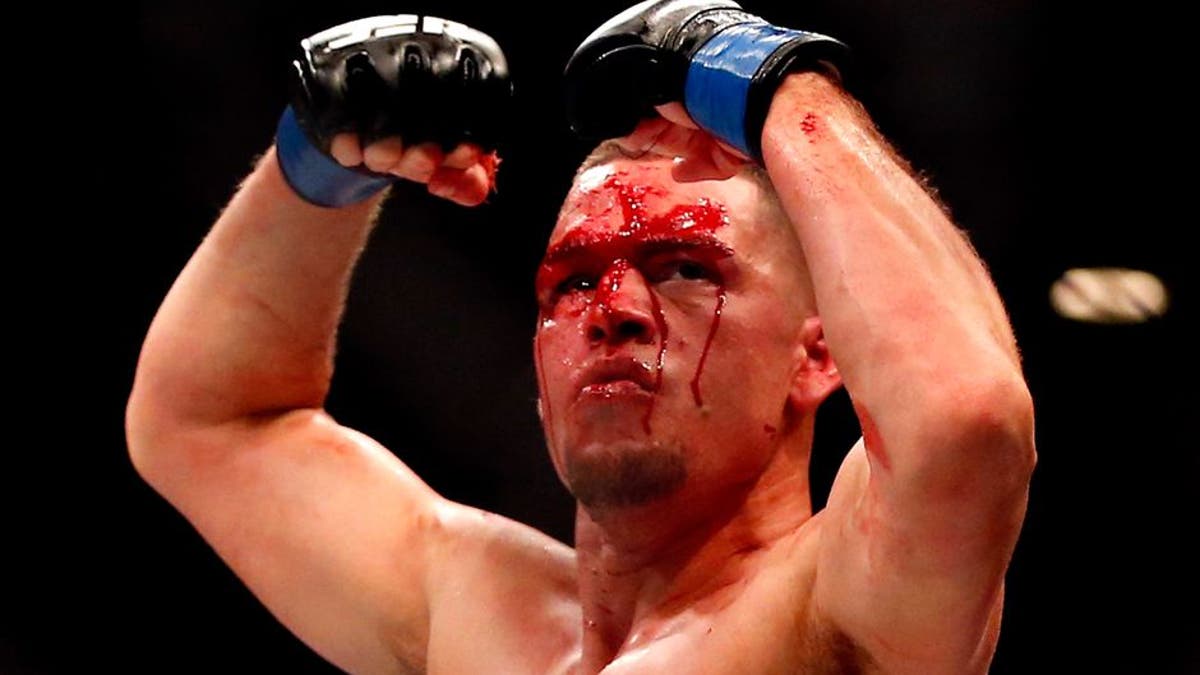 It doesn't appear Nate Diaz is any closer to booking his next fight in the UFC, but he still had plenty to say about both Conor McGregor and Tony Ferguson.
Diaz has been out of action since last August when he lost a majority decision to McGregor at UFC 202 before laughing off an offer to face former champion Eddie Alvarez as well as a recent matchup with Tony Ferguson.
According to Diaz, he was offered a bout with Ferguson at UFC 213 on July 8 in Las Vegas which he accepted but then later declined when his demands for the fight weren't met.
"I gladly accepted and then it was gladly rejected," Diaz told MMAFighting about the fight with Ferguson in July. "Cause it's circumstances cause it's yeah I'll fight him but under these circumstances. Then I was ignored and then the rumors went on and I was like why are the rumors still going if it's not popping?
"Then I thought about it, why am I going to do Conor McGregor's [expletive] work for him? No, you fight each other mother-[expletive] and then you get a chance at the golden child right here."
Diaz says he's no longer interested in facing Ferguson because he believes the No. 1 ranked lightweight contender should be fighting McGregor instead. Once the two of them settle the score then he'll gladly face the winner.
"They're trying to pressure me to fight Tony Ferguson but what the [expletive] I'm going to cover for Conor McGregor and do his work while he's out making [expletive] millions of dollars fighting boxers and [expletive]? I'm not covering for you, bro. You guys fight each other," Diaz said.
"You guys can fight each other mother-[expletive]. You guys got the same manager, you guys are working together against me. You guys need me to do the work for you? [Expletive] off. You guys fight each other."
Diaz erupted while accusing McGregor and Ferguson of somehow working together on a plot to fight him because they are both handled by the same management team.
Diaz also fired back at the notion that he's been holding out for a third fight with McGregor after they split a pair of bouts last year. Instead, Diaz insists that it should be McGregor begging for a trilogy because he's the one who was submitted in their first fight before winning a razor-close decision in the rematch.
"I already whooped Conor's [expletive] ass. So he should want a fight with me. What the [expletive]? I've got to light a fire up under his ass? You've got the same manager as Tony Ferguson, you guys are working together now," Diaz said.
"You guys fight each other and the winner can have a crack at me. Conor's a [expletive]. He [expletive] got his ass whooped, he got choked and now he's justifying it because the decision went to him because the company wanted it to go to him. If I get my [expletive] ass whooped by somebody, I don't just win a slight decision and then accept it as a win. The real champ right here. They can fight each other and then they can light a fire up under my [expletive] ass. Then I'll fight the winner or if somebody wants to get up and make a mother-[expletive] scene and make a star out of themselves and pump me up to fight, then step your [expletive] game up and do you [expletive] thing."
Diaz then went one step further by declaring himself the real two-division champion because he still believes he deserved the nod over McGregor in their rematch from last year.
"I'm the two-time world champ cause I whooped his [expletive] ass after he fought Jose Aldo and I whooped his ass right before he fought Eddie Alvarez," Diaz explained. "He knocks these guys out and everybody seems to have forgot what happened. It just went away. I don't want a [expletive] third fight. [Expletive] Conor, he can fight himself."
Josh Hedges/Zuffa LLC/Zuffa LLC via Getty Images
As far as Ferguson is concerned, Diaz says he doesn't believe that the former "Ultimate Fighter" winner is "genuine" when calling him out but rather just doing what he's been told while trying to stage a fight between the two of them.
Diaz has heard Ferguson calling his name over the past couple of months, but he's just not that intrigued by anything that's been said much less enough to draw him into a fight right now.
"If I'm gonna fight, I need someone to light a fire up under my ass, step their [expletive] games up and start spitting some real [expletive]. Not like Tony Ferguson, never said [expletive], had all the opportunities," Diaz said. "He won his last fight. He went to the Khabib [Nurmagomedov] fights, Khabib pulled out and he sat there and didn't say a word. You should have stepped your game up right there when you had the mic and said ' what's up Nate Diaz, [expletive] you, you [expletive] mother-[expletive], let's get our fight on!' Then we've got a real fight.
"I'm not going to just accept the fight cause it's the best move for him and Conor and their manager and the UFC."
While Diaz had plenty to say about McGregor and Ferguson, none of it sounds like it's going to lead him to another fight anytime in the near future.
Diaz also stated that there is a time limit on his current contract with the UFC before it runs out, making him a free agent. Unfortunately for Diaz he may run into trouble because a standard UFC contract is extended if a fighter is unable or unwilling to take a fight during a stipulated timeframe. In other words, Diaz turning down the bouts with Alvarez and Ferguson could extend his contract out even further.
Either way, it may not matter because Diaz is turning his attention to other endeavors with no plans to fight in 2017 at all.
"I'm planning on sitting out this year," Diaz said. "There's nothing going on and I'm not fighting nobody. I think that the pressure is not going to get to me. If you guys want me to fight somebody, all you got to do is call and ask but as of right now I'm cool with what I'm doing. I've got my race season going on with my brother. We've got a real competitive race season going on, we've got a lot of races to do. I'm enjoying just chilling."