NASCAR WAGs raise $65K in Better Half Dash charity race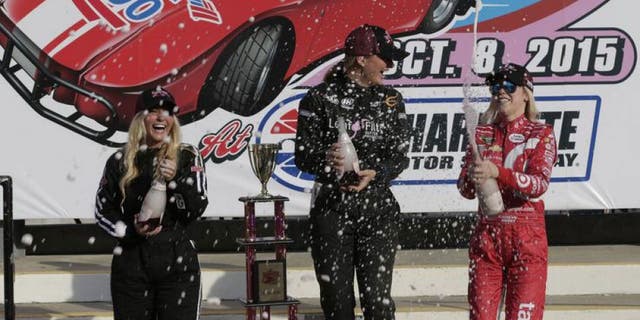 With their husbands, boyfriends and families watching from pit road at Charlotte Motor Speedway, 11 NASCAR WAGs took to the track Thursday night for the fifth annual Better Half Dash charity race. The event, benefiting Motor Racing Outreach and Speedway Children's Charities, is a chance for the women of NASCAR to raise money for charitable organizations and test their skills against one another on the track.
This year, the participants raised a total of $65,000, with Shannon Koch -- wife of XFINITY Series driver Blake Koch -- raising the most money, $15,000.
The 11 participants donned personalized firesuits, climbed into their bandolero race cars and hit the quarter-mile track on the CMS frontstretch for a 25-lap event.
While Ashley Stremme (wife of David Stremme) and Kristen Yeley (wife of J.J. Yeley) were the overwhelming favorites, it did not take Shannon Koch and Katelyn Sweet (girlfriend of Kyle Larson) long to find the front of the field.
Koch had a pretty big scare when Jenna Robinson (wife of Carl Edwards' front tire changer, Clay Robinson) hit her from behind and ripped the back end of the car completely off. Despite the damage, Koch retook the lead on Lap 7 and never looked back. She did, however, have to deal with a hard-charging Sweet, who also spun, but quickly made her way back to the front.
In the end, Koch held on to take the win and earn the large trophy. She then turned around and donated the winnings back to MRO. Sweet was second, followed by Tandra Greenfield, Jordan Fish, Yeley, Tati Papis, Stremme, MRO's Melanie Self, Robinson, Whitney Scott and Wendy Venturini.
"I'm happy we won," said Koch. "It's a tribute to everyone who helps raise money for us to be here. This was my first time racing in the Better Half Dash. I really didn't know I lost part of my car until I came back around and they were picking it up off the track. My husband said keep going, and that's what I did. I could see Katelyn in my mirror the whole time. I didn't know I had this until I crossed the line. This is definitely the biggest trophy in the house now. It's going right up there with the rest of them."
"This was a lot of fun," said Sweet. "I'm glad to have the opportunity to do this. I can't tell you what Kyle (Larson) told me to do, though. I would definitely do it again."