Move over, Longhorns, unbeaten Houston is 'next man up' in Texas football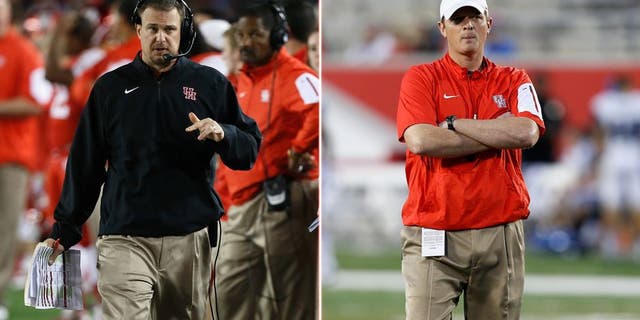 NEWYou can now listen to Fox News articles!
As the once proud Texas Longhorns football team is struggling to remain relevant, the University of Houston Cougars -- backed by their head coach and former Texas graduate assistant Tom Herman -- are taking over as 'top dog' in the Lone Star State.
While the Longhorns are facing an uphill battle to just remain bowl eligible, needing to win their final two games against Texas Tech and No. 10 Baylor; the Cougars are riding high with a 10-0 record after an amazing comeback against No. 21 Memphis -- and are quickly becoming the talk of the state.
Herman, however, isn't just satisfied with his Cougars being 10-0, he wants this Houston team continue to exceed expectations.
"There's no goal in our program that says we want to be 10-0 after 10 games," Herman said. "At the end of the day, what have we done? We haven't done anything, we haven't won anything... We're just taking steps closer to obtaining our ultimate goal. To say we're this close to achieve our goal and that's the time we're going to let up, that doesn't make sense to me."
As if one former member of the Texas family having success while the Longhorns suffer is bad enough to stomach for some Texas fans, the Cougars can also thank their offensive coordinator, and former Longhorns quarterback, Major Applewhite, for the remarkable start in Houston.
If you think Texas fans aren't a little bitter over Herman and Applewhite's abilities, think again... these two are the real deal when it comes to coaching talent. The duo's expertise was on full display against Memphis -- who many thought was the superior team in the matchup -- with both keeping cool under the pressure of being down by 20 points in the fourth quarter and down a starting quarterback as injured Greg Ward Jr. was forced to exit before halftime.
"I could just remember coach Herman being all smiles throughout the whole game, even though we were down in situations," Houston receiver DeMarcus Ayers said about his coach pulling through for the team. "We put ourselves in the hole, I could just remember him being very, very calm; very confident in us and just telling us to believe. The outcome shows, we rallied together in the fourth quarter and just came out and played hard."
Backup quarterback Kyle Postma, who threw 236 yards while piecing together four touchdown drives in relief, credited Ward and his offensive coordinator with prepping him for the challenge of rallying the Cougars from 20 points down despite have very little in-game experience.
"Just sitting behind [Ward] and having Coach Applewhite teach me everything. There's no better circumstances than that for me to go in and just be able play for everyone," Postma said.
Facing the lofty circumstances against a good Memphis team, some young coaches may have cracked under the pressure, but the overall demeanor of Applewhite and Herman led to this comeback win for Houston.
"Credit to Coach Applewhite and the offensive staff for coming in, making the necessary adjustments and getting their guys coached up," Herman said after the game against Memphis. "Everything I know about getting guys ready to play a big game we did. I'm not sure we were as relaxed as we could have been in the first half, but our offensive staff got them calmed down, relaxed and in some good situations in the second half, and the kids executed."
While no one can fault the Longhorns for overlooking a graduate assistant and quarterback as a potential coaching targets when the two were at Texas in 1999 and 2000 -- they certainly aren't being ignored now as Herman's name is being linked to numerous big name schools with coaching vacancies (or possibly soon-to-be vacancies) such as South Carolina, Miami, Maryland, USC and even Texas.
The Cougars, who have seen other head coaches such as Art Briles and Kevin Sumlin leave for greener pastures after experiencing brief success in Houston, are trying to prevent history from repeating itself and are reportedly getting together funds to take Herman off the market.
Unfortunately for Houston, their efforts may be futile as the lure of coaching in a 'name brand' conference which the American Athletic Conference is not could still take Herman away. But should Herman move on, the 'next man up' mentality as displayed with Postma guiding the Cougars to the big win against Memphis could translate to the coaching staff with Applewhite being the likely candidate to step into the head coach position.
Despite the outside noise and speculation, one thing benefiting Houston in the hopes of retaining its head coach is Herman, Applewhite and the Cougars keep winning.
"Nope, it's awesome," Herman said when asked if there is anything tough about leading an unbeaten team. "I like winning a lot more than losing, I can tell you that."
MORE NEWS: Want stories delivered to you? Sign up for our College Football newsletters.
And maybe that will be enough for the Cougars to keep their coach.