MLB Quick Hits: Goldy, Harper, Strasburg, etc.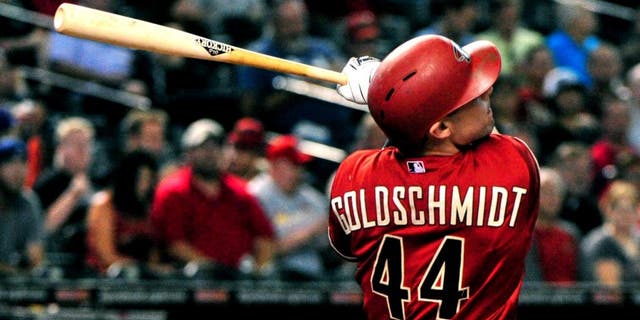 NEWYou can now listen to Fox News articles!
Some big names are in the news today, but the news is mostly minor. Let's start with D-backs 1B Paul Goldschmidt, who returned to Arizona Tuesday night to be with his wife for the birth of their first child. Goldschmidt is expected to rejoin the team on Saturday.
Nationals OF Bryce Harper left Wednesday's game due to glute tightness, but you wouldn't have known that by my Twitter feed, which blew up with speculation that Harper was benched for not running out a popup. Harper hopes to play tonight, but don't count on him.
Matt Harvey will get skipped again sometime this month, but the Mets aren't saying when. Let's hope it's before some of us need to set weekly lineups.
As expected, Stephen Strasburg will be held out of his Friday start after leaving Sunday's game with lower back tightness. The date of Strasburg's next start is unclear; Tanner Roark will take his turn on Friday.
In other news ...
The Cardinals are juggling their rotation a bit, mainly to give their young starters some rest. They scratched Michael Wacha on Wednesday after passing over Carlos Martinez earlier in the week. Look for Martinez to pitch on Friday, with Wacha and Lance Lynn (sprained ankle) returning to the mound early next week against the Cubs.
Cardinals 1B Brandon Moss is 11-for-24 with four homers in his last seven games. If you'd like to try to ride out this hot streak, Moss is owned in 45.6 percent of FOXSports.com leagues.
Mets 1B/2B/3B Daniel Murphy left Wednesday's game with what appears to be a minor quad injury. The Mets are off today, so hopefully Murphy will be ready on Friday.
2037 first-ballot Hall of Famer Kyle Schwarber was scratched Wednesday due to rib soreness, and his status for the weekend is TBD.
Joey Gallo was back in the Rangers' lineup on Wednesday, batting seventh and playing left field. If Gallo hits a couple of 500-foot home runs this weekend, just remember that he's whiffed 46 times in 101 plate appearances this season. He's not expected to get much playing time, anyway.
The Twins hope to get OF Aaron Hicks back from the DL on Friday, but closer Glen Perkins is sidelined again with a sore back. Perkins' return is up in the air, and Kevin Jepsen saved Wednesday's win.
After striking out 36 batters in 24 innings over four minor-league starts, Matt Moore will return to the Rays' rotation on Saturday in the Bronx. Moore's issue has always been control, so let's see how he looks this weekend before getting too excited.
The Marlins are hopeful - but not quite positive - that Giancarlo Stanton will come off the DL on Friday. SS Adeiny Hechavarria is day-to-day with a hamstring issue.
Wednesday's streaming starter recommendations were pretty good, as Carlos Rodon pitched fairly well, and Raisel Iglesias continued a strikeout barrage that has netted 33 Ks over 21 innings in his last three starts. The options on today's six-game slate are pretty bad, but if you need to reach, the best choice is Kyle Gibson (owned in 15.9 percent of FOXSports.com leagues) against the not-so-good White Sox.
DFS advice (based on 50/50 games, salaries from DraftKings): Jordan Zimmermann ($10,400)/Edinson Volquez ($9,100) isn't a prohibitively expensive pairing. The cheaper options are pretty bad unless you want to roll the dice with Mat Latos ($7,300) vs. the Padres ... BvP alert: Justin Upton ($4,100) is 10-for-20 with a couple of homers against Latos ... Royals C Sal Perez ($3,600) has averaged eight DK points over his last six games; you can use him if you don't want to spend $5K on the obvious Buster Posey ... I don't know how soon Braves 3B Hector Olivera ($2,000, eligible at 2B) will shake the rust off, but he had a hit and a walk on Wednesday ... Brewers SS Jean Segura ($3,400) has 56 DK points over his last four games ... Dodgers OF Carl Crawford ($2,500) has double-digit DK points in three of his last four starts ... CarGo ($4,300) seems cheap at home against Ryan Vogelsong.
See you back here Monday morning. If you need assistance over the weekend, send me a tweet (@jhalpin37).