MLB Quick Hits: Dodgers clinch, earn some rest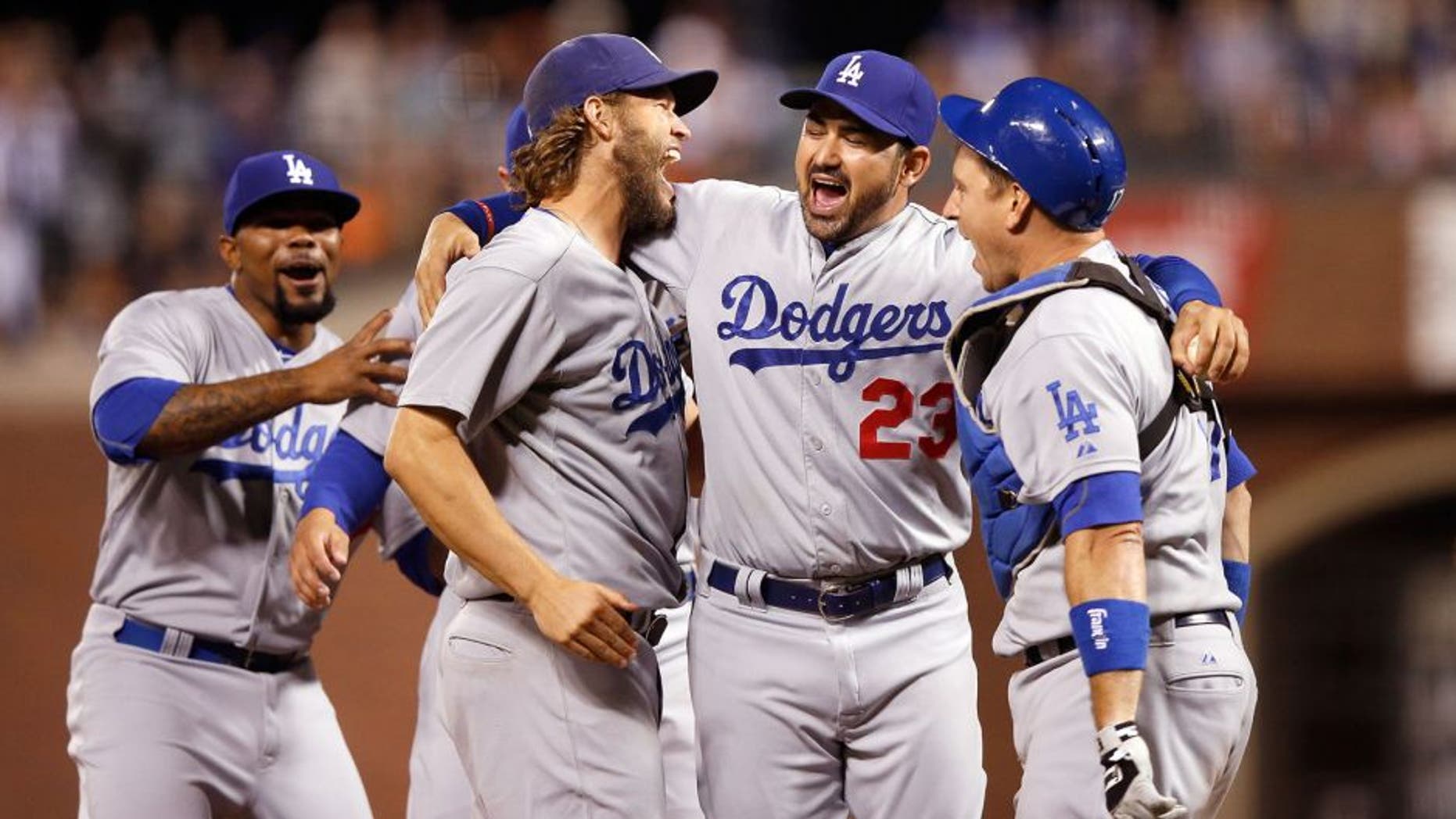 The Dodgers clinched the National League West on Tuesday behind a Clayton Kershaw one-hitter, setting up a postseason matchup against the Mets. In real life, this is great news for the Dodgers. In fantasy terms, it probably means that some Dodger veterans - such as Adrian Gonzalez, who has been suffering from a sore lower back - will get some days off before the end of the regular season.
Kershaw is another fantasy issue. He's due for one more start on Sunday, but there's a danger that it will be abbreviated so he can be fresh for the NLDS opener next Friday. The biggest thing Kershaw owners have working in their favor is his strikeout total - he's at 294 now, and might get the chance to try for 300. If you're in a daily lineup league, listen to what the Dodgers have to say over the next few days to see when you'll need to bench your ace or his teammates this week.
In other news ...
Angels RP Joe Smith says he's recovered from his sprained ankle, and could be ready to close tonight.
Because of some Tuesday rainouts, there are three doubleheaders on today's schedule - Cardinals-Pirates, Blue Jays-Orioles and Twins-Indians. The Cards and Bucs get things started at 1:35 p.m. ET, but all three twinbills have afternoon starts, so set your lineups accordingly.
Blue Jays SS Troy Tulowitzki (shoulder) could be back in the lineup as soon as Thursday.
The Phillies expect to get 3B Maikel Franco (broken wrist) back for the season's final weekend.
Indians OF Michael Brantley might get shut down due to a sore shoulder. We should know more today.
I'm not sure why Travis Wood got Tuesday's save for the Cubs. It was probably matchup-based, as he got lefty Skip Schumaker to ground into a double play.
Freddie Freeman (wrist) was back in the Braves' lineup Tuesday, and should be considered day-to-day this week. The Atlanta Journal-Constitution reports that Freeman is tentatively scheduled to be out of the lineup on Thursday and Sunday, with pinch-hitting duties possible.
Adam Wainwright will be ready to relieve for the Cardinals as soon as today, but doesn't figure to start this week. Teammate Stephen Piscotty (concussion) could be back in action by the weekend.
Reminder: Because it's Wednesday, every pitcher who starts for the rest of the week will be starting for the final time, and can be dropped in daily leagues. The only exceptions are pitchers from the AL West and wildcard contenders (Rangers, Angels, Astros, Twins), who could get an extra tiebreaker game next week.
In case you missed it, Nationals closer Jonathan Papelbon will miss the rest of the season due to suspension after deciding to choke Bryce Harper. Without getting into the clubhouse dynamics that C.J. Nitkowski addressed here, I wonder how things would have ended if teammates hadn't been around to separate the players. Probably with Harper snapping Papelbon like a twig, right?
Today's streaming starter is San Francisco's Mike Leake (owned in 25.9 percent of FOXSports.com leagues) against the hung over Dodgers.
DFS advice (based on 50/50 games, salaries from DraftKings, night games only): Garrett Richards ($9,200) looks like a good play against the A's after averaging 23.2 DK points over his last four starts ... Are you on the Marcus Stroman train? I'm in for $7,800. Leake would be a cheap SP2 at $5,500, but his strikeout-free ways don't play well in DFS ... BvP alert: Mariners OF Franklin Gutierrez ($3,900) is 10-for-23 with three home runs vs. Scott Kazmir ... Red Sox C Blake Swihart ($2,900) hit two homers on Tuesday, and averaged 8.7 DK points in his prior three games ... Braves 2B/3B Hector Olivera ($2,800) has posted double-digit DK points in three of his last four starts ... Angels SS Erick Aybar ($2,900) has hit in five straight games, averaging 8.4 DK points over that span.
See you back here tomorrow morning.