Miller faces first adversity this spring but confident he has fix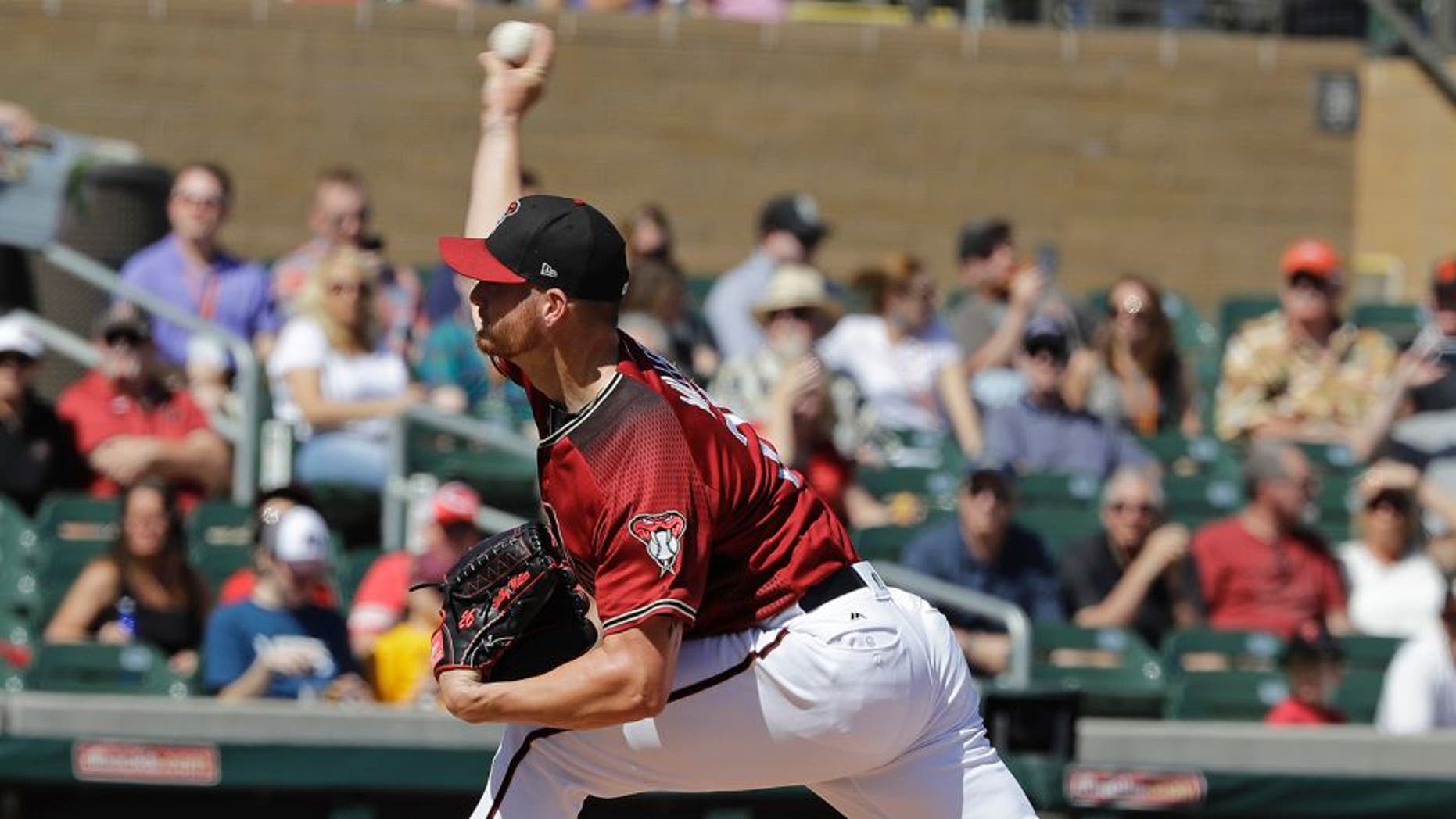 SCOTTSDALE, Ariz. -- Shelby Miller's latest pitching line looked similar to many he produced in a forgetful season a year ago. But unlike last season, when Miller often was left puzzled as to the reasons for his struggles, he immediately understood the correction.
After two strong outings to start his spring, Miller on Monday was charged with six earned runs in a 21-13 loss to the A's at Salt River Fields.
Miller said his two-strike pitches were too hittable, particularly the curveball. The simple fix is to get hitters to chase balls out of the strike zone with two strikes.
-- FOX Sports Arizona (@FOXSPORTSAZ) March 7, 2017
"It's about using that adversity and going out and trying to get out of those jams," said Miller, gave up five hits, walked two and struck out one. "And I just didn't do it today. But that's something I need to work on in my next bullpen session, burying curveballs into the dirt instead of throwing them for strikes in two-strike counts.
Miller received some help from his defense in a scoreless first inning, when Jeremy Hazelbaker made a nice running catch in the left-field corner and Gregor Blanco took an extra-bases hit away from Matt Joyce with a leaping catch up against the center-field wall.
-- FOX Sports Arizona (@FOXSPORTSAZ) March 7, 2017
A one-out walk to Trevor Plouffe began Miller's troubles.
"That second inning could have gone completely different if I don't walk (Plouffe), if I get the strikeout call there," Miller said. "It wasn't like I was making terrible pitches, they just found some holes."
The A's scored runs in the second and back-to-back two-out singles in the third signaled the end of the day for Miller.
Manager Torey Lovullo before the game said he wanted to get Miller into the fourth inning in his third Cactus League start this spring. But Miller was done after 2 2/3 innings and 57 pitches.
"Shelby didn't get a couple pitches and then made some mistakes after that," Lovullo said. "We'll talk to Shelby about that."
Miller was far from the only D-backs pitcher to get hit around.
Archie Bradley gave up six runs on six hits and two walks in 1 1/3 innings. Jared Miller saw his three-appearance scoreless streak end when he was charged with six runs (one earned) during Oakland's 11-run sixth inning. Jared Miller walked four in his one-third of an inning.
"I think Archie worked so hard in his first inning of work to manage ... he threw over 30 pitches and he was taxed," Lovullo said. "He did a good job of damage control but it took a toll."
-- FOX Sports Arizona (@FOXSPORTSAZ) March 7, 2017