Mike Evans: Jameis Winston 'just talks straight football'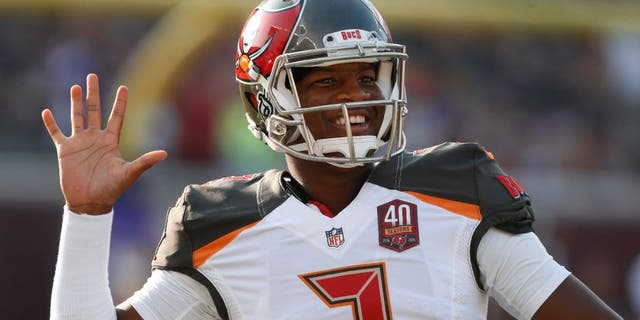 Wide receiver Mike Evans has now played with two of the most talked about quarterbacks in the NFL in Jameis Winston and Johnny Manziel. So, what are his thoughts on the two quarterbacks? According to Pat Yasinskas of ESPN, Evans gave rave reviews about both players. One simple phrase began his thoughts on both Winston and Manziel.
"They're rock stars," Mike Evans told ESPN.
"Johnny was one of the best college football players ever," said Evans, who will sit out the remainder of the preseason with a hamstring injury. "And so was Jameis. They both won the Heisman and there is a lot of hype that goes with that."
"Playing with Johnny was crazy, but Johnny knew all the attention came with the territory and he handled it all really well," Evans said. "Jameis gets the same kind of attention and he's been a pro with the way he has handled it."
When talking about Winston specifically and the time he's spent with his new quarterback, he said the rookie has a football-first type of attitude.
"He doesn't really get on social media or anything else too much," Evans said. "He just talks straight football. He doesn't talk about the outside world or anything like that, just straight football."
You have to love hearing that. While there's obviously constantly headlines with Winston's name in them, the recent ones have almost all been positive. The connection that Winston and Evans are building is one that could last for a very, very long time in the NFL. Best of all, it should also be one that causes problems for opposing defenses right out of the gate in 2015.
(h/t ESPN)