Miguel Cabrera Reaches Two Major Milestones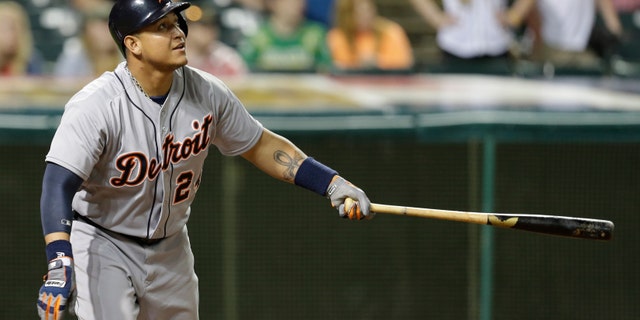 The hits just keep on coming for reigning Triple Crown winner Miguel Cabrera of the Detroit Tigers.
And it continues to push the Venezuelan close to eventual enshrinement in the baseball Hall of Fame.
At Thursday night's 7-to-6, come-from-behind victory over the Minnesota Twins, the third baseman hit his 1,000th career hit as a Tiger.
Cabrera spent his first five professional seasons with the Florida Marlins, now the Miami Marlins, winning a World Series championship in 2003 before being traded in 2007 to Detroit in one of those classic Jeffrey Loria fire sales. He had 842 hit in Florida.
The 30-year-old also scored his 1,000th run, making him one of 20 active players in Major League Baseball to have a thousand or more runs.
He ranks 320 on the runs scored list. Ricky Henderson and Ty Cobb top that list at one and two, respectively.
Cabrera is trying for his second Triple Crown in a row, a feat no one has ever accomplished. Cabrera was the first winner in 45 years and only Roger Hornsby and Ted Williams have more than one Triple Crown season.
Cabrera is currently batting .391 with 55 RBI's and 14 home runs.
Not bad for last year's AL MVP.
Follow us on twitter.com/foxnewslatino
Like us at facebook.com/foxnewslatino