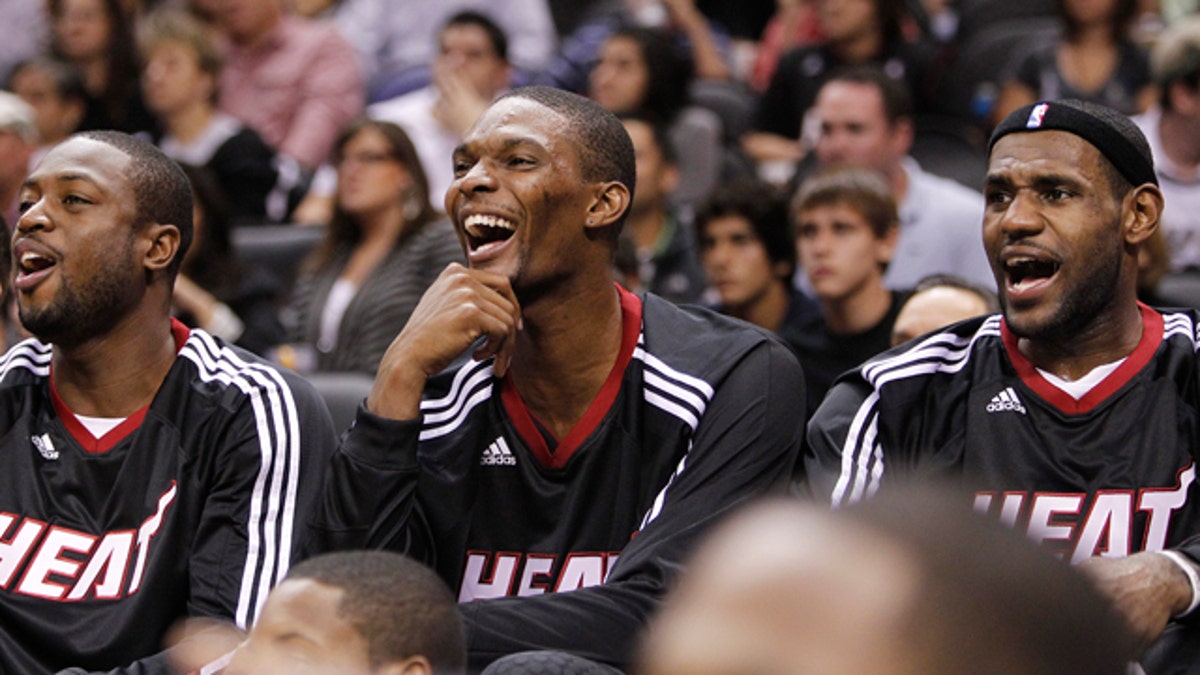 BOSTON -- LeBron James sat courtside at the new Boston Garden, icing his right knee after a shootaround, tapping away at his phone and complaining about the Dallas Cowboys.
Beneath the Celtics' 17 NBA championship banners -- the last one hung at James' expense -- he sat in his Adidas warmups chatting with a Nike representative while reporters surrounded teammates Dwyane Wade and Chris Bosh. When those scrums dispersed, nearly a dozen cameras sauntered over to take video of James, just sitting there.
"I feel like a fish in a fish tank," said James, who was not scheduled to talk to reporters until the pregame availability. "How fast can he swim?"
A two-time NBA MVP in Cleveland -- and zero-time NBA champion -- James makes his Heat debut on Tuesday night when Miami plays the Celtics in what could be the most anticipated regular-season game since Magic Johnson and Larry Bird hooked up as rookies.
A few hours before gametime, a single luxury suite ticket was listed for $18,824 on StubHub. Perhaps 100 reporters (about 100 more than normal) attended the Heat's morning shootaround, and about 500 had been credentialed for the game -- four times the usual number, Celtics spokesman Jeff Twiss said.
"You don't usually see this many cameras unless you're in the finals," Wade said told a media phalanx four rows deep. "And it's the first game of the season."
Wade won the 2006 NBA title in Miami, but the Heat lost to the Celtics in the first round of the playoffs last season and the Cavaliers followed them out in the next round -- through the very same locker room doors. Thus began the nationwide courtship that ended when James announced he was "taking his talents to South Beach."
Wade was disappointed but determined after the playoff loss, vowing that he would stay with the Heat only if he got some help. Team president Pat Riley got him Bosh and James, along with a handful of role players who flocked to Miami for the chance to be a part of a superteam.
Now they're back in the building where it all ended, and it all started.
"It was probably a little bit better than I hoped," Wade said. "When I left here, I said this is my last first-round playoff exit. Hopefully, I'm a man of my word."
But a victory in a first-round playoff series won't be enough for the Heat, who will be the favorites to win it all for as long as the Big 3 are together.
"You put a team like this together, you understand you can do something very special," Wade said. "There have been a lot of good trios in this game. We have to put ourselves up there with those guys before we can think of getting past them.
Miami's Big 3 played together just three minutes during the preseason before Wade strained his right hamstring in the Oct. 5 opener. He returned to practice on Saturday, when he remained on the court with James for more work long after most Heat players left the floor.
Asked if he was in game shape, Wade said, "I haven't played a game yet, so I can't tell you."
"I'm in practice," he said. "I'm sure I'll get some heavy legs in the game, but I've got teammates now where I can get a rest every now and then."
Heat coach Erik Spoelstra noted that the three stars had played together before -- at the 2006 world championships and again at the '08 Olympics in Beijing, where they won the gold medal. So he didn't expect them to have trouble figuring each other out over a long season, even with the pressure of the high expectations surrounding them.
"I think it will be easy with these guys," he said. "It's not their first rodeo. They've played in front of bright lights. I think it will be more inspiring than anything else."
Since signing with the Heat, James has become beloved in Miami.
He remains a respected rival in Boston.
But he's still hated back in Ohio.
A radio host in Cleveland hired a witch doctor to try to jinx James and his attempt to win a title elsewhere. WMMS-FM broadcast the ceremony on Tuesday morning, claiming to use bones, blood and a James jersey to cast a curse on the two-time MVP.
Spoelstra said that the attention -- neither good nor bad -- wouldn't affect his team.
"We're not running away from the attention, the expectations or the pressure," he said. "We feel like we're getting attacked on all sides, but once you step on the court, it all just goes away."