Miami Marlins' Jose Fernández To Undergo Tommy John Surgery To Repair Elbow Tear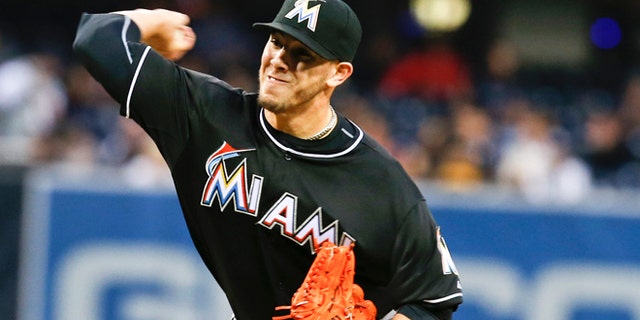 LOS ANGELES (AP) – The Marlins got the news they'd been dreading since Sunday, when ace José Fernández was scratched from his regular bullpen session in San Diego: He is probably going to miss the rest of the season.
Miami's 7-1 loss to Josh Beckett and the Los Angeles Dodgers on Tuesday night was overshadowed by the announcement team president Michael Hill made in the Dodger Stadium press box during the third inning. Hill said Marlins doctor Lee Kaplan had recommended Tommy John surgery to repair a significant tear in Fernández's right elbow.
"Getting the confirmation that we all obviously didn't want is a big blow for us, for the team and for the organization," manager Mike Redmond said. "I know he's going through some tough decisions, but we know he'll get himself fixed up and we'll get him back as soon as we can."
The 21-year-old Fernández, last season's NL Rookie of the Year, is 4-2 with a 2.44 ERA in eight starts.
"Pitching's a precious commodity and we've always tried to be very careful with it. So you try to err on the side of caution," Hill said. "We've done everything we've thought was the right thing, as to how we've handled him. It's just one of those things that happened."
Fernández would be the latest star pitcher in the majors to have Tommy John surgery this year. The recovery time for the elbow ligament transplant procedure can be 12 to 18 months. The Marlins put Fernández ace on the 15-day disabled list Monday.
"I'm sure he feels like he's letting his teammates down because he got hurt, and all the things that come with the type of competitor he is," Redmond said. "But all we really want is for him to be OK and getting himself healthy and getting back to the ballclub. That's the important thing."
Fernández is visiting with family to talk about his options with surgery looming.
"He didn't really give us an idea of when," Hill said. "Obviously, a lot has gone on the past few days, so for him it's a lot to take in and a lot to absorb. So he's just taking the time to digest all the information he's been given from both doctors.
"From what the doctors saw, they did not want to go the rehab route. They felt like surgery was the best option, and that was the recommendation. Hopefully, we can make that call and get things set up and get it taken care of so we can get him on the road to rehab," Hill added.
Right-hander Anthony DeSclafani will be promoted from the minors to start Wednesday night in his major league debut.
"He's a guy that's done well in the minor leagues and we felt like he was probably the most ready to make the start," Redmond said.
Beckett spent his first five big league seasons with the Marlins and was the World Series MVP with them in 2003. He empathized with Fernández and the long road back that lies ahead.
"He's got a wipeout slider. I don't know how long he's been throwing that, but it puts a lot more stress on your elbow," Beckett said. "The one good thing about that surgery — for the most part — is that people come back from it and they know how to rehab that. From what I hear from everybody over there, he's a diligent worker. The rehab's already written out. He just has to go through the surgery.
"If it was a shoulder or something like that, I think it would be a little bit bigger issue," Beckett said. "So he'll be back full strength next year. Obviously they're going to miss his leadership and what he brings to the ballpark on the days he pitches and the days he doesn't. He brings the 'Puig factor' to that ballclub."
Dodgers right fielder Yasiel Puig extended his career-best hitting streak to 13 games with two hits, including an RBI double. It was Puig bobblehead night at Dodger Stadium and the outfielder caught a ceremonial first pitch from his mother, Maritza.
Beckett (1-1) gave up an unearned run and four hits over 6 2-3 innings, striking out six and walking three. The three-time All-Star was 0-6 in 14 starts since beating Colorado 7-1 at Dodger Stadium on Sept. 30, 2012.
"You can't help but think about it after a while," Beckett said. "I mean, I know I was only about halfway to the record, but even to get halfway there is kind of tough. But I knew if I kept making pitches, this team was bound to score some runs. This lineup we're running out there every day is pretty good."
Jacob Turner (0-1) gave up four earned runs in 5 1-3 innings and is winless in 16 starts since last July. He is 0-10 in 17 career starts on the road with a 3.97 ERA.
"They put good swings on the ball," Turner said. "There were some pitches I made that weren't in spots I was trying to go, and a good lineup like that is going to capitalize on it."
Follow us on twitter.com/foxnewslatino
Like us at facebook.com/foxnewslatino