Meyer pulls Cardale Jones for JT Barrett as Buckeyes enter red zone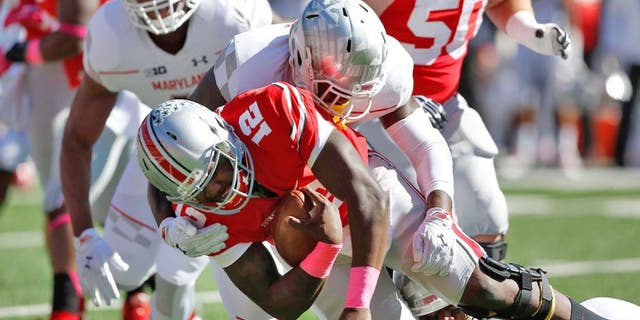 COLUMBUS -- Urban Meyer mentioned during the week leading up to Ohio State's homecoming game against Maryland he might use J.T. Barrett in the red zone.
Then he did it in the first quarter on Saturday.
And it worked.
After Cardale Jones led the Buckeyes to the Maryland 25-yard line on their second offensive possession, Barrett replaced him for a second-and-4 play. He ran six yards on a designed keeper for a first down and three plays later connected with Michael Thomas for 20 yards on third-and-16.
After Ezekiel Elliott was stuffed on a first-down run, Barrett scored on a designed run and Ohio State tied the game with Jack Willoughby's PAT kick.
The next time the Buckeyes took possession at the Maryland 40, Jones was back at quarterback and moved the OSU offense to the 13-yard line.
After lining up at wide receiver while Braxton Miller took a direct snap and ran for eight yards, Jones left in favor of Barrett again.
This time Elliott did most of the damage, running three times for seven yards, including a 2-yard touchdown run that came one play after Elliott was stopped for a 1-yard loss on a sweep.
Jones started the game 4-for-5 passing for 32 yards before Barrett entered for the first time.