Mexico star pleads with fans to stop chanting homophobic slur during World Cup games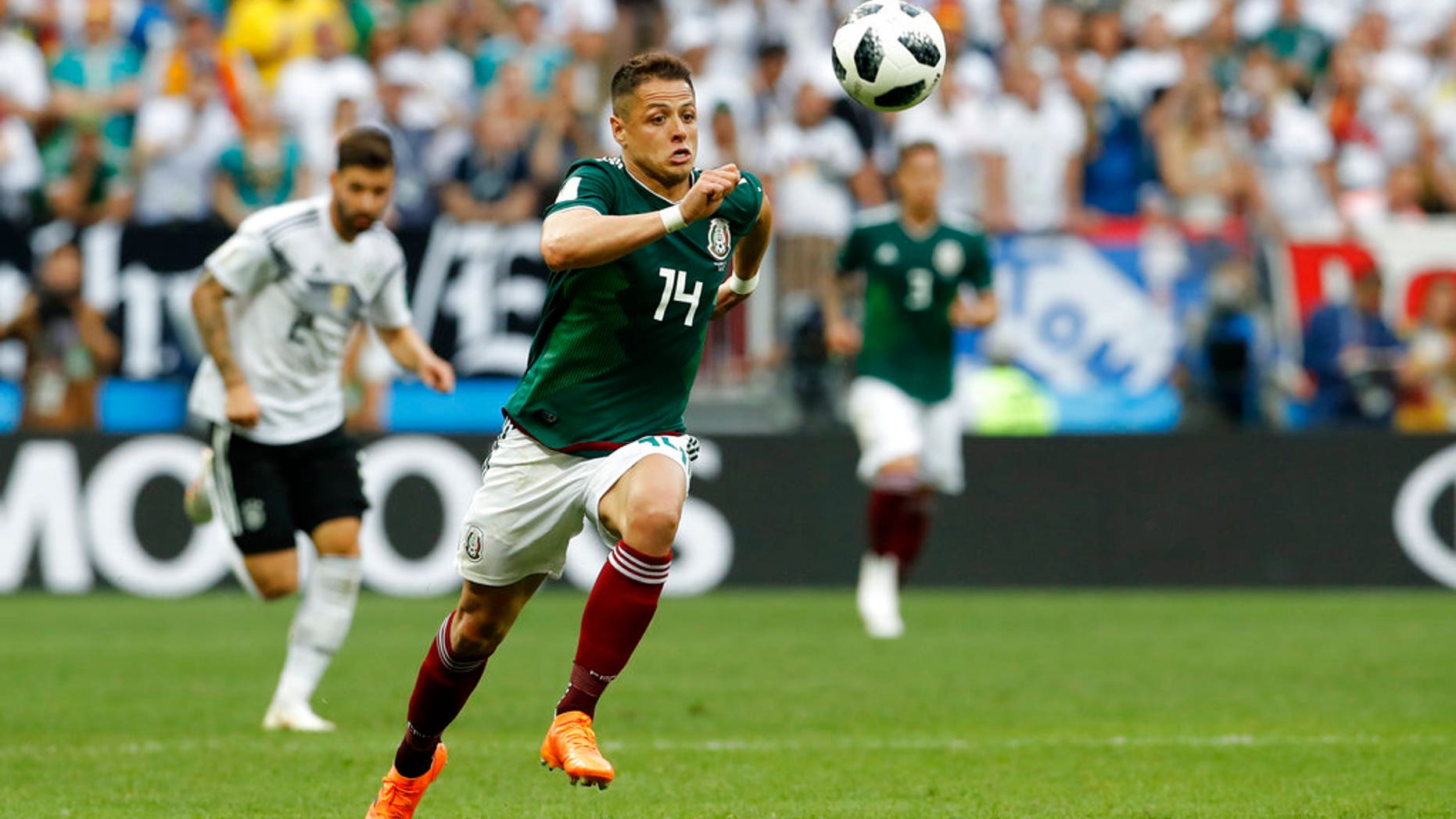 Mexico's star striker Javier "Chicharito" Hernandez has appealed to fans attending the team's World Cup games to stop chanting homophobic slurs against their opponents.
His team's shock 1-0 victory over Germany in the opening round of group stage matches was overshadowed somewhat by their fans allegedly crying "p---" every time the opposing team's goalkeeper took a goal kick.
The term is homophobic slang for a male sex worker. On Monday, FIFA announced they had opened disciplinary proceedings against Mexico after the reported chants.
Mexico, along with a number of other Latin American countries, were fined by FIFA during World Cup qualifiers because of similar slurs at opposing players.
2018 FIFA WORLD CUP: WATCH LIVE MATCHES STREAMING ON FOX SPORTS FROM JUNE 14 TO JULY 15
Although the Court of arbitration for Sport cancelled two fines against Mexico in November, it left others in effect and ruled that the chant was "insulting".
The chant was also heard during Mexico's games in the 2014 World Cup in Brazil but FIFA took no action.
Fines do not appear to have stamped out the chant however, forcing Hernandez to take to social media to plead with fans to stop the chant.
"To all Mexican fans in the stadiums, don't shout 'p---'. Let's not risk another sanction," he wrote on Instagram and Twitter.
The Mexican soccer federation also pleaded with fans shortly after the Germany game to stop.
2018 FIFA WORLD CUP: FULL MATCH SCHEDULE
"In Russia, avoid having your FAN ID withdrawn or stopped. Remember that you are represent the best fan base in the world," they tweeted, while including a photo that wrote out the slur.
FIFA is employing three observers at each World Cup match to report back on any suspected discriminatory behavior from fans.
Referees have been instructed to stop the game for an announcement on the stadium's public address system when any discriminatory behavior is seen or heard. If it continues, the official could suspend the game and even abandon it.
In this case, the Mexico game against Germany was not halted.
FEMALE WORLD CUP REPORTER SEXUALLY ASSAULTED DURING LIVE BROADCAST
"A public announcement was prepared, but the chants cease," FIFA said in a statement. "After the match and as an important step for further action, the incident was duly included in the match report, as well as the evidence produced by the anti-discrimination observers."
Mexico will face Korea Republic on Saturday.