Mexico Midfielder Giovani dos Santos Pushes for More Time on the Field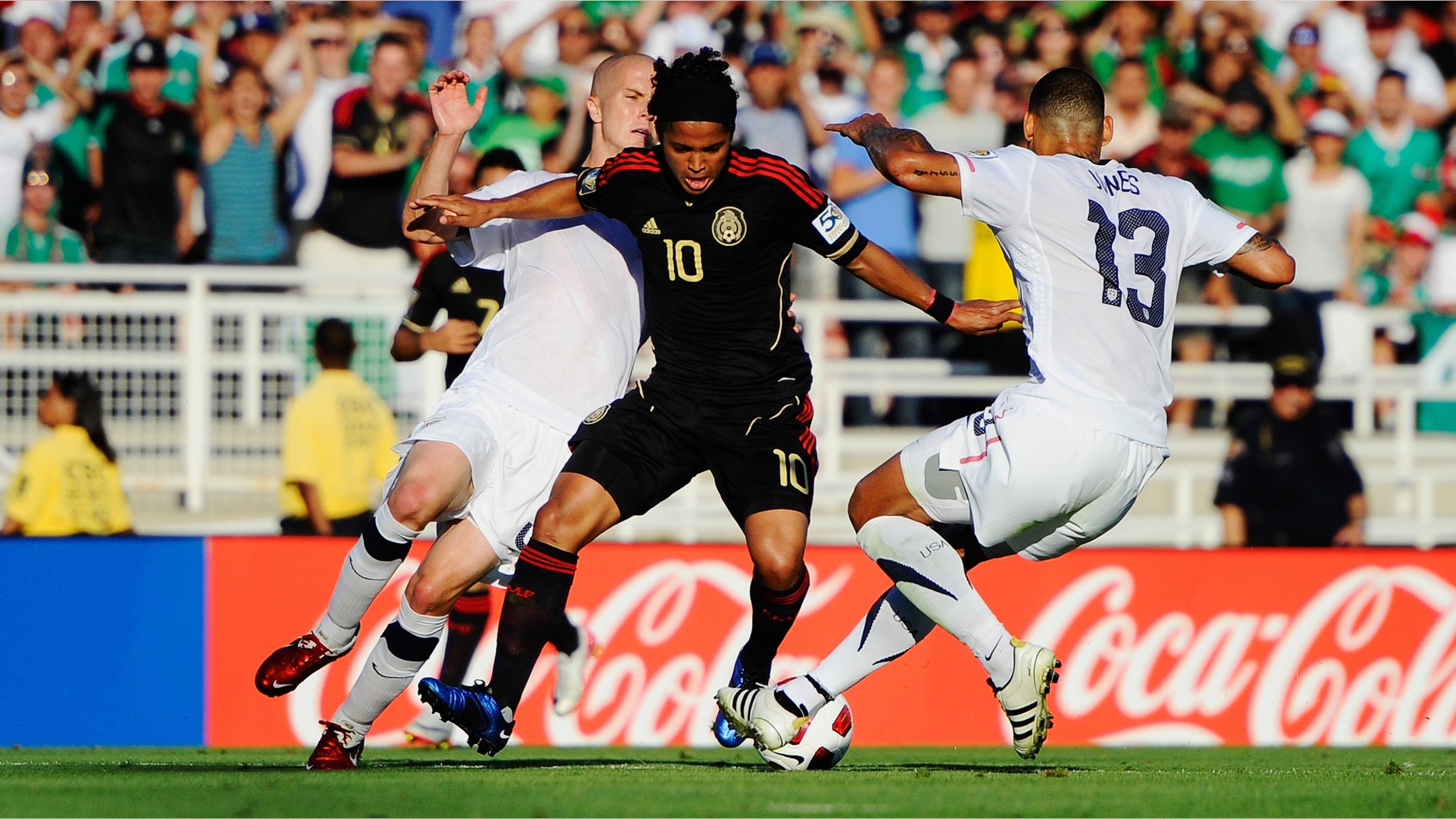 EAST RUTHERFORD, N.J. – For Mexican standout international midfielder Giovani dos Santos, it's all about playing time, not necessarily paying time.

Dos Santos faces a quandary. He is one of the most important attacking players for the Mexican National Team. Yet he rarely plays for Tottenham Hotspur in the English Premier League. Hence, he does not get an opportunity to hone his skills, improve and stay at the top of his game -- especially when major tournaments roll around.

Such is the confounding situation for the talented dos Santos, who is expected to be a key force for the Mexicans during their quest for a sixth consecutive World Cup appearance, set for Brazil 2014.

Earlier this week, dos Santos was ready to seal a deal with Villarreal in Spain, but those negotiations were torpedoed by the club's relegation from Spain's La Liga.

"I have been openly trying to leave the team," he said on Friday. "It has been hard for me, not getting the playing time I would've liked. But nevertheless they are still my club, and I have a contract with them, and I owe them respect, but hopefully all will work out in my favor in the end."

Since leaving Barcelona on a $7.2 million transfer in 2008, dos Santos has performed only 17 times since joining the north London club, although he has been loaned out to Ipswich Town (English Championship), Galatasaray (turkey) and Racing Santander (Spain).

Tottenham manager Harry Redknapp said last month that the club wants to transfer the Mexican midfielder before his contract expires at the end of next season.
"Gio is a good player and is a good lad. He has good ability but in the end his contract is gradually running out so I don't know what you'd get for him in the end," Redknapp told Goal.com. "He is on the bench. He has got great ability."

In a world where greed rules and players try to grab as much money as they can, dos Santos has other priorities.

When next season begins in August or September, he wants to be "playing, playing soccer wherever, all that matters is playing the game I love, which is my profession, no matter where."

Whether it is England, Spain, Italy, Germany or a high league in Europe.

"For me the most important thing, especially due to my age and what I would like to accomplish in my career, is to make decisions based on my development as a player, not decisions that are financially driven," he said. "My development is always the most important thing, not financial considerations."

Dos Santos, who has scored 11 times in 54 appearances for El Tri, including that golazo against the United States and goalkeeper in last year's CONCACAF Gold Cup final win, said he has been approached by several teams, but would not name any.

"But nothing concrete so far. Right now I just want to focus on my work with the national team," he said. "I have time to think about the rest. I do have offers from several European teams, but nothing is concrete."

As for returning to Mexico, that isn't an option.

"It is not a priority for me right now to do that," he said. "I have been in Europe for over 10 years and have developed as a football player out there, and I have offers from European teams and that is where I would like to stay."

Mexico coach José Manuel de la Torre would not find seeing dos Santos get regular playing time, whether it be with Tottenham or another club.

"We would like very much to see that all the players play as much as possible," he said. "Obviously, that would put them in better shape that have a better level of play, especially in such important leagues like the English league. But if circumstances don't lend themselves to that, we have to find a way to make them active in the national team and try to improve their level of play. The ideal is that they play all the time, they have all that activity. But the circumstances are not like that right now. We have to take advantage of the player. He's a great player, great condition. And he's played well for us."

Dos Santos admitted he certainly would not mind playing for another Mexican National Team -- the Under-23 squad that will represent the country at the London Olympics this summer. He would be a great fit for Mexico because he is 23 and would not be an overage player.

He said that "would be an amazing opportunity for me. It is the one thing I have not achieved with the national team, and therefore it would be great for my career. From the little I have seen of the [Olympic] team, they seem to be very talented and to be doing things well, and I expect them to perform accordingly."

At Met Life Stadium on Sunday at 3 p.m. ET, El Tri will take on a side that has not reached the World Cup since 1958 or the finals of the European Championship since 1976.

The Welsh might not play like a Caribbean team such as Guyana (which visits Azteca Stadium on June 8) or a Central American side such as El Salvador (which hosts the Mexicans on June 12), but the European team brings some other qualities to the table,

"I think all the matches are very important.," goalkeeper Guillermo Ochoa said. "This is a great team and what is more important is the match for qualification. Playing with these kind of a players is very important for us."

De la Torre has liked what he has seen during training camp.

"We're always confident," he said. "That's why we're here, working hard, trying to prepare the best possible. Our job has been very, very clear from the beginning, which is to play to qualify for the World Cup. We have been very happy with the way we've worked together as a group an the circumstances that have surrounded the National Team. And we're always hoping to improve to obtain that qualification effectively."
Michael Lewis, who has covered international soccer for more than three decades, can be reached at SoccerWriter516@aol.com.
Follow us on twitter.com/foxnewslatino
Like us at facebook.com/foxnewslatino