Mexico men's soccer team is eliminated at Rio Games after 1-0 loss to South Korea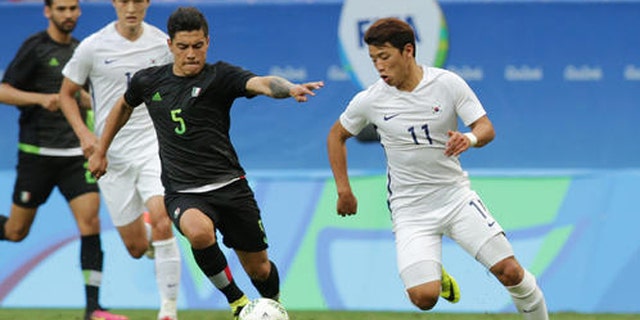 Defending champion Mexico has been eliminated from the men's soccer tournament after 1-0 loss to South Korea.
Kwon Chang-hoon scored a 77th-minute winner in Brasilia to end Mexico's hopes of repeating as Olympic champion on Wednesday. The Mexicans upset Brazil in the final of the London Games four years ago.
South Korea finished Group C with seven points, two more than Germany and three more than Mexico.
Germany secured its spot in the quarterfinals by thrashing newcomer Fiji 10-0. Nils Petersen scored five goals and Maximilian Meyer added three in Germany's win 10-0 win against Fiji at the Mineirao Stadium in Belo Horizonte, the same place where the senior team routed Brazil 7-1 in the semifinals of the 2014 World Cup.
Fiji had already lost 5-1 to Mexico and 8-0 to South Korea.
Mexico's El Tri became the first CONCACAF men's team to bring home the gold - from London in 2012.
Mexico head coach Raul Gutiérrez had held out hope that his team could go deep into this year's tournament.
"Every team is difficult. We are ready to defend our gold medal. We have the quality and we are working hard," Gutiérrez recently told rio2016.com, the official website of the Olympic Games. "I believe that the current generation of footballers has grown with their successes. We will continue with the same passion as before."
Considered essentially an Under-23 men's competition, the Olympic soccer tournament brought a different set of challenges and rules than that of the World Cup.
Due to an agreement between FIFA and the International Olympic Committee, teams must use U-23 players but can include three overage players if they so choose. So, it is rare for players in the modern era to play in consecutive Olympics unless they were very young or an overage player.
Another wrinkle: Most of the matches are played outside of the host city due to stadium constraints, although the final is set for Rio.
The Associated Press and freelance writer Michael Lewis contributed to this report.
Like us on Facebook
Follow us on Twitter & Instagram