MCREYNOLDS: Bristol Shows Old Form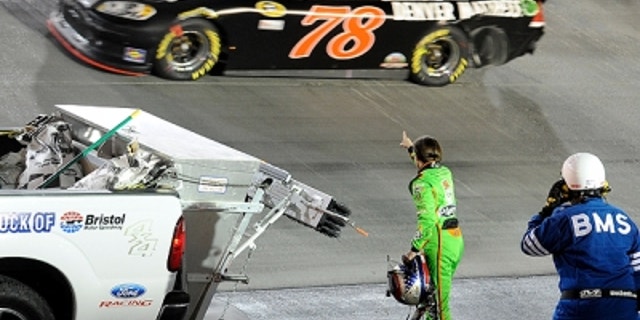 NEWYou can now listen to Fox News articles!
I will be the first to admit that I was somewhat hesitant going into the race at Bristol Motor Speedway after the changes that were made to the track and whether those would help or hurt the racing.
Now, after what I saw last weekend, I believe we have reached a balance that everyone can be happy with.
We still have some of what I call the new Bristol, which is side-by-side racing, while at the same time, we sure did have a lot of the old Bristol again. Saturday night brought us 13 cautions, which was the most at Bristol since March 2007. What's interesting about that, March 2007 was the last race before they re-did the surface the last time.
Saturday night, we also had two champions battling for the lead who basically took each other out racing for the lead. We had a helmet thrown. We had a driver walking out to the edge of the race track pointing a finger at another driver. We just had a lot of the old Bristol, and that is a really, really good thing. Now, sure, there will still be critics. It wouldn't surprise me if some of those critics weren't some drivers.
As we all know, Tony Stewart has had a couple of dismal weeks. At Watkins Glen, he was running second late in that race and spun out. The very next week, he had engine issues at Michigan. At one point, Stewart was fifth in the points. Now he finds himself clear back in 10th spot — and only 16 points from dropping into 11th — and a wild-card slot in the Chase for the Sprint Cup.
He struggled Saturday night at Bristol. In fact, on Lap 74, the leader lapped him. Luckily for Stewart, he got the free pass and got his lap back. Then he and the team made that car better. Here he was back up and fighting for the lead when more bad luck fell on him: He crashed out fighting for the top spot with Matt Kenseth.
So I wasn't surprised to see his emotions finally let go and a helmet go flying.
Also, the guys on the edge of making or missing this year's Chase really stepped up their games. Jeff Gordon finished third. Marcos Ambrose finished fifth. Kyle Busch finished sixth. Joey Logano finished eighth. Kasey Kahne finished ninth. So there is no question these guys know and sense the urgency with now only two races left before the Chase starts.
Look at Carl Edwards, who tried to go 175 laps on a tank of fuel. He knew he didn't have the fastest car at Bristol but tried to use fuel strategy to get that elusive win. Unfortunately, it didn't pan out for him as he ran out of fuel with five laps to go.
This wild-card race is going to go right down to the checkered flag at Richmond, I firmly believe. Because of the issues Ryan Newman had Saturday night, combined with Kyle Busch's top-10 finish, Busch now has bumped Newman out of the second wild-card spot. That second spot has now changed hands four times in the past five weeks.
Edwards summed it up the best in his postrace interview. He said he doesn't look or care where they are at. The only thing that matters and the only thing that will possibly get him back in the Chase is to win.
With only races, at Atlanta and Richmond, left before the 2012 NASCAR Sprint Cup Chase field is set, he better win and win in a hurry.